Americas
Lot 2647
Montanus, Nieuwe Weereld
sold
[{"image":"https:\/\/cdn.philasearch.com\/A09454\/E00930\/0093000003.jpg","thumb":"https:\/\/cdn.philasearch.com\/A09454\/E00930\/0093000003.jpg"},{"image":"https:\/\/cdn.philasearch.com\/A09454\/E00930\/0093000003a.jpg","thumb":"https:\/\/cdn.philasearch.com\/A09454\/E00930\/0093000003a.jpg"},{"image":"https:\/\/cdn.philasearch.com\/A09454\/E00930\/0093000003b.jpg","thumb":"https:\/\/cdn.philasearch.com\/A09454\/E00930\/0093000003b.jpg"},{"image":"https:\/\/cdn.philasearch.com\/A09454\/E00930\/0093000003c.jpg","thumb":"https:\/\/cdn.philasearch.com\/A09454\/E00930\/0093000003c.jpg"},{"image":"https:\/\/cdn.philasearch.com\/A09454\/E00930\/0093000003d.jpg","thumb":"https:\/\/cdn.philasearch.com\/A09454\/E00930\/0093000003d.jpg"},{"image":"https:\/\/cdn.philasearch.com\/A09454\/E00930\/0093000003e.jpg","thumb":"https:\/\/cdn.philasearch.com\/A09454\/E00930\/0093000003e.jpg"},{"image":"https:\/\/cdn.philasearch.com\/A09454\/E00930\/0093000003f.jpg","thumb":"https:\/\/cdn.philasearch.com\/A09454\/E00930\/0093000003f.jpg"},{"image":"https:\/\/cdn.philasearch.com\/A09454\/E00930\/0093000003g.jpg","thumb":"https:\/\/cdn.philasearch.com\/A09454\/E00930\/0093000003g.jpg"},{"image":"https:\/\/cdn.philasearch.com\/A09454\/E00930\/0093000003h.jpg","thumb":"https:\/\/cdn.philasearch.com\/A09454\/E00930\/0093000003h.jpg"},{"image":"https:\/\/cdn.philasearch.com\/A09454\/E00930\/0093000003i.jpg","thumb":"https:\/\/cdn.philasearch.com\/A09454\/E00930\/0093000003i.jpg"}]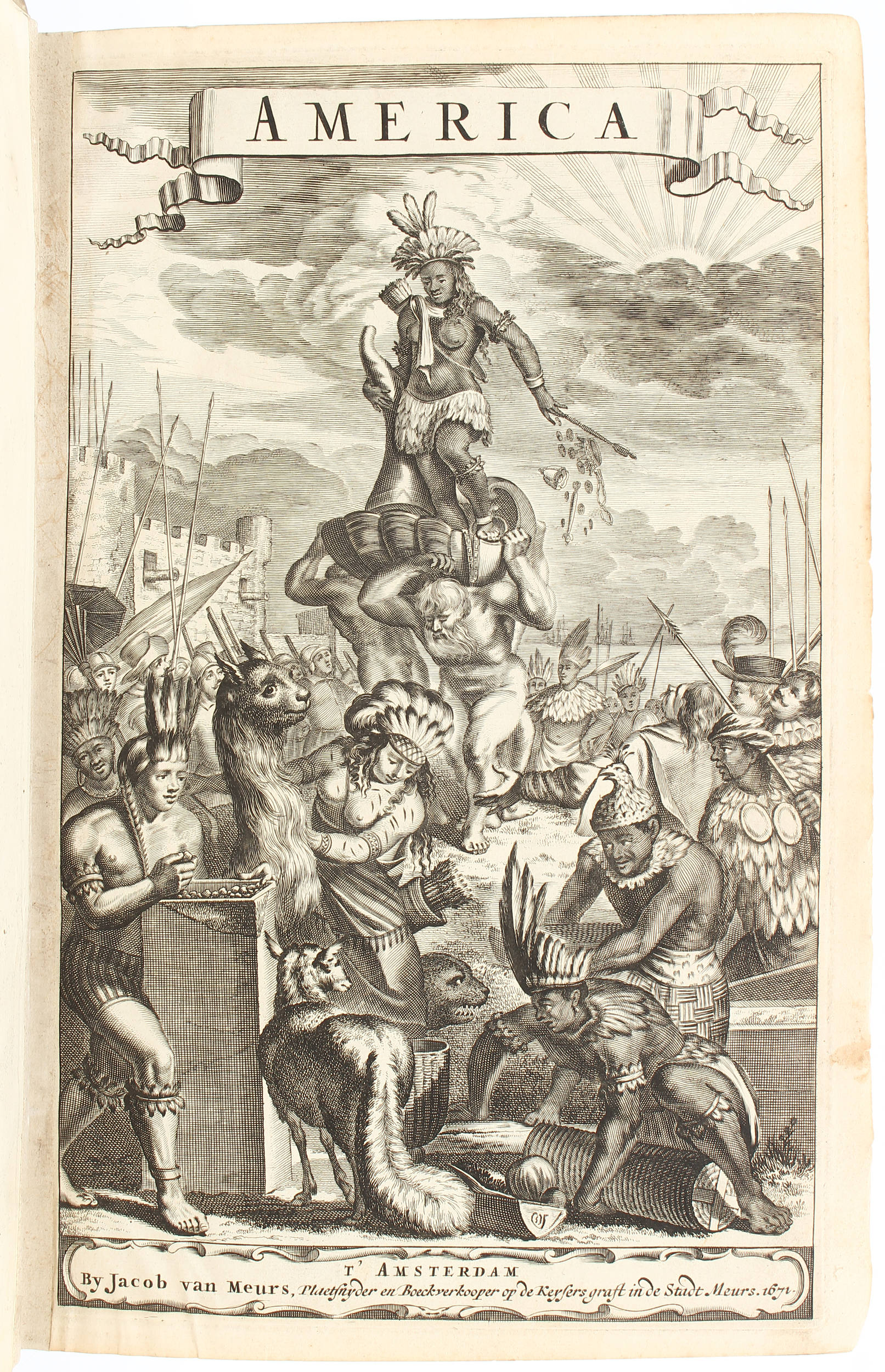 sold
Montanus, A. De nieuwe en onbekende Weereld: of Beschryving van America en 't Zuid-Land. Amsterdam, J. van Meurs, 1671. Fol. (33:22,5 cm). Mit Kupfertitel, Titelvignette, 16 (15 doppelblattgr., 1 gefalt.) Kupferkarten, 7 gest. Porträts, 32 (30 doppelblattgr., 2 gefalt.) Kupferstichansichten und 70 halbseit. Textkupfern inkl. 1 Vignette. 3 Bll., 585 S., 13 Bll. Blindgeprägter Prgt. d. Zt. mit späterem Ldr.-Rückenschild; etwas berieben und leicht fleckig, Vordergelenk gebrochen und restauriert, vord. Vorsätze erneuert, ohne die Bänder.
Sabin 50086; Alden-L. 671/209; Howes M 733; Borba de M. 586; Bosch 134; Church 613; Tiele 763; Burden 411-15. - Gesuchte erste Ausgabe des klassischen, auf authentische Quellen gestützten Werkes zur Geschichte und Landeskunde Amerikas. "For beauty and wealth of copperplates comparable only to de Bry" (Howes). "Sought for chiefly for its plates, especially for the engraved view of New Amsterdam (p. 124) which is, without any doubt, the handsomest view of Dutch New York" (Sabin). Die große Gesamtkarte von Amerika bezeichnet "per Jacobum Meursium", Ansicht von Cuzco mit der Brücke links, Kennzeichen etwas späterer Drucke der Erstausgabe. - Leicht fleckig, oben fast durchgehend leicht wasserfleckig, gegen Ende etwas stärker und bis in den Text bzw. die Kupfer reichend. Tafeln vereinzelt gebräunt, Textkupfer teilw. durchschlagend. Wenige der doppelblattgr. Taf. und Ktn. seitl. bis an die Einfassung beschnitten oder angeschnitten (darunter auch die Neuenglandkte.). Gesamtkte. leicht stockfleckig, mit etwas Druckabklatsch und wenigen kl. Faltstellenläsuren. S. 363/4 mit Randausriss im w. Unterrand. Kupfertitel im Bund verstärkt.
First edition, later issue (large map of the Americas signed "per Jacobum Meursium"). With engraved title, 16 (15 double-page, 1 folding) maps, 7 engraved portraits, 32 (30 double-page, 2 folding) views and 70 engravings in the text. - Slight staining, waterstaining at top almost throughout (stronger at end and affecting text resp. engravings). Browning to a few plates, shine-through of text engravings. A few of the double-page maps and views narrow margined at sides resp. slightly shaved. Map of the Americas slightly foxed, with occasional light offsetting and a few minor tears or holes to foldings; corner tear to p. 363/4; front. reinforced at fold. Bound in contemporary blindstamped vellum with later spine label; slightly rubbed and stained, upper joint restored and endpapers renewed, lacking ties.