Lot 100
Jacobus de Voragine, Legenda. Straßburg
sold
[{"image":"https:\/\/cdn.philasearch.com\/A09454\/E01025\/0102500019.jpg","thumb":"https:\/\/cdn.philasearch.com\/A09454\/E01025\/0102500019.jpg"},{"image":"https:\/\/cdn.philasearch.com\/A09454\/E01025\/0102500019a.jpg","thumb":"https:\/\/cdn.philasearch.com\/A09454\/E01025\/0102500019a.jpg"},{"image":"https:\/\/cdn.philasearch.com\/A09454\/E01025\/0102500019b.jpg","thumb":"https:\/\/cdn.philasearch.com\/A09454\/E01025\/0102500019b.jpg"},{"image":"https:\/\/cdn.philasearch.com\/A09454\/E01025\/0102500019c.jpg","thumb":"https:\/\/cdn.philasearch.com\/A09454\/E01025\/0102500019c.jpg"},{"image":"https:\/\/cdn.philasearch.com\/A09454\/E01025\/0102500019d.jpg","thumb":"https:\/\/cdn.philasearch.com\/A09454\/E01025\/0102500019d.jpg"},{"image":"https:\/\/cdn.philasearch.com\/A09454\/E01025\/0102500019e.jpg","thumb":"https:\/\/cdn.philasearch.com\/A09454\/E01025\/0102500019e.jpg"},{"image":"https:\/\/cdn.philasearch.com\/A09454\/E01025\/0102500019f.jpg","thumb":"https:\/\/cdn.philasearch.com\/A09454\/E01025\/0102500019f.jpg"},{"image":"https:\/\/cdn.philasearch.com\/A09454\/E01025\/0102500019g.jpg","thumb":"https:\/\/cdn.philasearch.com\/A09454\/E01025\/0102500019g.jpg"},{"image":"https:\/\/cdn.philasearch.com\/A09454\/E01025\/0102500019h.jpg","thumb":"https:\/\/cdn.philasearch.com\/A09454\/E01025\/0102500019h.jpg"},{"image":"https:\/\/cdn.philasearch.com\/A09454\/E01025\/0102500019i.jpg","thumb":"https:\/\/cdn.philasearch.com\/A09454\/E01025\/0102500019i.jpg"}]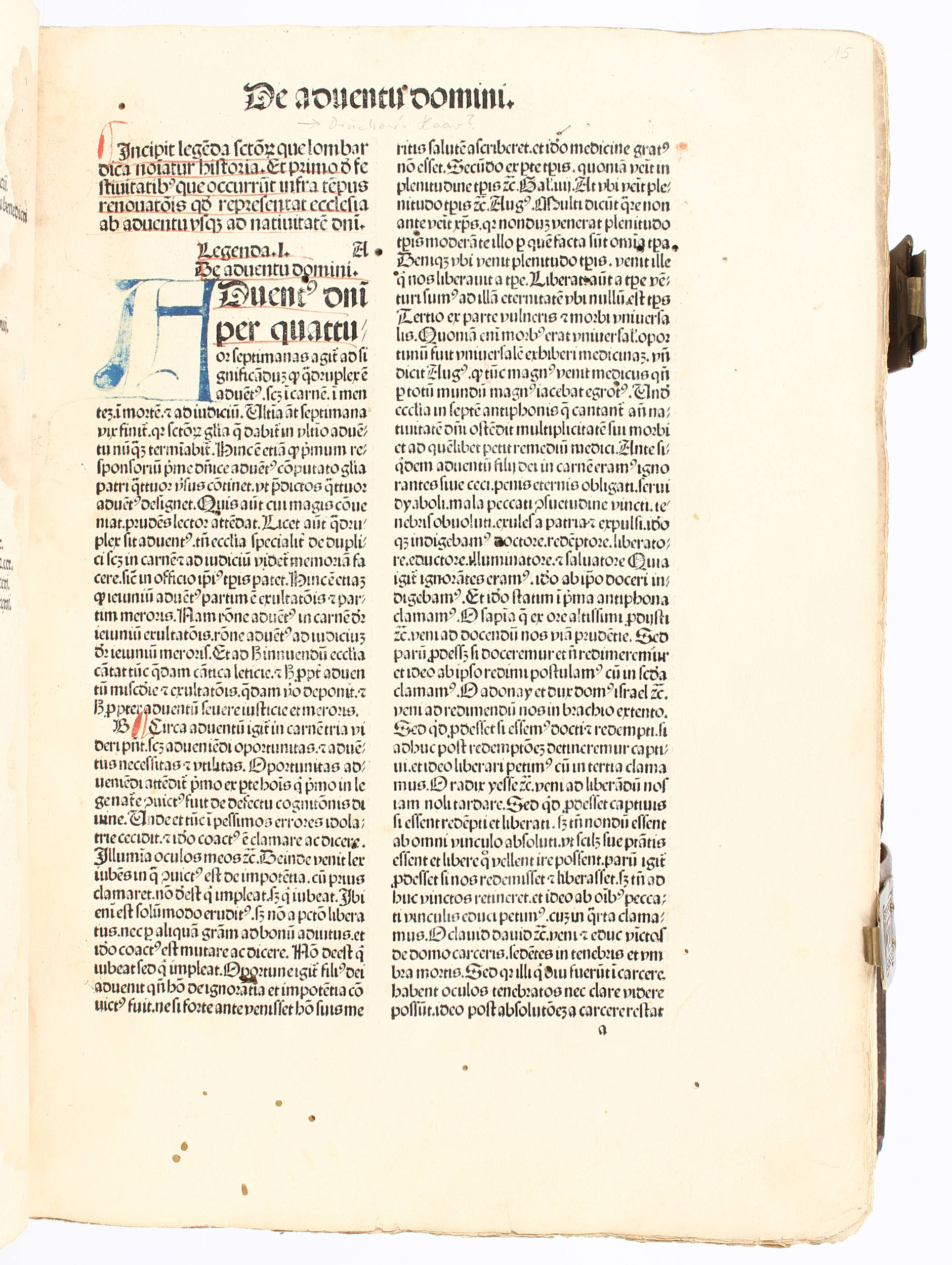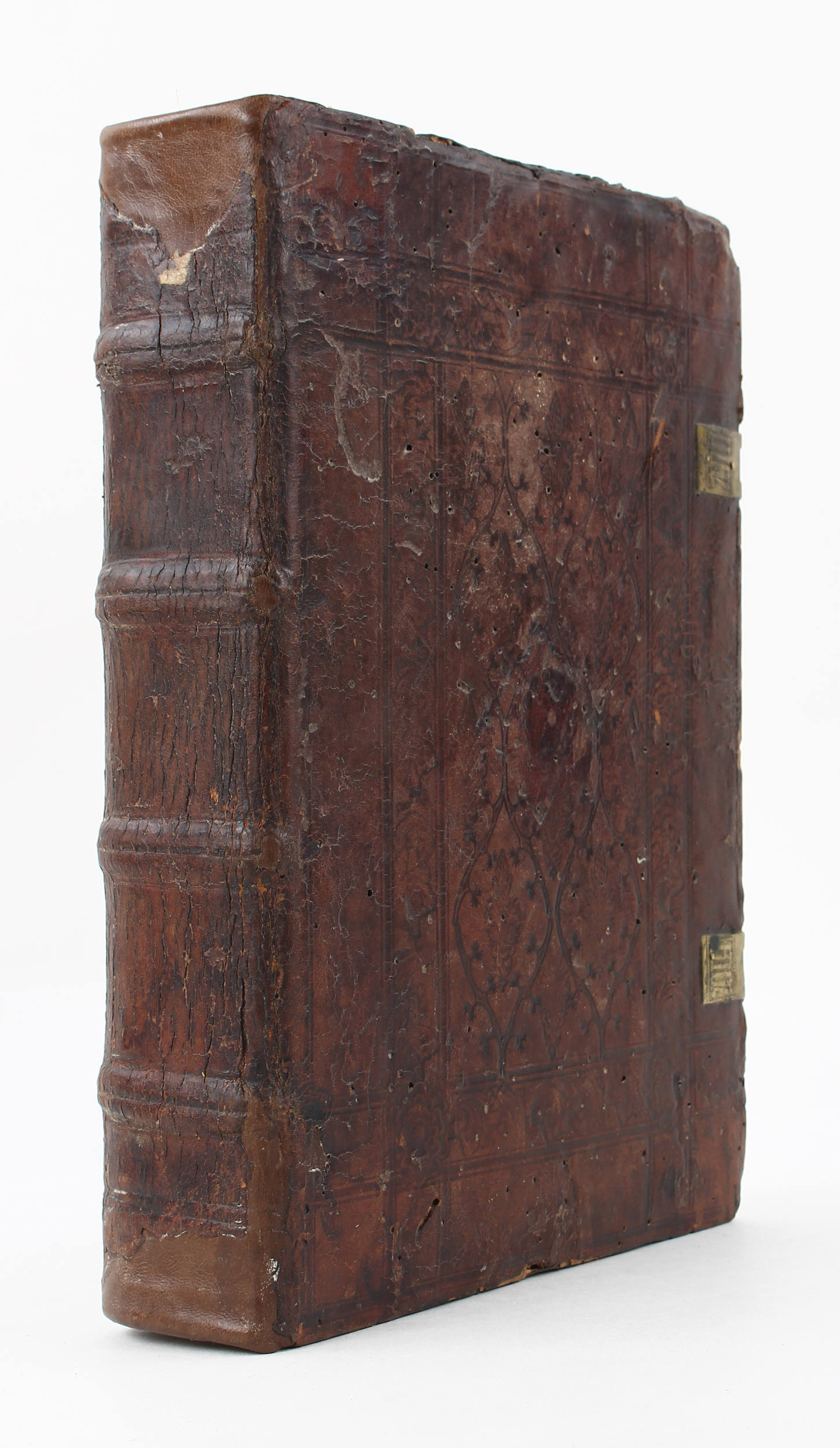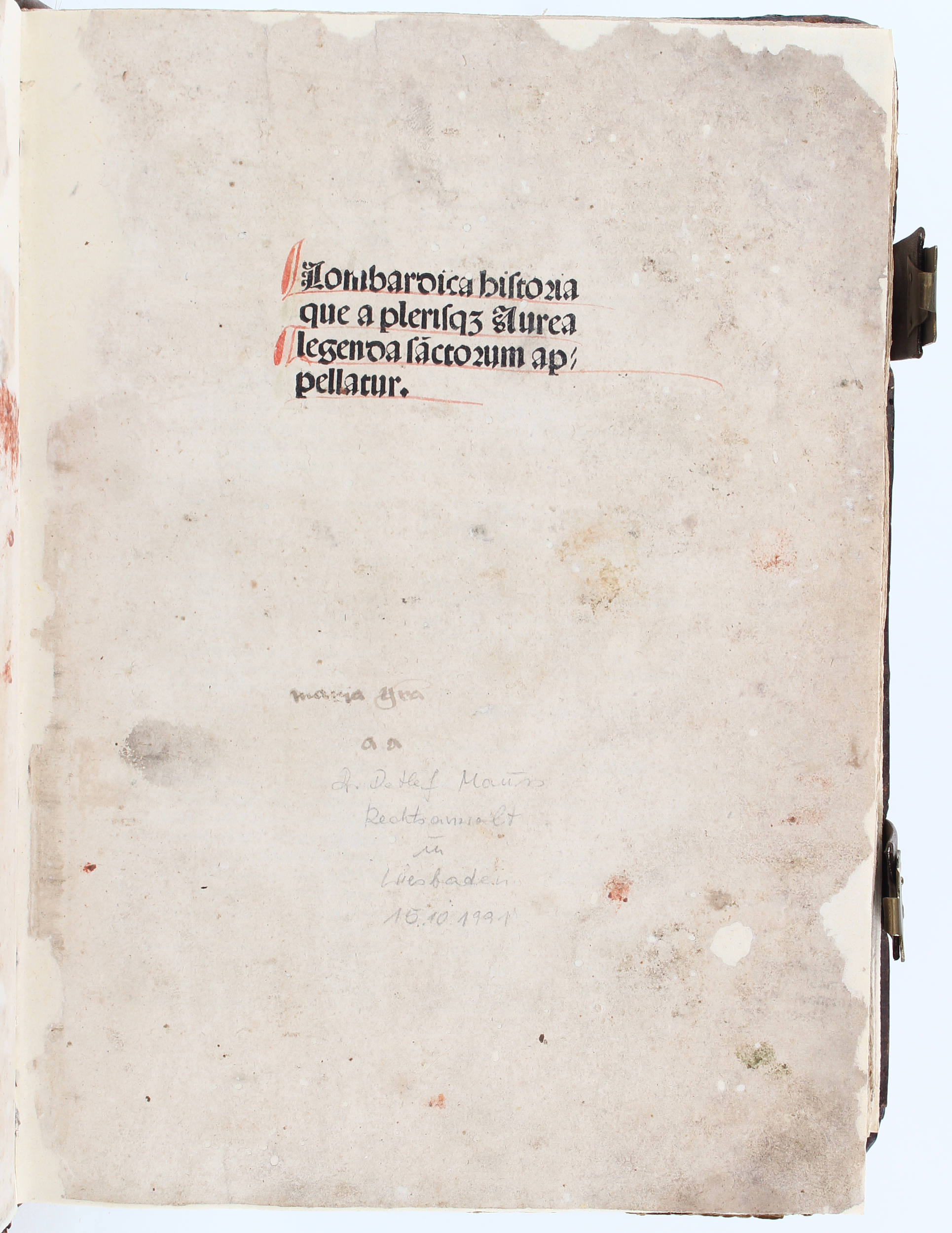 sold
Auction schedule:
October 30th, 2018 session starting 10:00 a.m.
Jacobus de Voragine. Legenda aurea sanctorum (Titel: Lombardica historia). Straßburg, (Drucker des Jordanus de Quedlinburg, d.i. Georg Husner), 19. Dez. 1486. Fol. (31:22 cm). Got. Typ., 2 Kol. Mit zahlr. eingemalten Initialen in Rot und Blau. 263 nn. Bll. (o.d.l.w.). Blindgeprägter Ldr. d. Zt. über Holzdeckeln mit zwei Schließen; restauriert, etwas berieben und wurmstichig, Kanten bestoßen, neue Vorsätze u. Schließbänder.
Scarce edition, with numerous initials supplied in red and blue. - Some browning and spotting, brown- and waterstaining to fold and margins in places. Some worming, stronger at beginning and end, partly restored. First and last gathering cleaned and partly restored, marginal defect on second leaf restored. A few contemporary annotations. Lacking the last blank. Bound in contemp. blindstamped calf over wooden boards, partly restored, new endpapers and new clasps, several wormholes, somewhat worn.
Copinger 6444; GW M11277; BMC I, 135; Goff J-177. - Seltene Straßburger Ausgabe der beliebten, in vielen Inkunabelausgaben verbreiteten Sammlung von Heiligenlegenden. Enthält gegen Ende einen Abriss der Geschichte der Langobarden, daher, wie vorliegend, manchmal unter dem Titel "Langobardica (Lombardica) historia". - Etwas gebräunt und fleckig, im Bund bzw. in den Rändern teilw. braun- bzw. wasserfleckig. Etwas wurmstichig, erste und letzte Bll. stärker, erste Bll. mit restaur. Wurmspur im weißen Rand. Einzelne alte Marginalien, 1. Blatt mit Anmerkung. Erste und letzte Lage gereinigt und vereinzelt restauriert, 2. Bl. mit restaur. Ausriss im weißen Rand. Freies Vorsatz mit Sammler-Blindstempel von "Dr. Detlef Mauss". - Zum wohl Leipziger Einband vgl. EBDB w000107.