Lot 101
Leonardus de Utino, Sermones quadragesimales
sold
[{"image":"https:\/\/cdn.philasearch.com\/A09454\/E01077\/0107700003.jpg","thumb":"https:\/\/cdn.philasearch.com\/A09454\/E01077\/0107700003.jpg"},{"image":"https:\/\/cdn.philasearch.com\/A09454\/E01077\/0107700003a.jpg","thumb":"https:\/\/cdn.philasearch.com\/A09454\/E01077\/0107700003a.jpg"},{"image":"https:\/\/cdn.philasearch.com\/A09454\/E01077\/0107700003b.jpg","thumb":"https:\/\/cdn.philasearch.com\/A09454\/E01077\/0107700003b.jpg"},{"image":"https:\/\/cdn.philasearch.com\/A09454\/E01077\/0107700003c.jpg","thumb":"https:\/\/cdn.philasearch.com\/A09454\/E01077\/0107700003c.jpg"},{"image":"https:\/\/cdn.philasearch.com\/A09454\/E01077\/0107700003d.jpg","thumb":"https:\/\/cdn.philasearch.com\/A09454\/E01077\/0107700003d.jpg"},{"image":"https:\/\/cdn.philasearch.com\/A09454\/E01077\/0107700003e.jpg","thumb":"https:\/\/cdn.philasearch.com\/A09454\/E01077\/0107700003e.jpg"},{"image":"https:\/\/cdn.philasearch.com\/A09454\/E01077\/0107700003f.jpg","thumb":"https:\/\/cdn.philasearch.com\/A09454\/E01077\/0107700003f.jpg"}]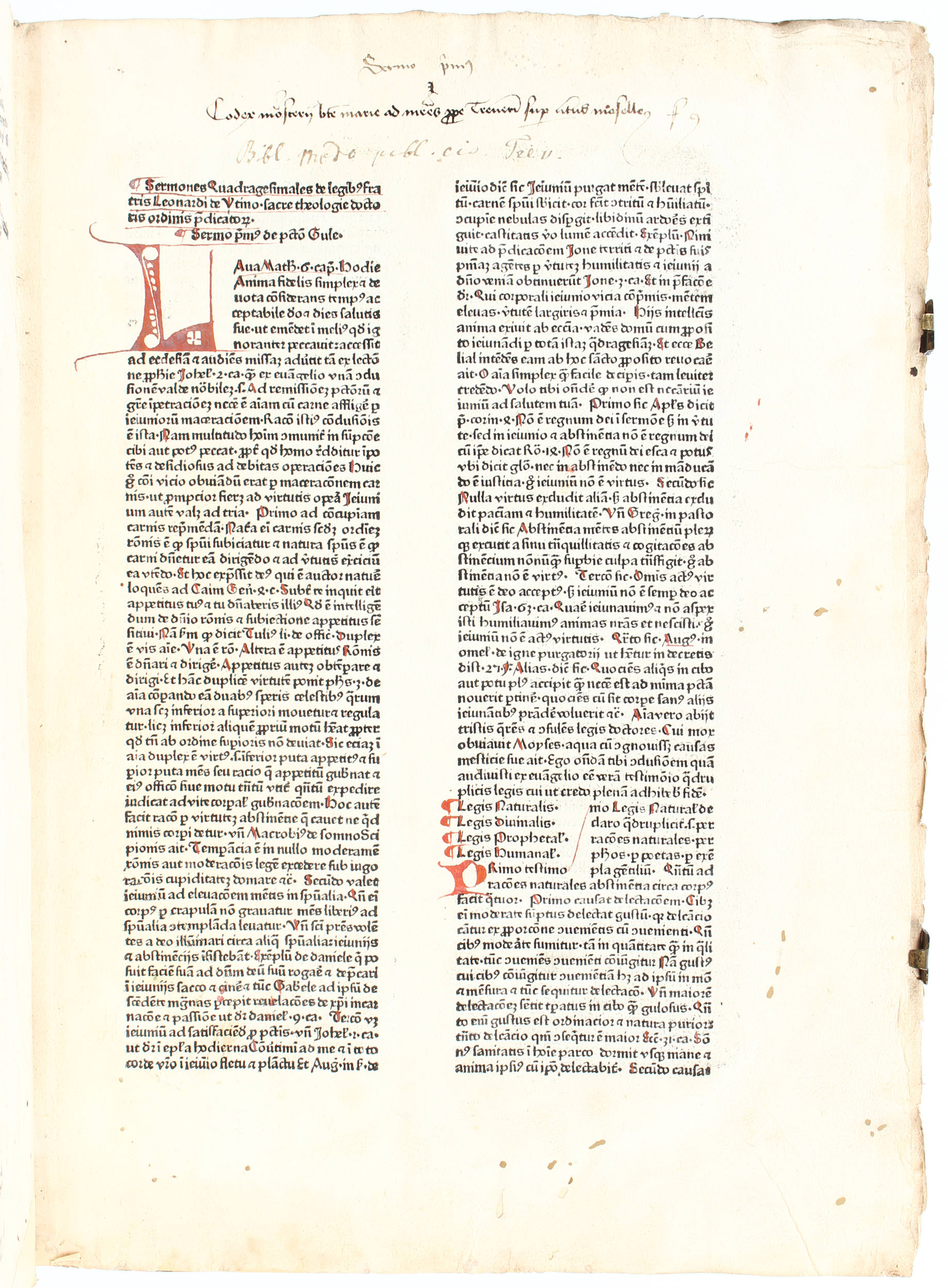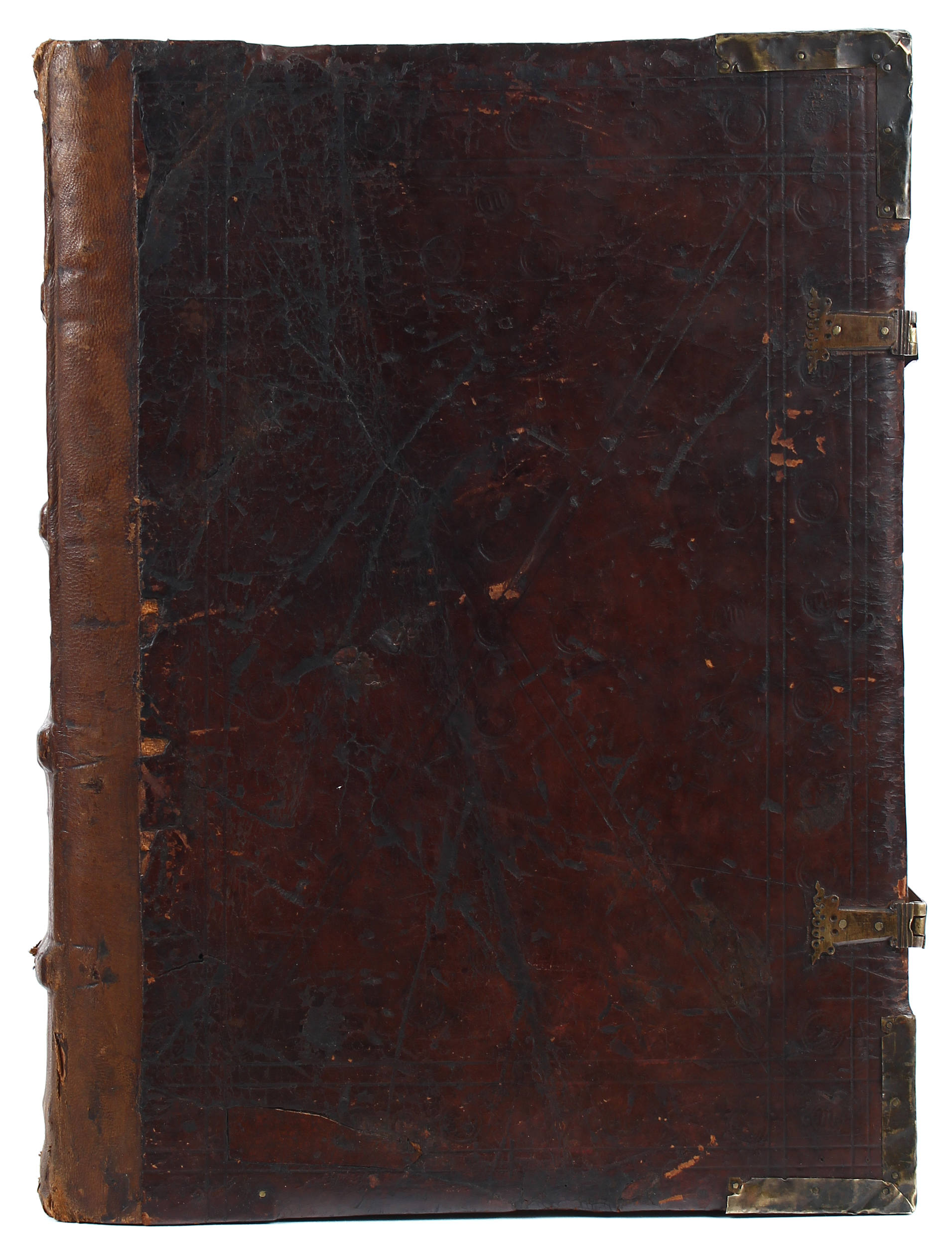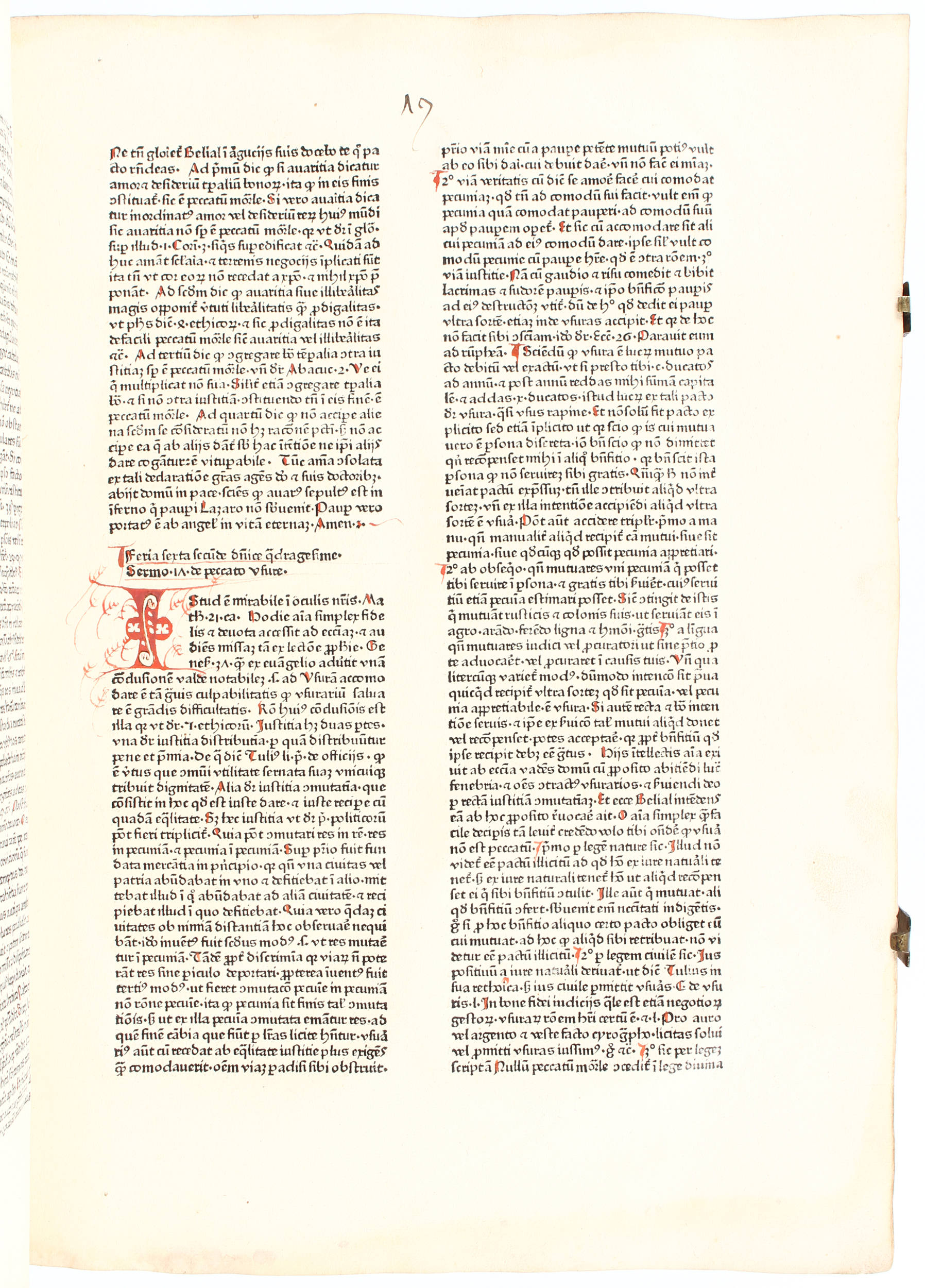 sold
Auction schedule:
October 30th, 2018 session starting 10:00 a.m.
Leonardus de Utino. Sermones quadragesimales de legibus. (Köln, Conrad Winters von Homborch, nicht nach 1475). Gr.-fol. (42:30,5 cm). Got. Typ., zweispaltiger Druck, zahlr. eingemalte Initialen in Rot u. Blau. 312 nn. Bll. (l.w.). Blindgepr. Lederband d. Zt. aus der Binderei der Reichsabtei St. Maximin in Trier für das benachbarte Marienkloster über schweren Holzdeckeln, 2 Schließen, alte Kantenbeschläge an den Ecken; Lederbezug etwas rissig und mit Bereibungen und Schabstellen, Blindprägung abgegriffen; Spiegel erneuert, Rücken erneuert.
Fine Cologne incunable. Rubricated, in a contemporary Trier binding. - Marginal dampstaining (minor discolorations in places, little mildew only) to lower broad white margin of approx. first half of volume, and to top broad white margin of approx. second half of volume, first leaf strenghtened at bottom, minor worming and little staining to first 6 leaves, some stronger marginal dampmarking to approx. last 10 leaves (incl. index) affecting text, last index leaf strenghtened at top white margin. Overall printed on fine thick paper. Contemporary blindstamped calf binding over thick wooden boards, bound for St. Mary at Martyrs close to the city of Trier (Palatinate/Germany), clasps and catches, metal corner pieces, spine renewed, some wear and rubbing to binding, but fine.
Hain 16116; GW M17915; Polain (B) 2474; Goff L-144; Vouillieme, Köln 744; nicht im BMC. - Seltene zweite Ausgabe dieser Predigtsammlung, erstmals 1473 in Venedig erschienen. Prachtvoller, großformatiger Druck. Als Drucker wird in älteren Bibliographien (u.a. Hain) auch Ulrich Zell aus Köln angegeben. - Provenienz und Einband: Mit Besitzvermerk des Klosters St. Maria zu den Märtyrern, das, außerhalb der Stadtmauern Triers gelegen, in der Zeit Napoleons säkularisiert wurde. Unter den Rundstempeln der mehrfach verwendete Stempel "M" (für Maria; EBDB s014946), dieser lt. EBDB w002242 in der Reichsabtei St. Maximin in Trier nachweisbar, welche zwischen 1474 und 1516 Einbände fertigte. Vermutlich wurde der Rundstempel eigens für das Kloster St. Marien angefertigt. - Zustand: Im breiten weißen Rand etwa bis zur Mitte unten und ab der Mitte oben feuchtigkeitsrandig teilw. mit geringen Verfärbungen, vereinzelt wenige Sporflecken, erstes Blatt unten im Rand verso verstärkt, erste 6 Bll. mit kleinen Wurmlöchern zumeist im weißen Rand sowie etwas fleckig. etwa die letzen 10 Bll. (inkl. Register) etwas wasserrandig und fleckig mit Textberührung, letztes Registerbl. oben im w. Rand mit Hinterlegung. Insgesamt auf kräftigem Papier gedruckt, vielfach unbeschnitten, attraktiv rubriziert.