Lot 102
Lochmaier, Sermones de sanctis
closed
[{"image":"https:\/\/cdn.philasearch.com\/A09454\/E00405\/0040500106.jpg","thumb":"https:\/\/cdn.philasearch.com\/A09454\/E00405\/0040500106.jpg"},{"image":"https:\/\/cdn.philasearch.com\/A09454\/E00405\/0040500106a.jpg","thumb":"https:\/\/cdn.philasearch.com\/A09454\/E00405\/0040500106a.jpg"},{"image":"https:\/\/cdn.philasearch.com\/A09454\/E00405\/0040500106b.jpg","thumb":"https:\/\/cdn.philasearch.com\/A09454\/E00405\/0040500106b.jpg"},{"image":"https:\/\/cdn.philasearch.com\/A09454\/E00405\/0040500106c.jpg","thumb":"https:\/\/cdn.philasearch.com\/A09454\/E00405\/0040500106c.jpg"},{"image":"https:\/\/cdn.philasearch.com\/A09454\/E00405\/0040500106d.jpg","thumb":"https:\/\/cdn.philasearch.com\/A09454\/E00405\/0040500106d.jpg"},{"image":"https:\/\/cdn.philasearch.com\/A09454\/E00405\/0040500106e.jpg","thumb":"https:\/\/cdn.philasearch.com\/A09454\/E00405\/0040500106e.jpg"},{"image":"https:\/\/cdn.philasearch.com\/A09454\/E00405\/0040500106f.jpg","thumb":"https:\/\/cdn.philasearch.com\/A09454\/E00405\/0040500106f.jpg"}]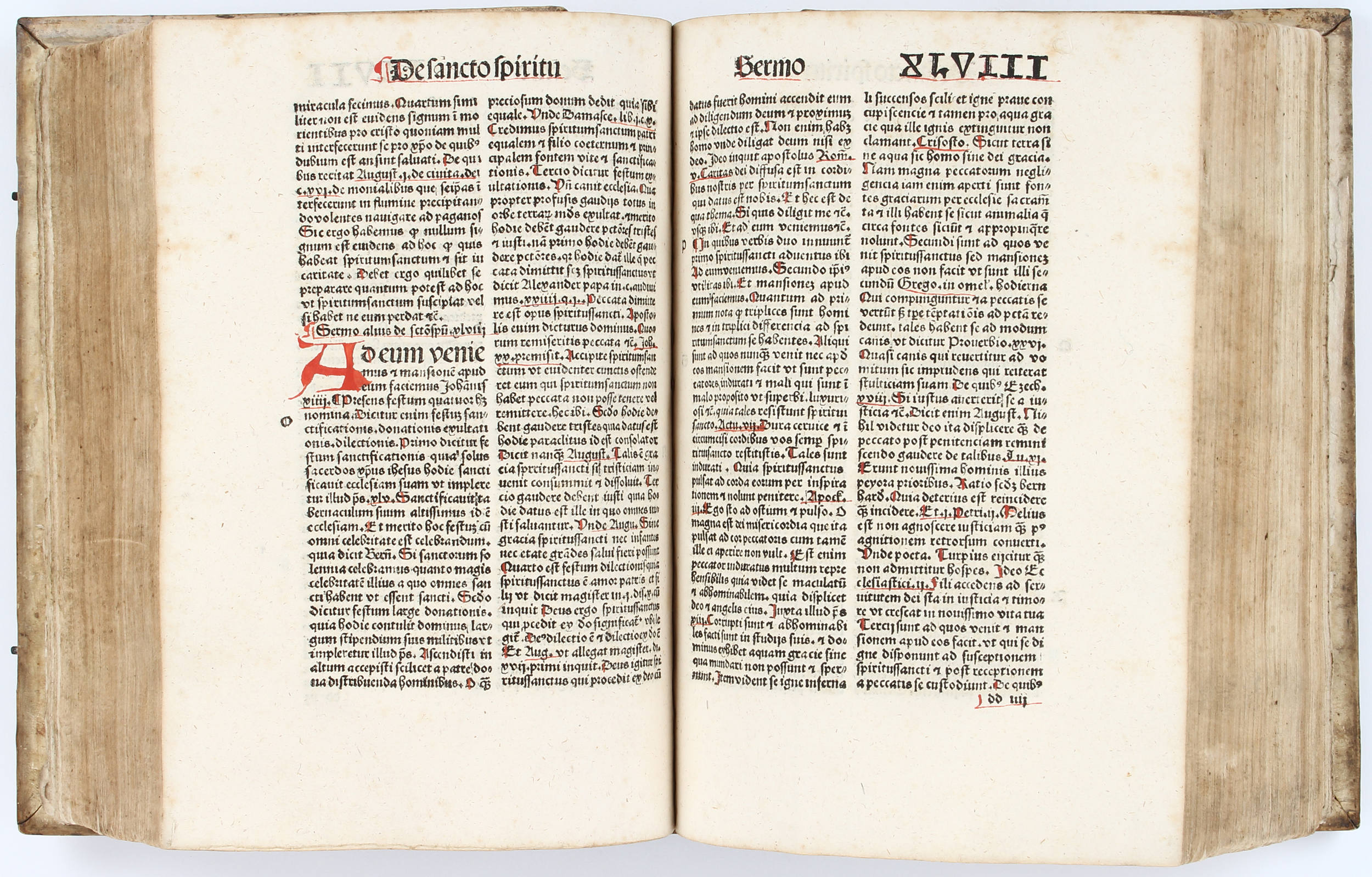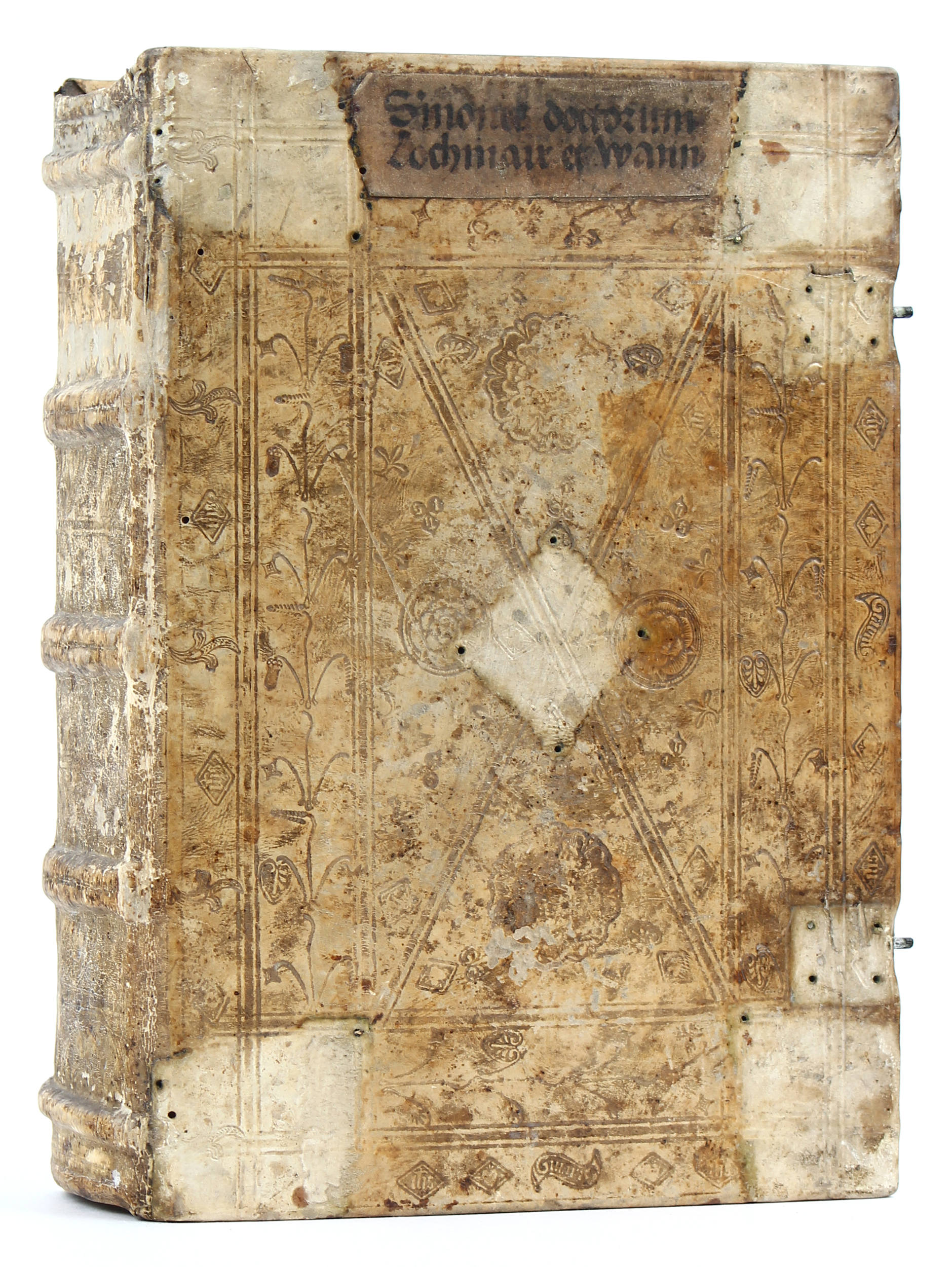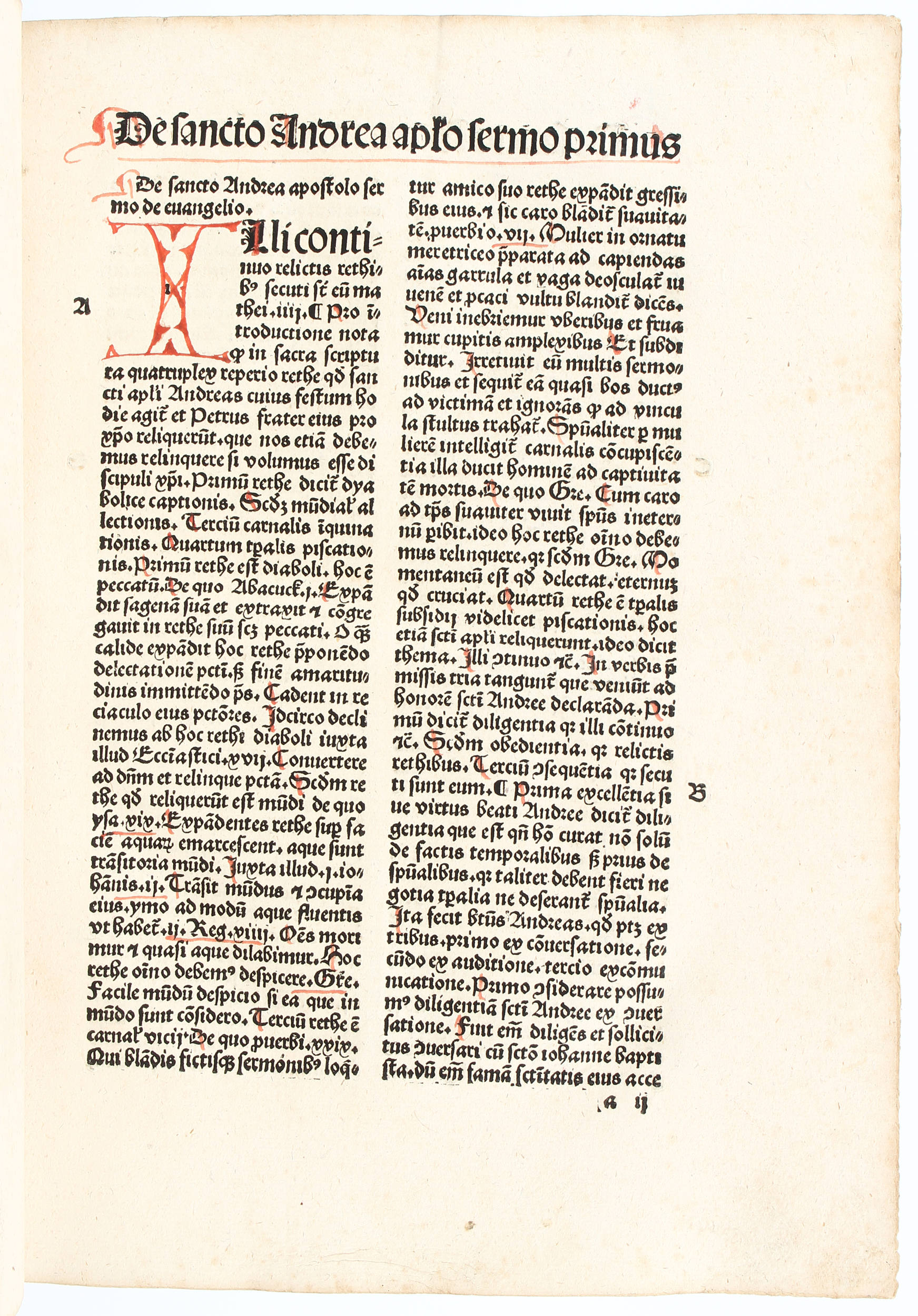 unsold
Auction schedule:
October 30th, 2018 session starting 10:00 a.m.
Lochmaier (Lochmayr), M. Sermones de sanctis perutiles; cum vigintitribus sermonibus magistri Pauli Wann annexis. (Passau, Johann Petri, 1490-91). Fol. (29:20 cm). Got. Typ., 2 Kol. Rubriziert, rot eingemalte Lombarden. 402 nn. Bll. (Bl. 19 u. 402 w.). Schweinsldr. d. Zt. über Holzdeckeln mit Prägung aus Streicheisenlinien und Einzelstempeln sowie altem hs. Deckelschild, Rücken mit Resten einer Übermalung; etwas fleckig, bestoßen und wurmstichig, fehlen alle Beschläge und die Schließen.
First edition. Rubricated and with Lombard initials supplied in red. - Slight browning and light marginal foxing in places, occasional stains (l. c6r two lines illegible). A few marginal tears, some worming to final quires. Occasional marginal annotations, some notes to endpapers. Bound in contemporary German blindstamped pigskin with vellum title label in a contemporary hand on upper cover; somewhat stained and worn, some small wormholes, lacking metal pieces and clasps. Final page with ownership incription.
Hain-C. 10172; GW M18683; BMC II, 617; Goff L-270. - Erste Ausgabe. L. war Dekan und Rektor der Universität Wien, 1489 wurde er als Nachfolger von Paul Wann Domprediger in Passau. - Streckenw. minimal gebräunt, vereinzelt fleckig, Bl. c6r unten stärker (dadurch ca. 2 Zeilen unlesbar), Ränder teilw. leicht stockfleckig, letzte Lagen etwas wurmstichig. Titel und wenige Bll. mit kl. Randläsuren, Bl. q3 und ff6 mit Eckabriss (Text nicht betroffen) und Bl. tt2 mit 2 kl. Randausrissen. Ganz vereinzelt Marginalen. - Provenienz: Das den Heiligen Sixtus und Sebastian geweihte Augustinerchorherrenstift (Herren)chiemsee (hs. Besitzvermerk auf der letzten Seite).