Lot 103
Parentinis, Expositio missae
sold
[{"image":"https:\/\/cdn.philasearch.com\/A09454\/E01076\/0107600002.jpg","thumb":"https:\/\/cdn.philasearch.com\/A09454\/E01076\/0107600002.jpg"},{"image":"https:\/\/cdn.philasearch.com\/A09454\/E01076\/0107600002a.jpg","thumb":"https:\/\/cdn.philasearch.com\/A09454\/E01076\/0107600002a.jpg"},{"image":"https:\/\/cdn.philasearch.com\/A09454\/E01076\/0107600002b.jpg","thumb":"https:\/\/cdn.philasearch.com\/A09454\/E01076\/0107600002b.jpg"},{"image":"https:\/\/cdn.philasearch.com\/A09454\/E01076\/0107600002c.jpg","thumb":"https:\/\/cdn.philasearch.com\/A09454\/E01076\/0107600002c.jpg"},{"image":"https:\/\/cdn.philasearch.com\/A09454\/E01076\/0107600002d.jpg","thumb":"https:\/\/cdn.philasearch.com\/A09454\/E01076\/0107600002d.jpg"}]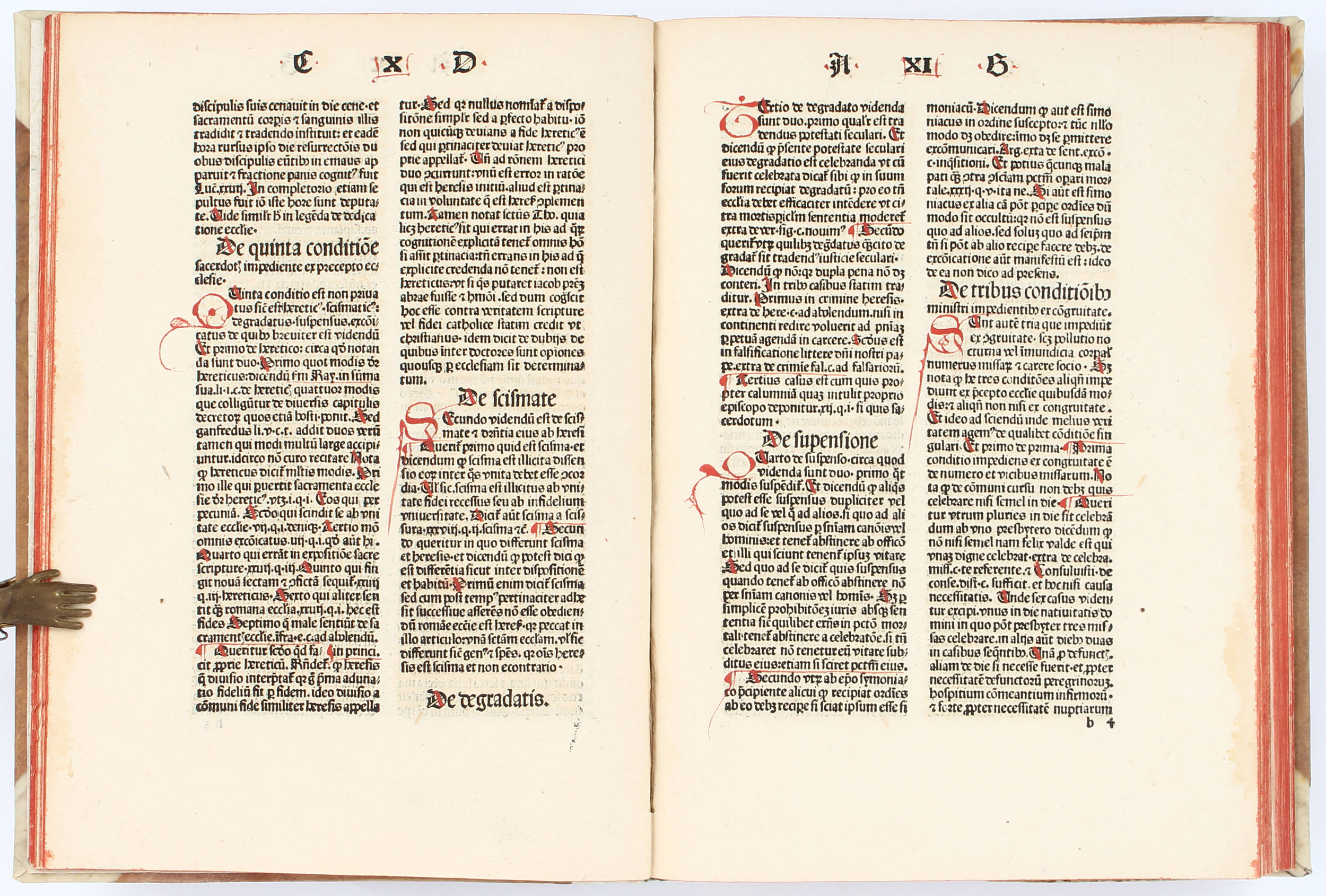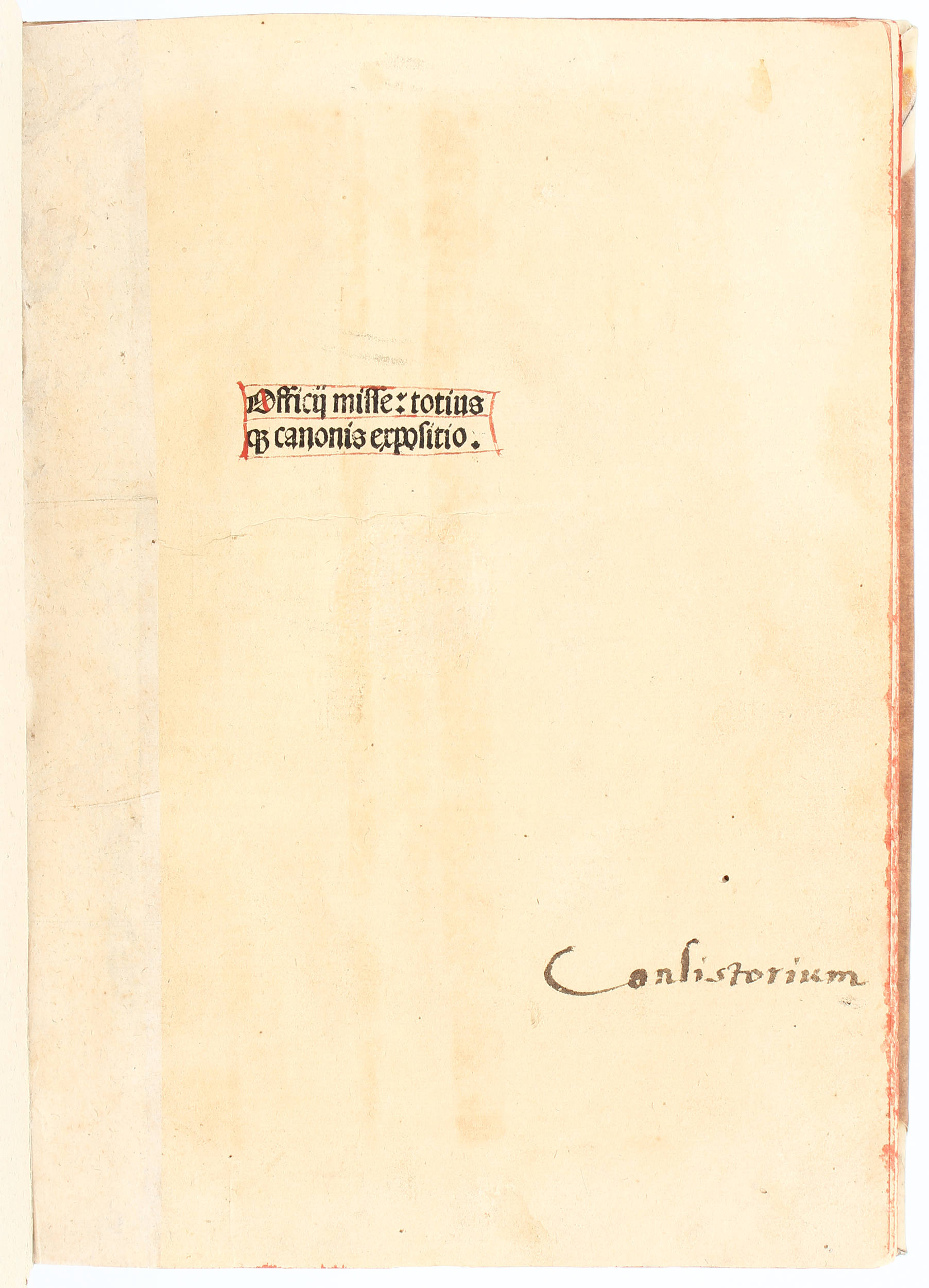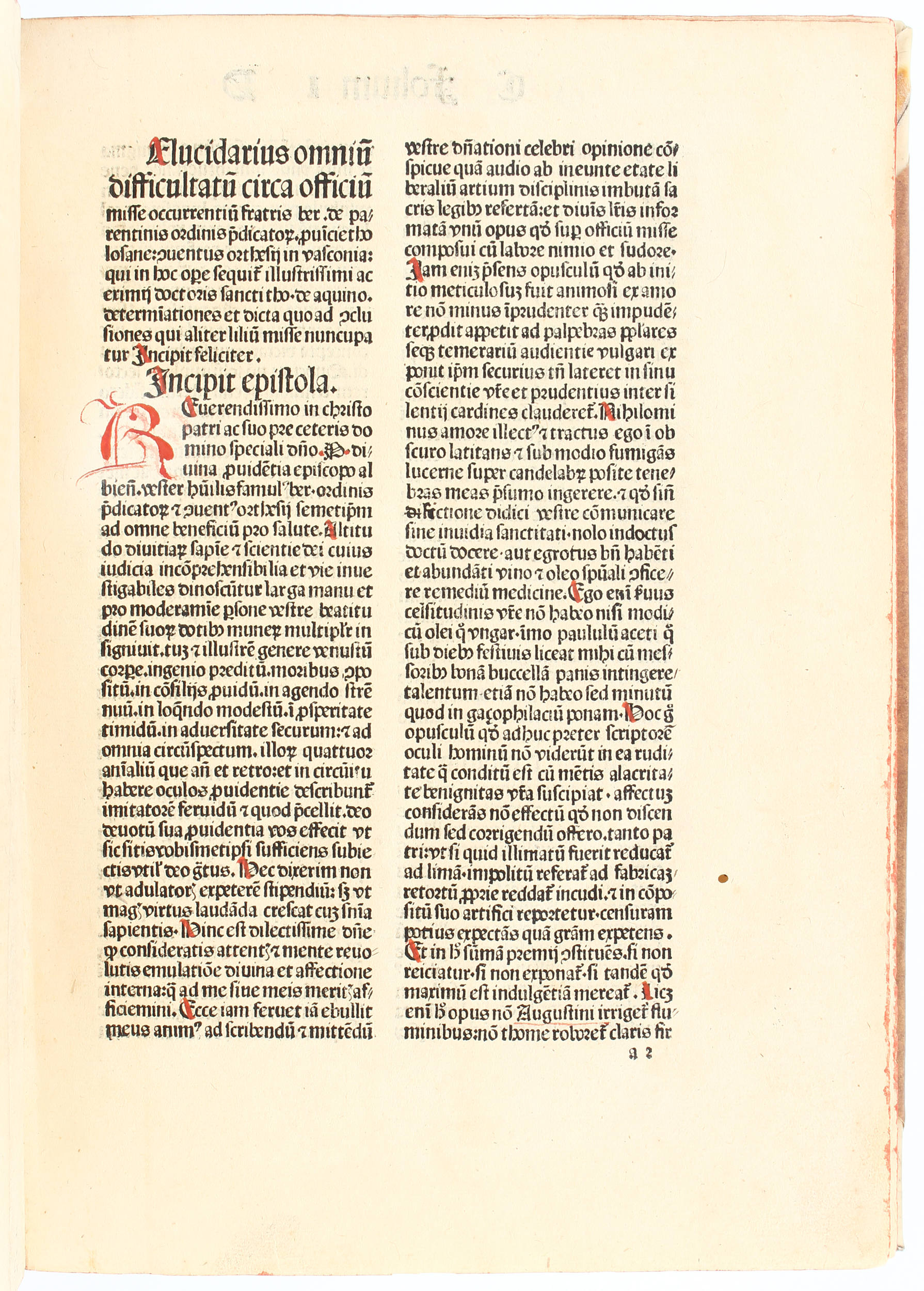 sold
Auction schedule:
October 30th, 2018 session starting 10:00 a.m.
Parentinis, B. de. Expositio officii missae. (Straßburg, J. Grüninger, 1487). Fol. (28,5:21,5 cm). Got. Typ., 2 Kol. Rubriziert. 1 nn., 88 num., 6 nn. Bll., 1 w. Bl. Neuerer Hprgt.
Important scholastic work on the organisation of the Holy Mass. - Rubricated. Title strenghtened at inner margin and with old ink note, l. a8 strengthened at inner margin, ink stain to l. h4. Bound in recent half-vellum.
Hain-C. 12420; GW M 29432; BMC I, 169; Goff P 110. - Abhandlung über die Messe, verfasst von dem scholastischen Theologen Bernardus de Parentinis (gest. 1340). Die Schrift des Benediktiners steht in einer Reihe mit der seines Ordensbruders Hugo de Sancto Caro ("Speculum ecclesiae") und den Werken des Alexander von Hales. Die hierin ausgearbeiteten Vorstellungen waren grundlegend für die Neuordnung der Messe im 16. Jahrhundert (vgl. Chadwick, Missa Tridentina, p. 12). Parentinis' Schrift ist mehrfach gedruckt worden, zuerst wohl 1478 in Zaragoza (Goff P-107). - Geringe Papierbräunung, Titel innen verstärkt bzw. angefalzt sowie mit alter Tintennotiz, Bl. a8 innen verstärkt, Bl. h4 unten mit Tintenfleck.