Lot 104
Petrus von Rosenheim, Roseum
sold
[{"image":"https:\/\/cdn.philasearch.com\/A09454\/E01129\/0112900005.jpg","thumb":"https:\/\/cdn.philasearch.com\/A09454\/E01129\/0112900005.jpg"},{"image":"https:\/\/cdn.philasearch.com\/A09454\/E01129\/0112900005a.jpg","thumb":"https:\/\/cdn.philasearch.com\/A09454\/E01129\/0112900005a.jpg"},{"image":"https:\/\/cdn.philasearch.com\/A09454\/E01129\/0112900005b.jpg","thumb":"https:\/\/cdn.philasearch.com\/A09454\/E01129\/0112900005b.jpg"},{"image":"https:\/\/cdn.philasearch.com\/A09454\/E01129\/0112900005c.jpg","thumb":"https:\/\/cdn.philasearch.com\/A09454\/E01129\/0112900005c.jpg"},{"image":"https:\/\/cdn.philasearch.com\/A09454\/E01129\/0112900005d.jpg","thumb":"https:\/\/cdn.philasearch.com\/A09454\/E01129\/0112900005d.jpg"}]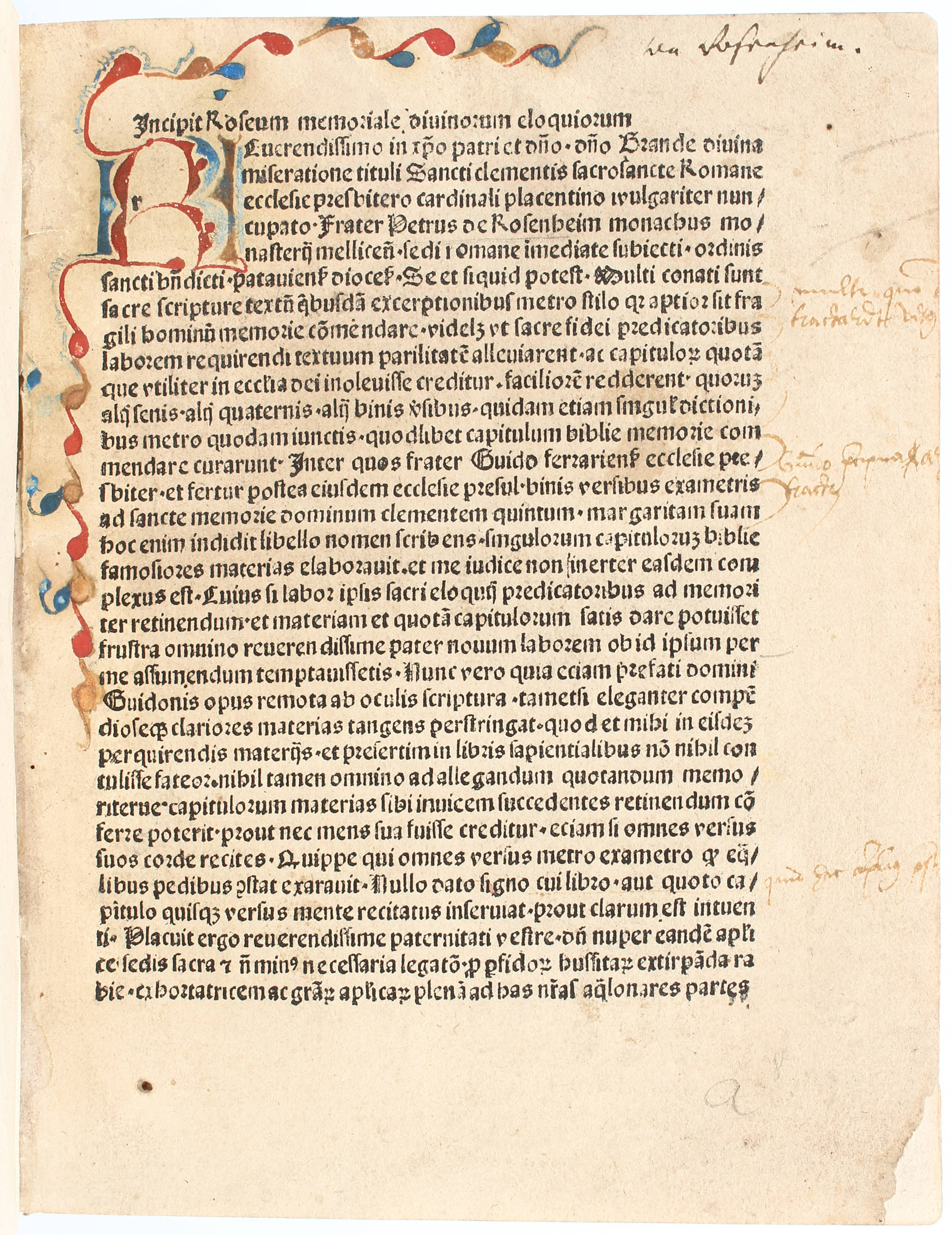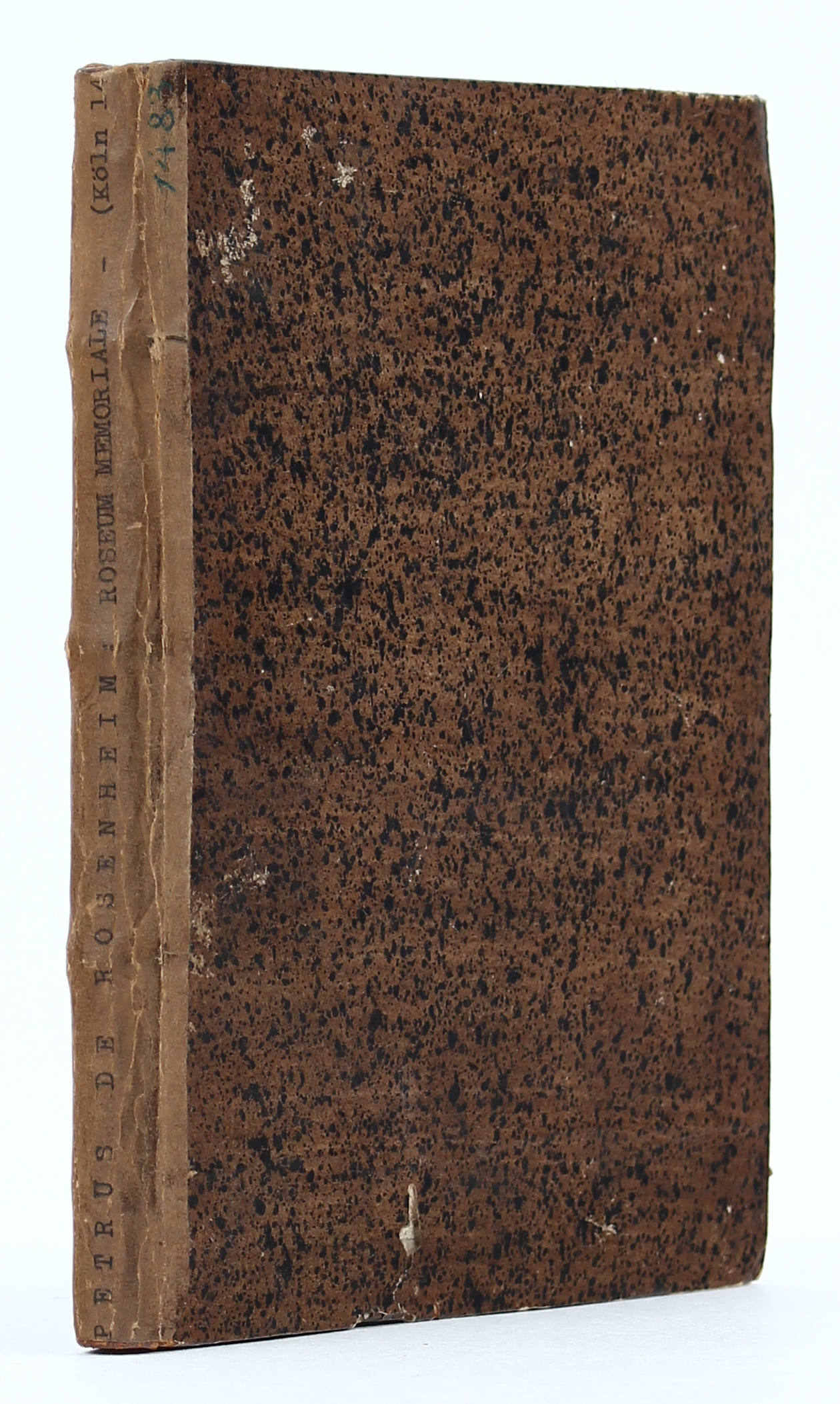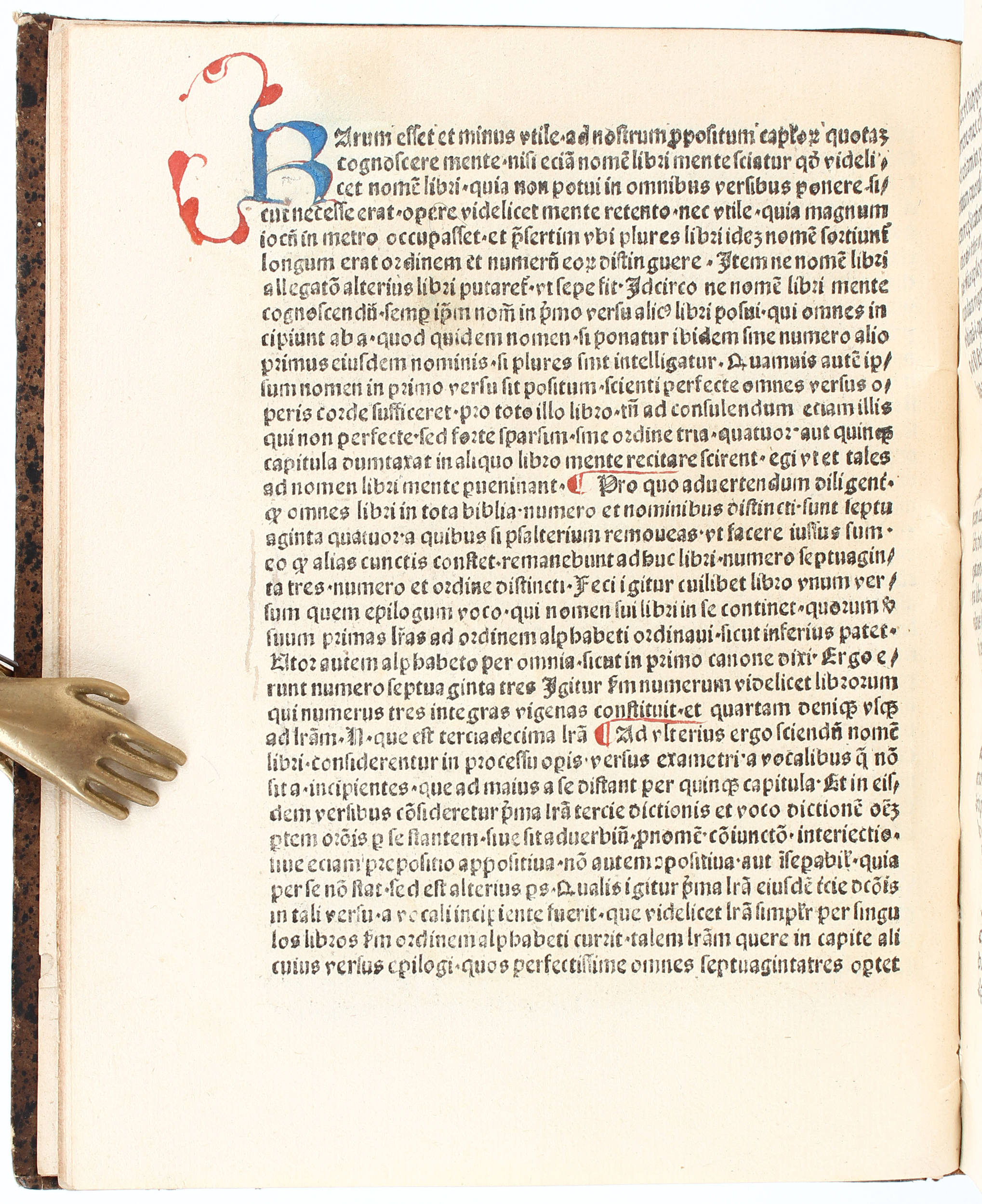 sold
Auction schedule:
October 30th, 2018 session starting 10:00 a.m.
Petrus von Rosenheim. Roseum memoriale divinorum eloquiorum. O. O. (Deutschland, Oberrhein), Drucker des Petrus von Rosenheim, um 1483. 4to (19:15,5 cm). Got. Typ. Rubriziert, eingemalte Initialen in Rot u. Blau. 46 (st. 48) nn. Bll. Pp. d. 19.Jh. mit späterem Rückenbezug, Kanten etwas bestoßen.
First edition, the press which produced this edition has not been identified. - Some browning in places, heavier to first leaf, slight spotting, few annotations. Small marginal repair to first two and last leaf, tear to inner margin of first and last leaf. Lacking (d3) and the first blank. 19th cent. boards, extremities somewhat worn.
Hain-C. 13988; GW M32724; BMC I, 312; Vouilliéme, Köln S. 415 ("Der Ursprung des Druckes erscheint mir unsicher"); Goff R-336; Young, Bibl. of Memory 278. - Erste Ausgabe. "A mnemotechnical help for study of the Bible" (Young). Petrus v. Rosenheim (auch Rosenhaym) war Prior des Klosters Melk. Der Druck ist bisher nicht eindeutig zuzuordnen, Proctor vermutet den Kölner Drucker Ludwig von Rechen, Hain vermutet den Druck aus der oberrheinischen Gegend. - Teilw. etwas gebräunt, Titel stark, gering fleckig, wenige alte Anmerkungen. Erste zwei u. letztes Blatt mit kleiner Hinterlegung im Rand, erstes u. letztes Blatt mit Einriss im Bund. Es fehlt (d3) u. das erste weiße Blatt.