Lot 105
Rodericus Zamorensis, Speculum vitae humanae
closed
[{"image":"https:\/\/cdn.philasearch.com\/A09454\/E00405\/0040500111.jpg","thumb":"https:\/\/cdn.philasearch.com\/A09454\/E00405\/0040500111.jpg"},{"image":"https:\/\/cdn.philasearch.com\/A09454\/E00405\/0040500111a.jpg","thumb":"https:\/\/cdn.philasearch.com\/A09454\/E00405\/0040500111a.jpg"},{"image":"https:\/\/cdn.philasearch.com\/A09454\/E00405\/0040500111b.jpg","thumb":"https:\/\/cdn.philasearch.com\/A09454\/E00405\/0040500111b.jpg"},{"image":"https:\/\/cdn.philasearch.com\/A09454\/E00405\/0040500111c.jpg","thumb":"https:\/\/cdn.philasearch.com\/A09454\/E00405\/0040500111c.jpg"},{"image":"https:\/\/cdn.philasearch.com\/A09454\/E00405\/0040500111d.jpg","thumb":"https:\/\/cdn.philasearch.com\/A09454\/E00405\/0040500111d.jpg"},{"image":"https:\/\/cdn.philasearch.com\/A09454\/E00405\/0040500111e.jpg","thumb":"https:\/\/cdn.philasearch.com\/A09454\/E00405\/0040500111e.jpg"}]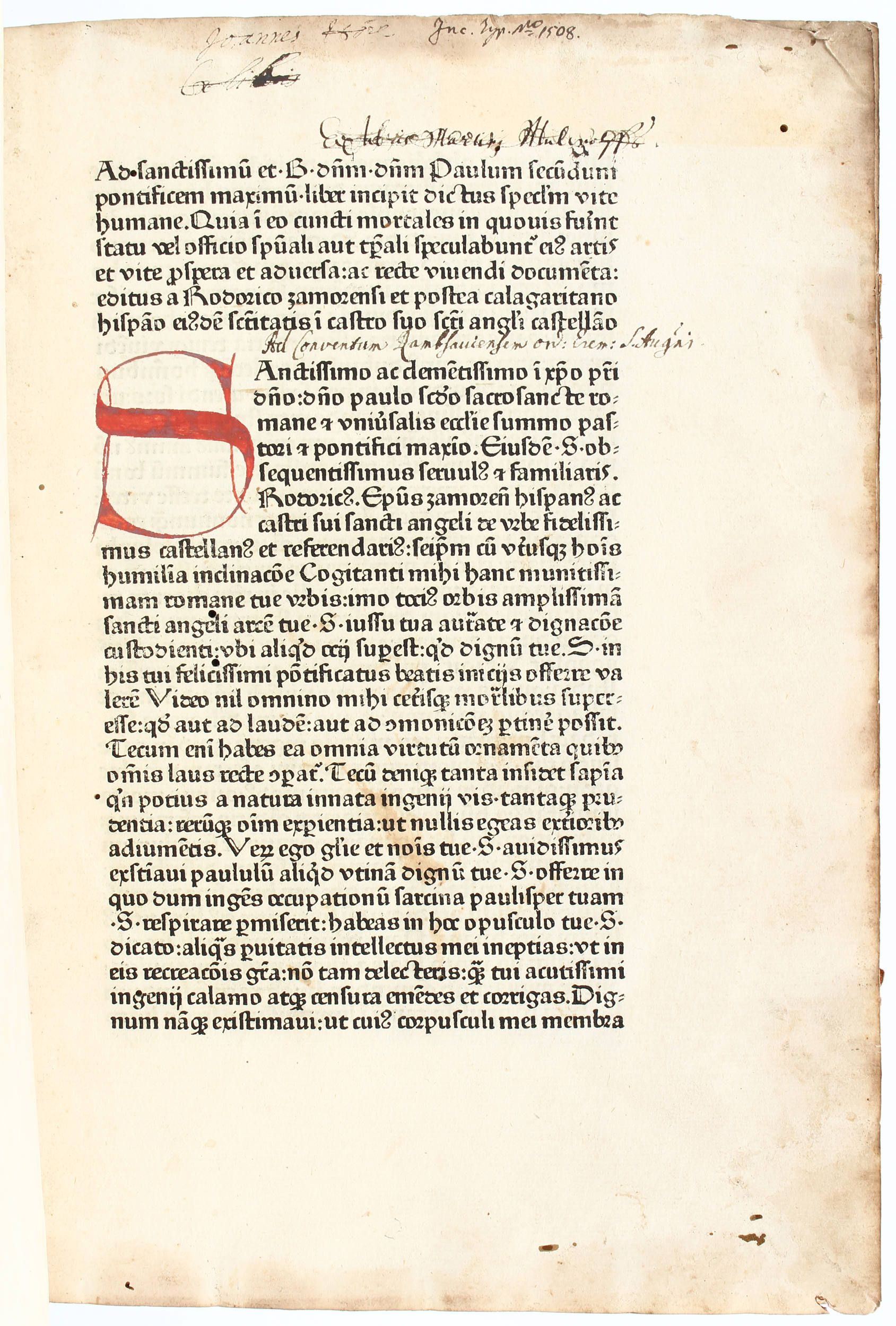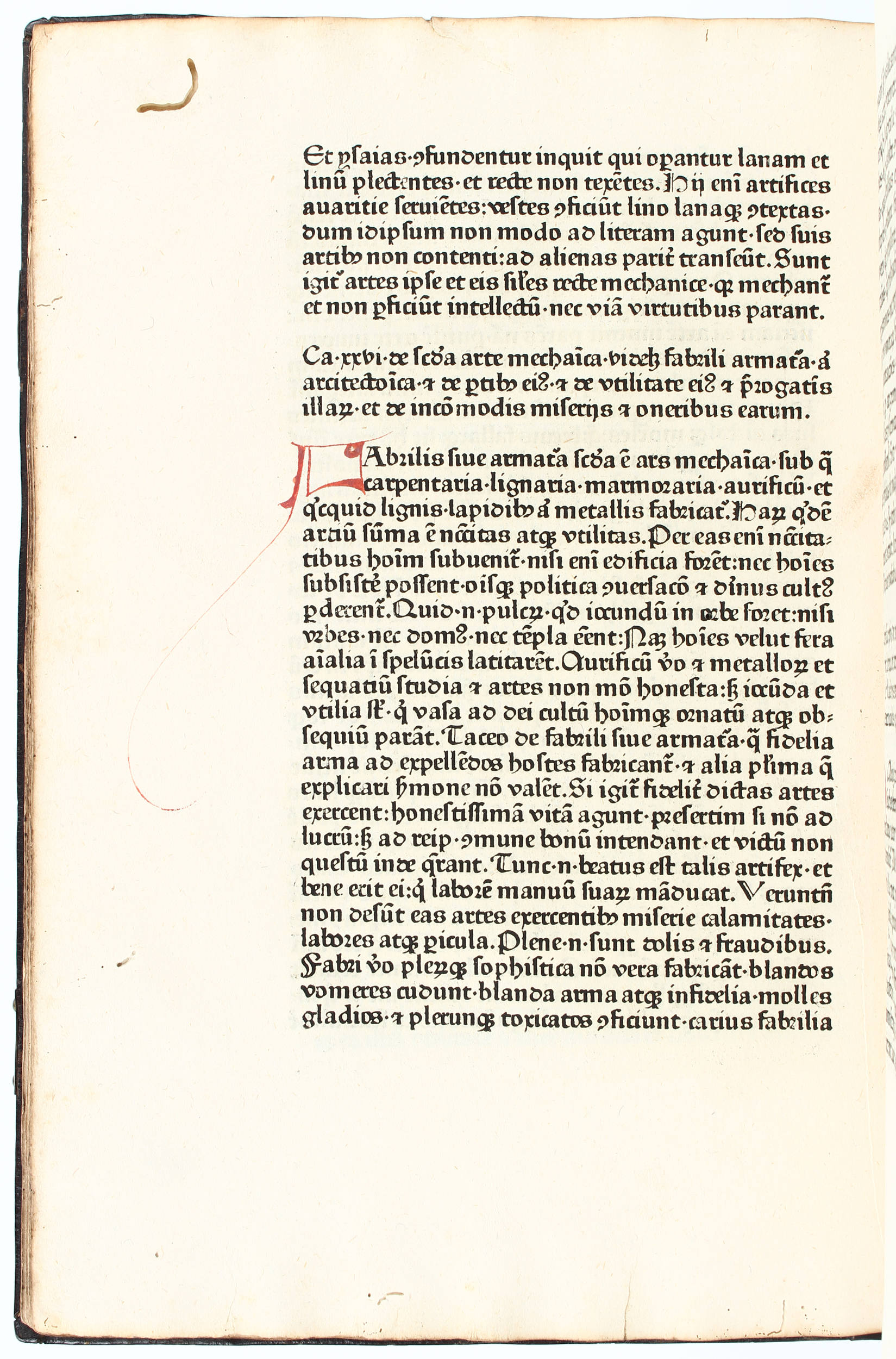 unsold
Auction schedule:
October 30th, 2018 session starting 10:00 a.m.
A Mirror of Life and Science
Rodericus Zamorensis. Speculum vitae humanae. Augsburg, Günther Zainer, 1471. Fol. (31,5:22 cm). Got. Typ. Rubriziert. 128 nn. Bll. Mit eingemalter größerer Eingangsinitiale sowie zahlr. kleineren Initialen in Rot. Lederband d. Zt. mit spätgotischer Blindprägung mit Palmetten, Rosetten, "Ave Maria"-Schriftbändern u. Einzelstempel auf beiden Deckeln, wurmstichig, teilw. restauriert, Rücken u. Vorsätze erneuert, mit neueren Schließenresten.
Fine specimen of Zainer's printing press in Augsburg. - Some staining in places; browned waterstaining to second half, stronger to the end; some marginal worming; ms. notes in places. Contemporary blindstamped calf, lacking clasps, somewhat restored, spine and endpapers renewed, wormed.
Hain-C. 13940; GW M38455; BMC II, 316; Goff R-215; Palau 272.022. - Seltene und schöne Ausgabe durch den Augsburger Prototypographen Günther Zainer, in seiner berühmten 2. Type gedruckt, die typographisch wegweisend für nachfolgende Inkunabeln werden sollte. Der Text erschien erstmals 1468 in Rom und handelt "von den Annehmlichkeiten und Widerwärtigkeiten der verschiedenen weltlichen Stände und geistlichen Würden" (Wetzer-W. I, 1272). "The first dated book with a section on medicine. It is an encyclopaedia of human life dealing with the various arts and professions, and includes chapters on mathematics, astronomy, navigation, music, agriculture etc. The author was a learned Spanish ecclesiastic, born in the diocese of Segovia in 1404. He died at Rome in 1470" (Honeyman Coll. 2670, zum Erstdruck). - Stellenw. etwas fleckig; zweite Hälfte mit bräunendem Wasserrand, gegen Ende stärker; durchgehend mit kleineren Wurmspuren im Außensteg; vereinzelt mit Notizen am Textrand; Exlibris.