Lot 107
Rolewinck, Fasciculus temporum
sold
[{"image":"https:\/\/cdn.philasearch.com\/A09454\/E01014\/0101400011.jpg","thumb":"https:\/\/cdn.philasearch.com\/A09454\/E01014\/0101400011.jpg"},{"image":"https:\/\/cdn.philasearch.com\/A09454\/E01014\/0101400011a.jpg","thumb":"https:\/\/cdn.philasearch.com\/A09454\/E01014\/0101400011a.jpg"},{"image":"https:\/\/cdn.philasearch.com\/A09454\/E01014\/0101400011b.jpg","thumb":"https:\/\/cdn.philasearch.com\/A09454\/E01014\/0101400011b.jpg"},{"image":"https:\/\/cdn.philasearch.com\/A09454\/E01014\/0101400011c.jpg","thumb":"https:\/\/cdn.philasearch.com\/A09454\/E01014\/0101400011c.jpg"},{"image":"https:\/\/cdn.philasearch.com\/A09454\/E01014\/0101400011d.jpg","thumb":"https:\/\/cdn.philasearch.com\/A09454\/E01014\/0101400011d.jpg"},{"image":"https:\/\/cdn.philasearch.com\/A09454\/E01014\/0101400011e.jpg","thumb":"https:\/\/cdn.philasearch.com\/A09454\/E01014\/0101400011e.jpg"},{"image":"https:\/\/cdn.philasearch.com\/A09454\/E01014\/0101400011f.jpg","thumb":"https:\/\/cdn.philasearch.com\/A09454\/E01014\/0101400011f.jpg"},{"image":"https:\/\/cdn.philasearch.com\/A09454\/E01014\/0101400011g.jpg","thumb":"https:\/\/cdn.philasearch.com\/A09454\/E01014\/0101400011g.jpg"},{"image":"https:\/\/cdn.philasearch.com\/A09454\/E01014\/0101400011h.jpg","thumb":"https:\/\/cdn.philasearch.com\/A09454\/E01014\/0101400011h.jpg"},{"image":"https:\/\/cdn.philasearch.com\/A09454\/E01014\/0101400011i.jpg","thumb":"https:\/\/cdn.philasearch.com\/A09454\/E01014\/0101400011i.jpg"}]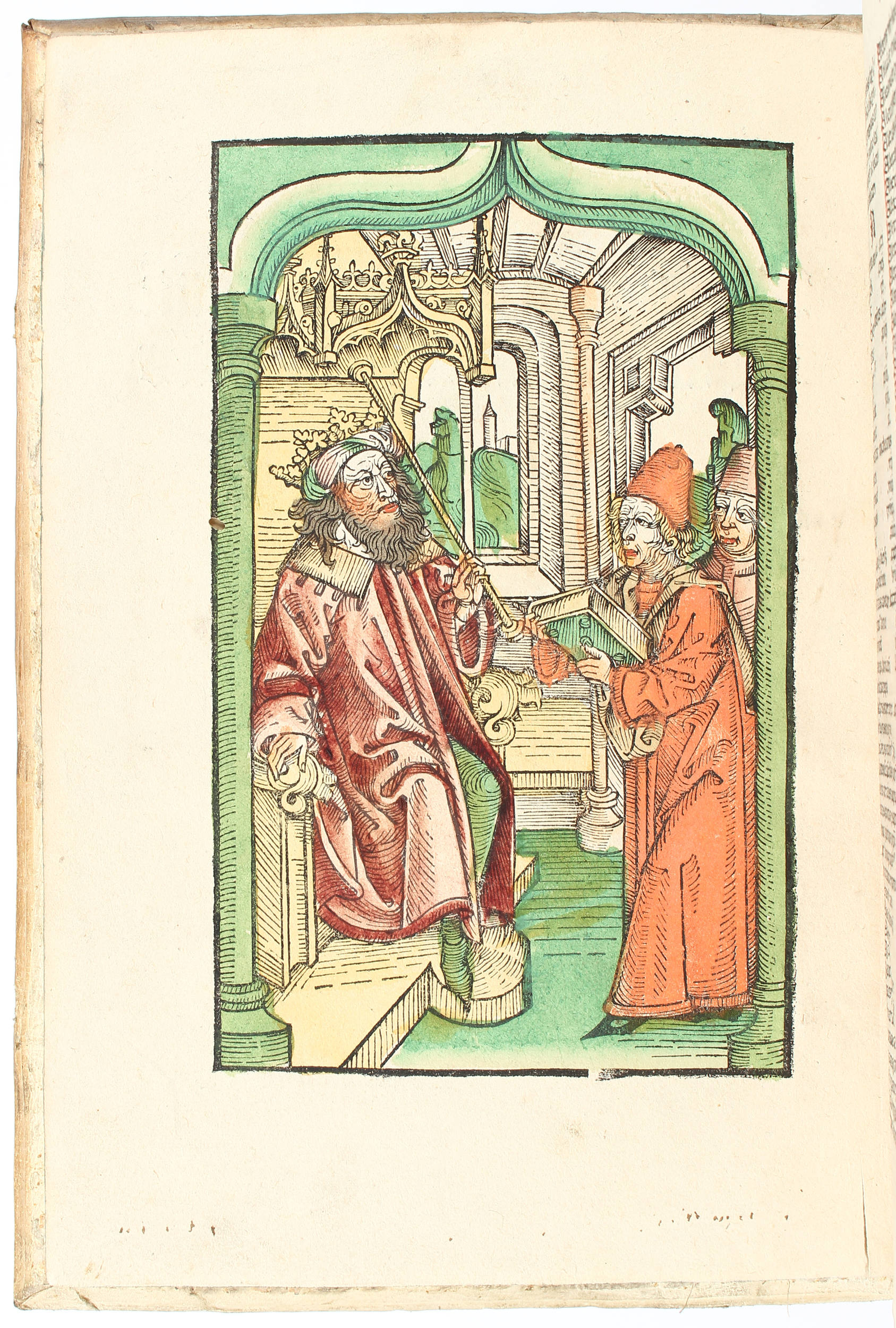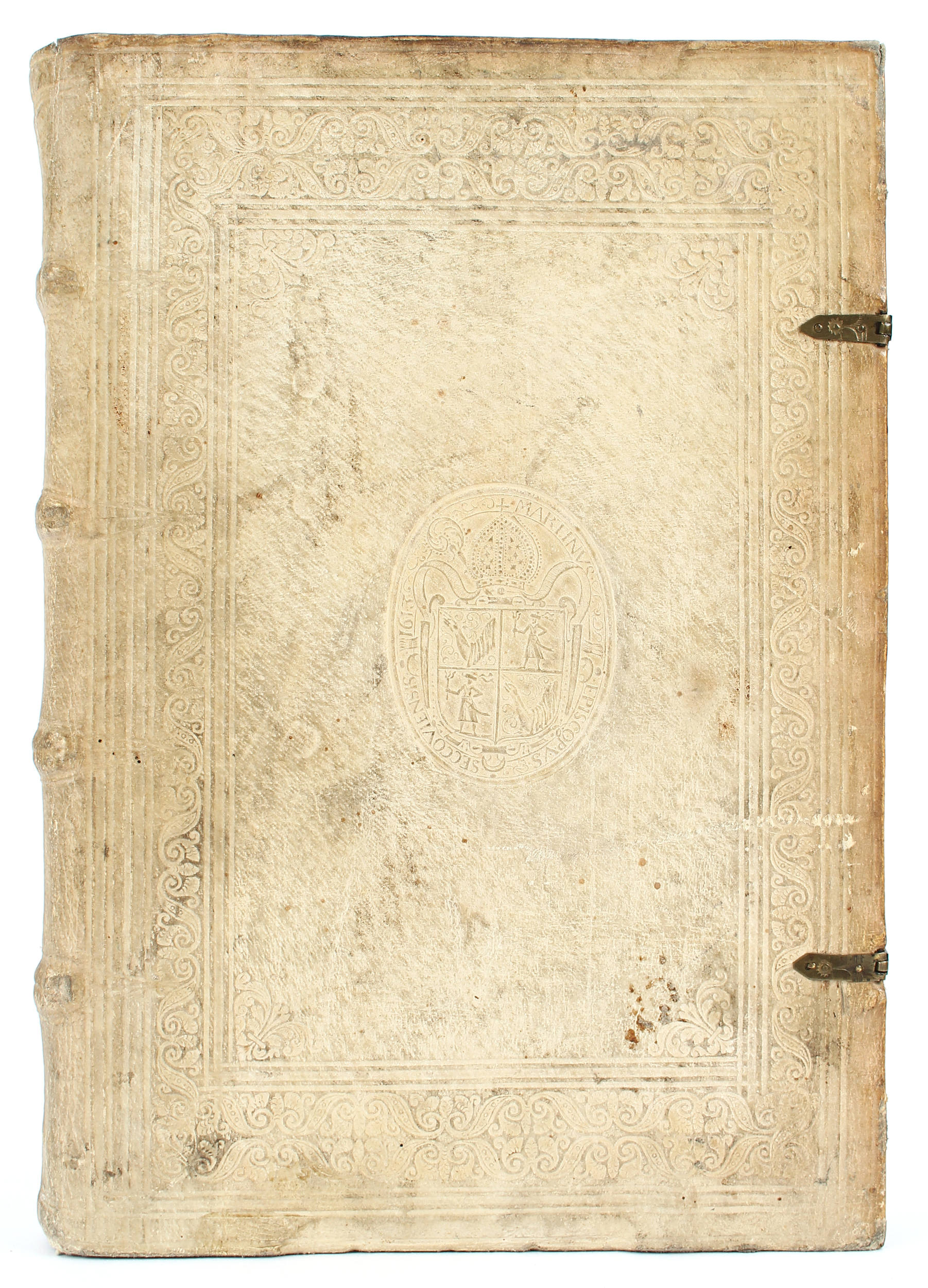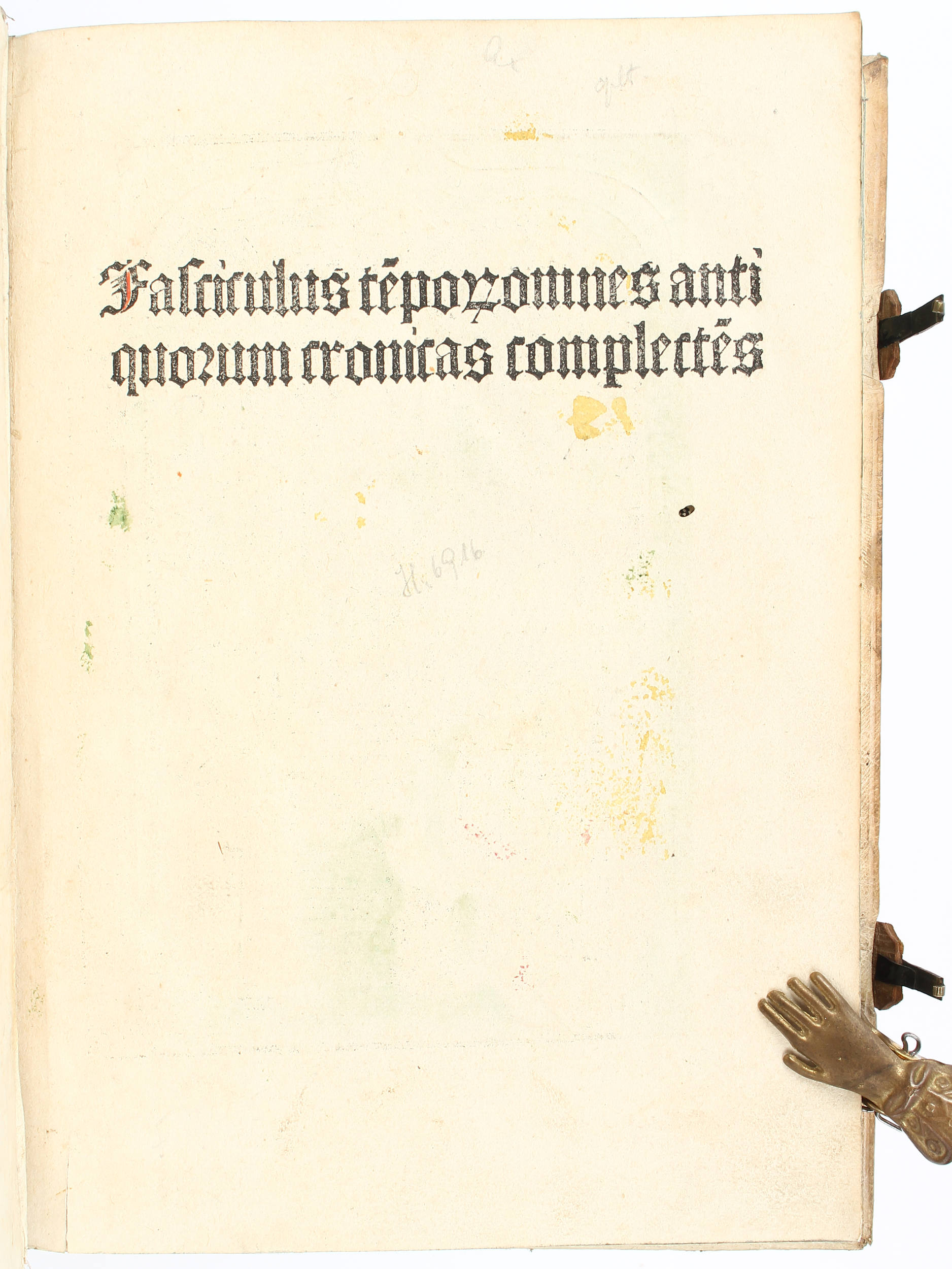 sold
Auction schedule:
October 30th, 2018 session starting 10:00 a.m.
Rolewinck, W. Fasciculus temporum. (Straßburg, J. Prüss, nach 6. April 1490). Fol. (27,5:19,5 cm). Got. Typ. Mit blattgr. Holzschnitt Titel verso, 17 figürlichen Textholzschn. (inkl. Wiederholungen) u. zahlr. Diagrammen, alles in schönem altem Kolorit. 6 nn., 90 röm. num. Bll. (ohne die 2 weißen Bll. am Schluss). Alter blindgepr. Schweinsldr. über Holzdeckeln mit 2 Schließen, beide Deckel mit blindgepr. Wappensupralibos des Bischofs Martin (Brenner) von Seckau, datiert 1613; berieben, ohne freie Vorsätze.
Some browning and staining in places; marginal waterstain to last few leaves; restored marginal tear or cut-out to few leaves; small loss of text to 1 leaf; lacking the 2 blank leaves at end; contemporary entry to last leaf by the owner, Magnus Sartorius. Old blindtooled pig-skin over wooden boards with the coat-of-arms of bishop Martin Brenner of Seckau, dated 1613; rubbed, without free endpapers.
Hain-C. 6916; GW M38725; Goff R-276; Polain (B) 3362. - Einer von 5 Drucken der beliebten Universalgeschichte, die Prüss in kurzen Abständen herausgab. Basiert auf der Rougemont-Ausgabe von 1481, der Text ist bis 1490 fortgeführt, zur Datierung wurde der Tod von König Matthias Corvinus herangezogen. Auf num. Bl. 89 verso die bekannte Erwähnung der Erfindung des Buchdrucks, hier auf 1457 datiert. Zu Beginn rubriziert, alle Holzschnitte, Diagramme und Holzschnittleisten sind in Rot, Gelb oder Grün koloriert. - Stellenw. etwas gebräunt oder fleckig, ab num. Bll. 85 im Außensteg mit Wasserfleck; 2. Bl. der Vorstücke, num. Bl. 47 u. Schlussbl. unten mit ergänztem Randabschnitt; num. Bl. 46 mit geringem Textverlust durch Überklebung eines Randeinrisses bis in den Text, der Text alt handschriftlich ergänzt; num. Bl. 38 mit ergänztem Randabriss, num. Bl. 81 mit überklebtem Einriss im weißen Rand. Bl. 6 der Vorstücke mit Namenszug Magnus Sartorius und Jahreszahl 1493 in roter Tinte, von derselben Hand in roter Tinte auf dem Schlussblatt verso eine zweizeilige Notiz über den Tod Kaiser Friedrichs III. am 19. August 1493 in Linz.