Lot 111
Terentius, Comoediae
sold
[{"image":"https:\/\/cdn.philasearch.com\/A09454\/E01071\/0107100010.jpg","thumb":"https:\/\/cdn.philasearch.com\/A09454\/E01071\/0107100010.jpg"},{"image":"https:\/\/cdn.philasearch.com\/A09454\/E01071\/0107100010a.jpg","thumb":"https:\/\/cdn.philasearch.com\/A09454\/E01071\/0107100010a.jpg"},{"image":"https:\/\/cdn.philasearch.com\/A09454\/E01071\/0107100010b.jpg","thumb":"https:\/\/cdn.philasearch.com\/A09454\/E01071\/0107100010b.jpg"},{"image":"https:\/\/cdn.philasearch.com\/A09454\/E01071\/0107100010c.jpg","thumb":"https:\/\/cdn.philasearch.com\/A09454\/E01071\/0107100010c.jpg"},{"image":"https:\/\/cdn.philasearch.com\/A09454\/E01071\/0107100010d.jpg","thumb":"https:\/\/cdn.philasearch.com\/A09454\/E01071\/0107100010d.jpg"},{"image":"https:\/\/cdn.philasearch.com\/A09454\/E01071\/0107100010e.jpg","thumb":"https:\/\/cdn.philasearch.com\/A09454\/E01071\/0107100010e.jpg"},{"image":"https:\/\/cdn.philasearch.com\/A09454\/E01071\/0107100010f.jpg","thumb":"https:\/\/cdn.philasearch.com\/A09454\/E01071\/0107100010f.jpg"},{"image":"https:\/\/cdn.philasearch.com\/A09454\/E01071\/0107100010g.jpg","thumb":"https:\/\/cdn.philasearch.com\/A09454\/E01071\/0107100010g.jpg"}]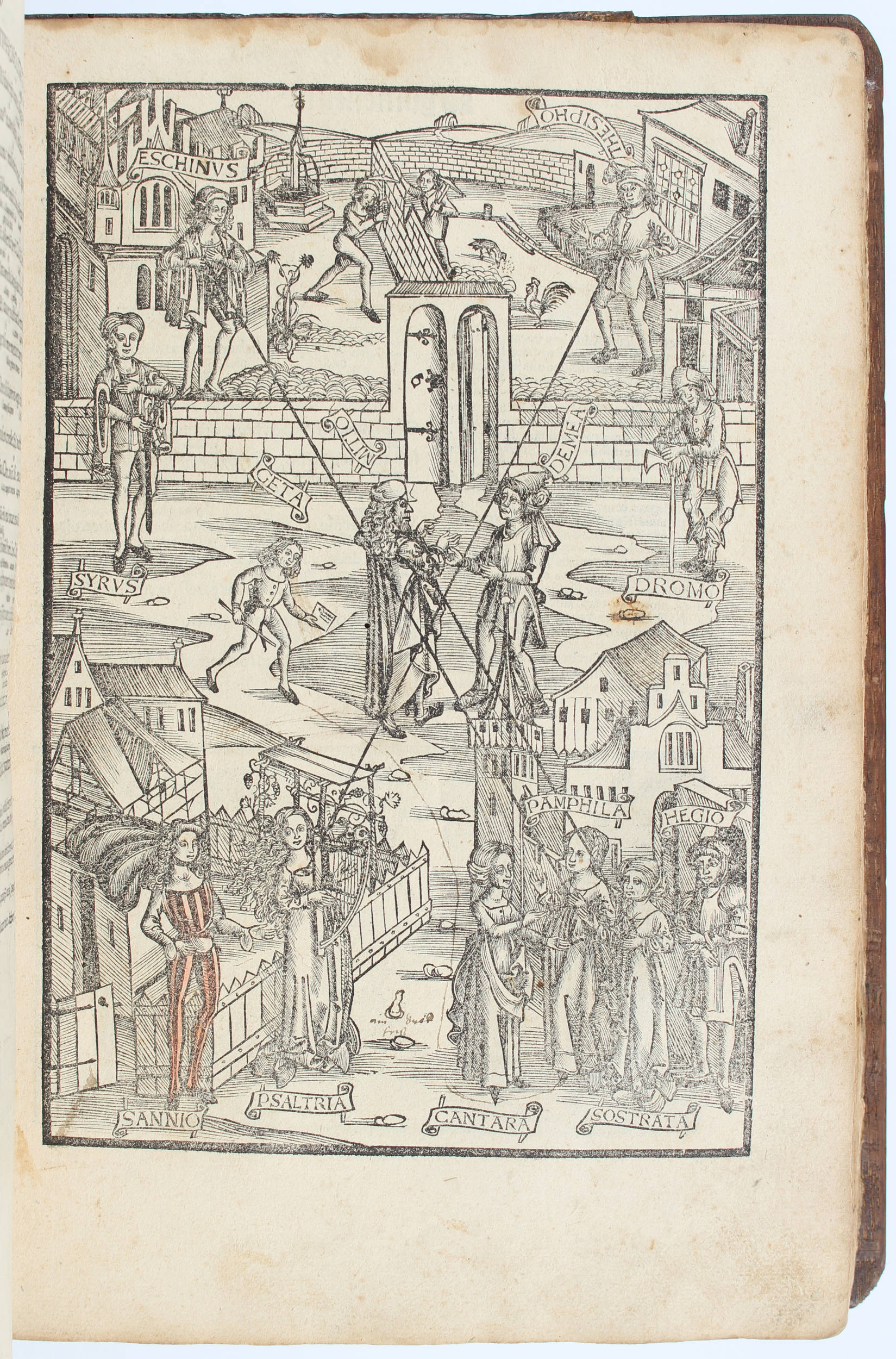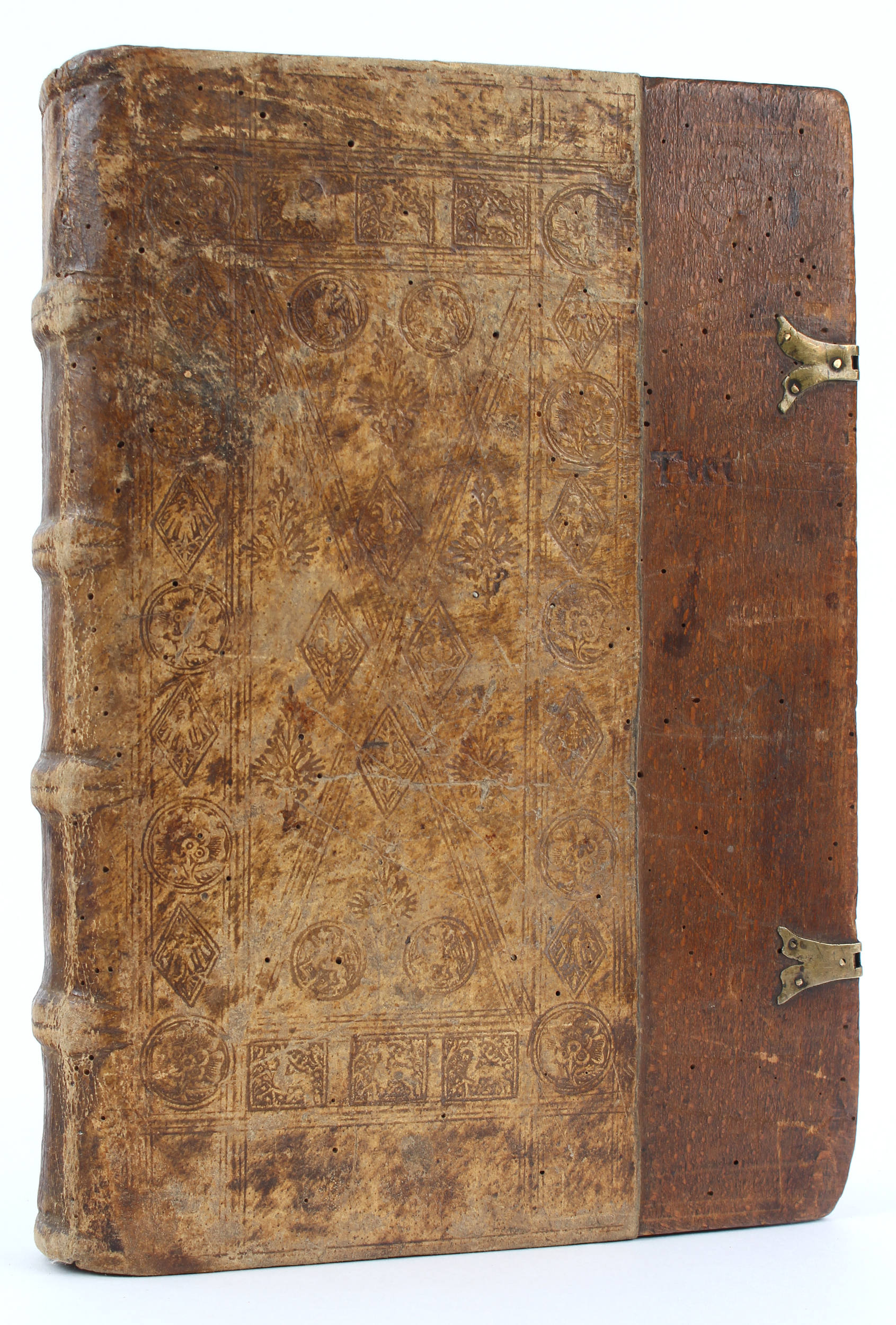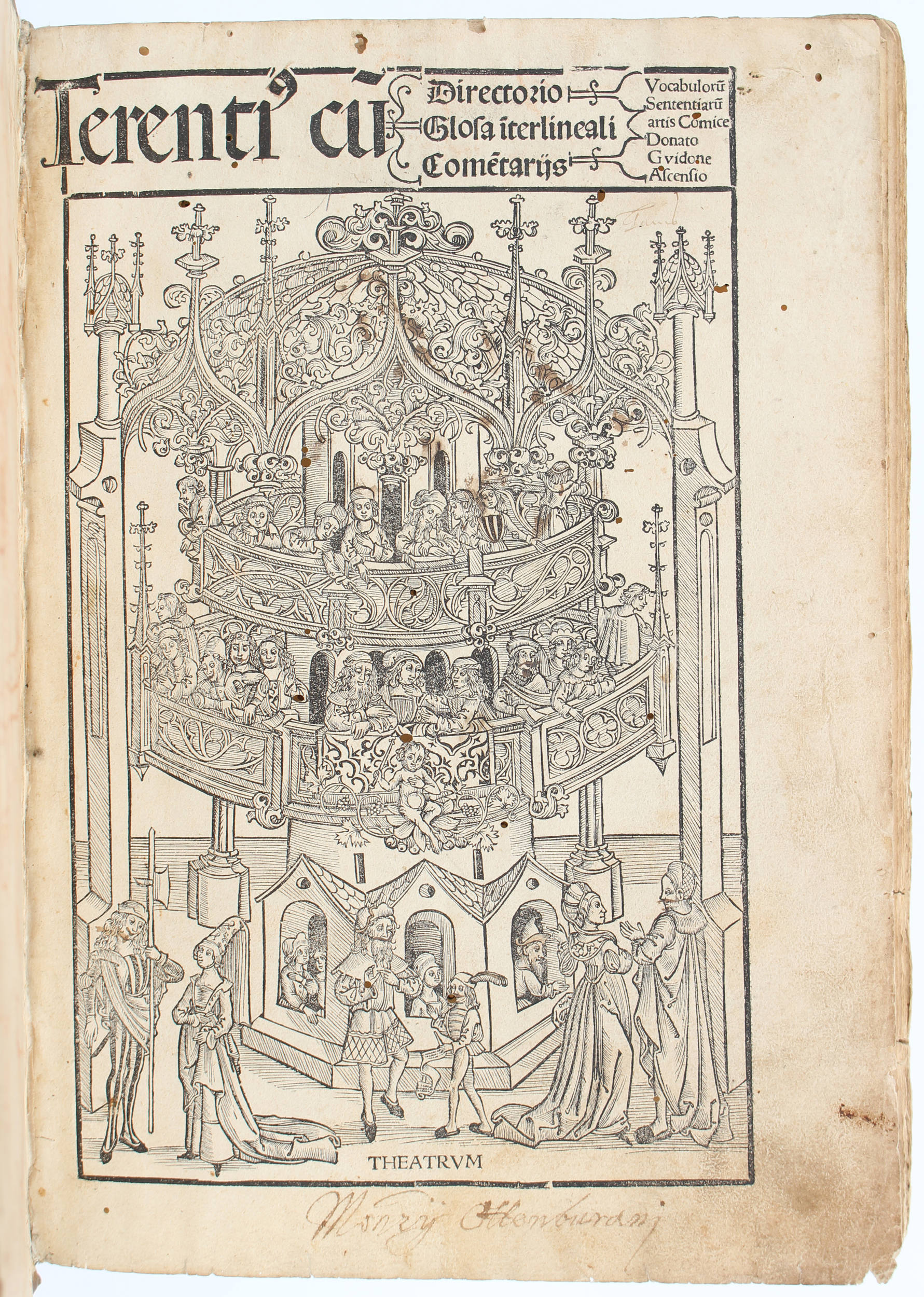 sold
Auction schedule:
October 30th, 2018 session starting 10:00 a.m.
Terentius Afer, P. Comoediae. Cum dicectorio vocabulorum, glossa interlineari, et commentariis Donati, Guidonis, et Ascensii. Add. vita Terentii. Straßburg, Johann (Reinhard) Grüninger, 1. Nov. 1496. Fol. (32:23 cm). Rom. Typ. Mit ca. 150 teils blattgr. Textholzschnitten. 6 nn., 167 (statt recte 173) num. Bll. Holzdeckelband d. Zt. mit Schweinslederbezug, Deckel mit 3/4-Bezug u. spätgotischer Blindprägung; berieben u. etwas wurmstichig, Bruch des Rückdeckels sorgfältig restauriert, Schließen fehlen.
Second illustrated edition. "Grüninger's Latin Terence of 1496 is the first important work with cuts in the new style" (Hind). - Some thumbing, several tiny wormholes, some waterstaining to the upper margin (heavier in some leaves), occasional spotting and soiling, particularly to last 4-5 leaves. Many contemporary neat annotations, conventual ownership inscription to title. Lacking 6 text leaves: b7, c4-5, k6, p3, B4, and last blank F8. Contemporary three-quarter blindstamped pigskin over wooden boards, somewhat rubbed, minor worming, rear wooden board carefully repaired, clasps lacking.

Hain-C. 15431; GW M45481; BMC I, 110; Goff T-94; Hieronymus, Oberrhein. Buchillustr. I, 138 (3. A.); Schramm XX, Abb. 240-338; Schweiger II, 1053. - Zweite illustrierte Gesamtausgabe, die erste mit diesen Illustrationen. Bei den Terenzholzschnitten wendet Grüninger erstmals konsequent seine Methode der "beweglichen Holzschnittstreifen" an, bei der Landschafts- und Architekturstücke sowie Einzelfiguren oder Figurengruppen zu beliebigen Szenen vor Kulissen zusammensetzbar sind. "There is an amusing fantasy in the frontispiece, the 'Theatre of Terence', and a full-page cut preceding each play, while the various characters, properties and backgrounds reappear in a variety of combinations in the smaller composite illustrations" (Hind, History of Woodcut, S. 342 u. Abb. 153 & 154). Es existieren mehrere Druckvarianten, der Kommentar zu Bl. c3r hier auf der linken Seite, das Kolophon mit "ac libera vrbe". - Etwas fingerfleckig u. wurmstichig, im Kopfsteg durchgehend bräunender Wasserrand, gelegentlich etwas stärker, vereinzelt braun- oder schmutzfleckig, letzte 4-5 Bll. stärker betroffen. Viele saubere zeitgenössische Interlinearannotationen, Titel mit klösterlichem Besitzvermerk. Es fehlen Bl. b7 (Nr. 7), c4-5 (Nr. 12-13), k6 (Nr. 68), p3 (Nr. 85), B4 (Nr. 155) u. das weiße Schlussblatt F8.