Lot 112
Theodoricus de Herxen, Speculum juvenum
sold
[{"image":"https:\/\/cdn.philasearch.com\/A09454\/E01129\/0112900002.jpg","thumb":"https:\/\/cdn.philasearch.com\/A09454\/E01129\/0112900002.jpg"},{"image":"https:\/\/cdn.philasearch.com\/A09454\/E01129\/0112900002a.jpg","thumb":"https:\/\/cdn.philasearch.com\/A09454\/E01129\/0112900002a.jpg"},{"image":"https:\/\/cdn.philasearch.com\/A09454\/E01129\/0112900002b.jpg","thumb":"https:\/\/cdn.philasearch.com\/A09454\/E01129\/0112900002b.jpg"}]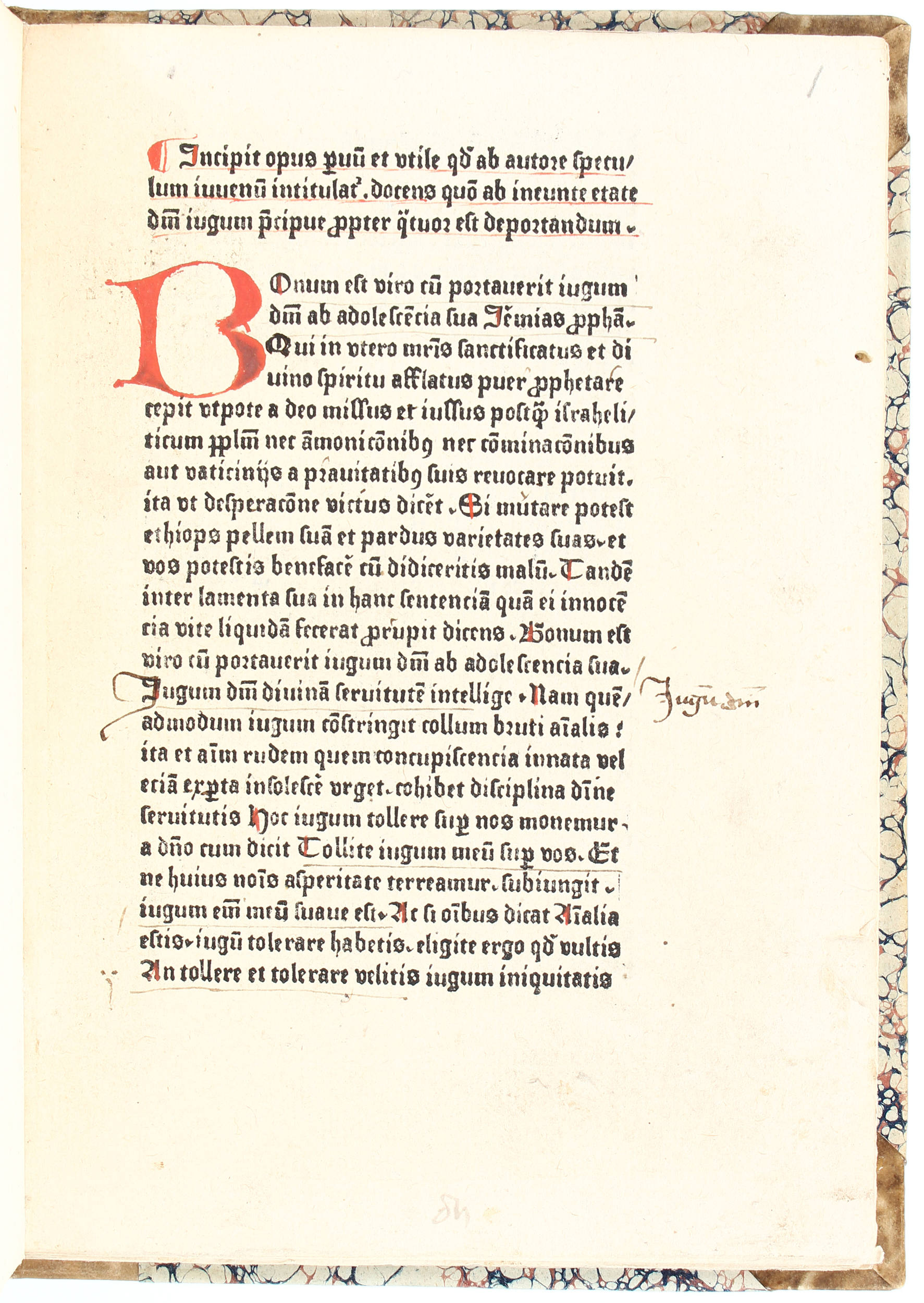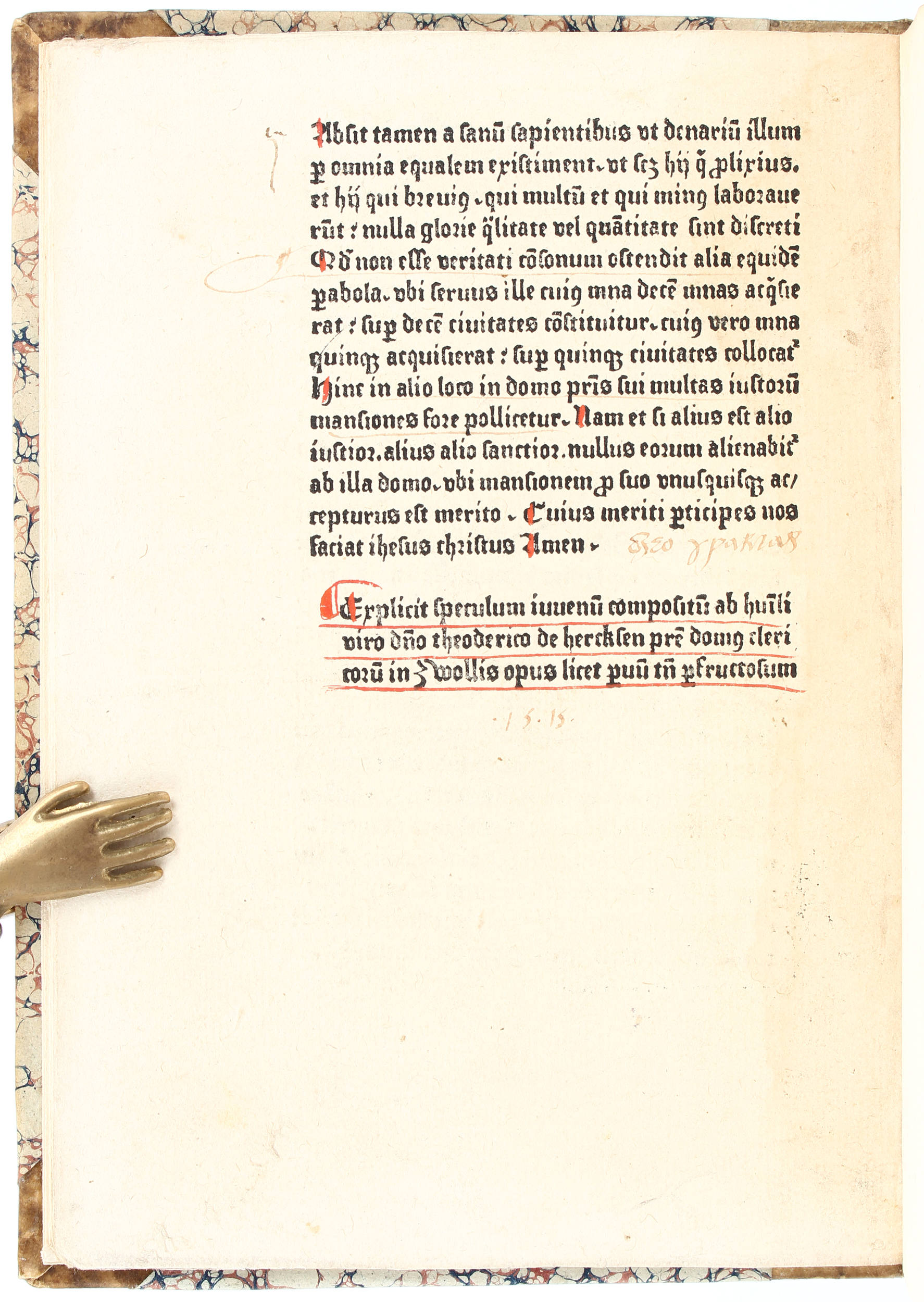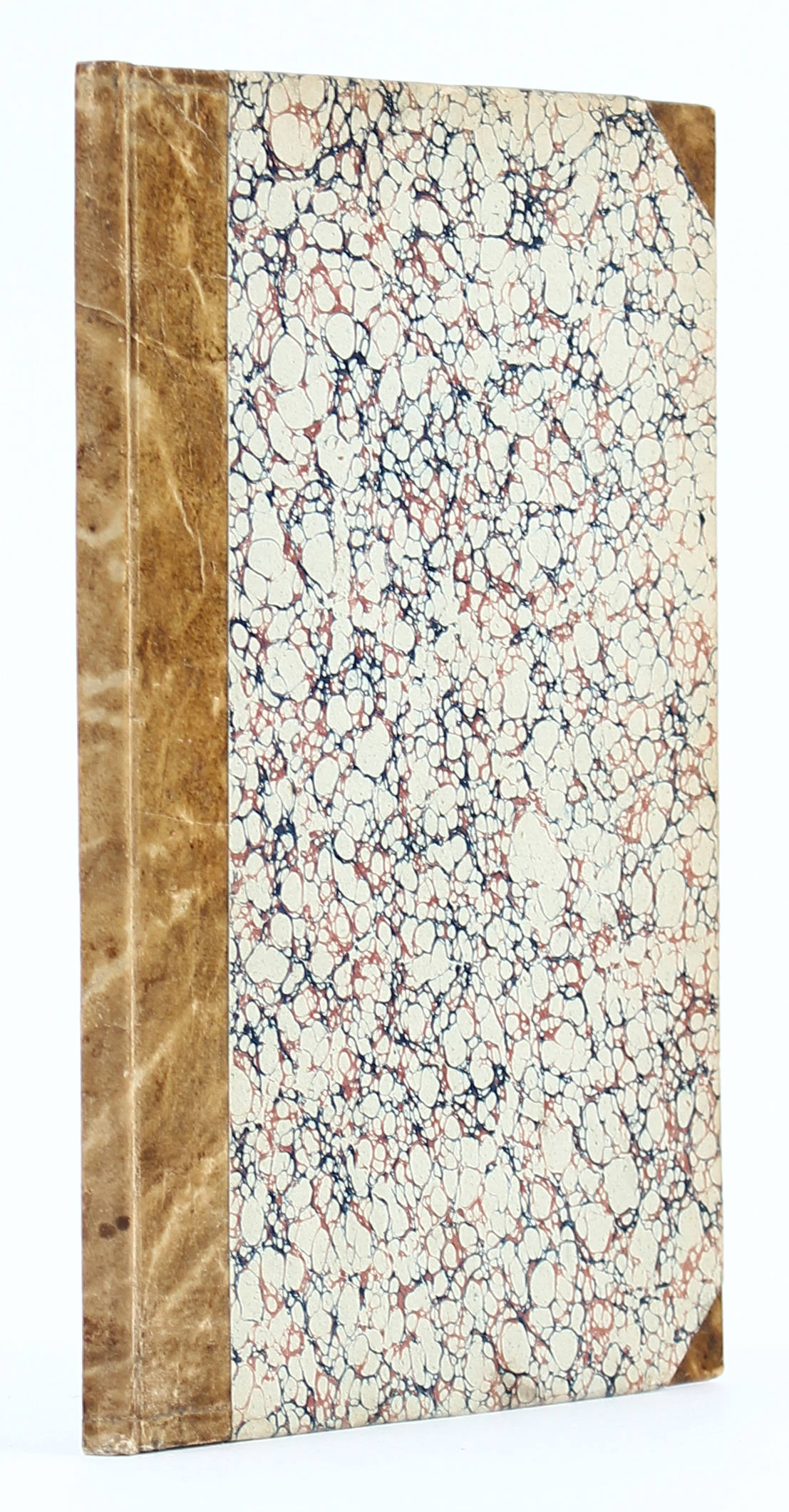 sold
Auction schedule:
October 30th, 2018 session starting 10:00 a.m.
Theodoricus de Herxen (Dirk van Herxen). Speculum iuvenum. (Zwolle, Johannes de Vollenhoe, nicht vor 1478/79, nicht nach 1480). 4to (21:15 cm). Rubriziert, in Rot eingemalte Anfangsinitiale. 12 nn. Bll. Hprgt. des 20. Jh.

Only incunable edition. Rubricated throughout, first initial supplied in red. - Slight spotting and thumbing, tiny wormhole, some early 16th cent. annotations and underlinings, bookplate. A copy with wide margins bound in 20th cent. half vellum.
Hain-C. 3000; GW M45853; BMC IX, 82; Goff Suppl. Z-146a. - Einzige Inkunabelausgabe, nach GW nur 9 weitere Exemplare u. Fragmente bekannt. Dirk (Theodoricus) Hermansz. van Herxen (1381-1457), war der zweite Rektor des Fraterhauses in Zwolle von 1410-1457. Er stellte für das Haus der Brüder vom Gemeinsamen Leben Statuten auf, die auch für andere Bruderhäuser als Vorbild dienten. "Unter der Leitung dieses außerordentlichen Mannes erwarb das Fraterhaus zu Zwolle, wie Thomas v. Kempen schreibt, den Ruhm einer wahrhaft heiligen Congregation, wo zahlreiche Schüler des bekannten Rectors Johann Cele ein freundliches Obdach und eine nicht ascetische, sondern praktisch religiöse Erziehung fanden" (ADB XII, 257). - Breitrandig, gering fleckig bzw. fingerfleckig, kleines durchgehendes Wurmloch. Einige Unterstreichungen u. Randanmerkungen des frühen 16. Jh. Erstes Blatt mit kl. Randausriss. Vorderer Innendeckel mit Exlibris u. Papierresten, hinterer mit Katalogausschnitt.