Lot 114
Ulmer, Fraternitas cleri
closed
[{"image":"https:\/\/cdn.philasearch.com\/A09454\/E00555\/0055500049.jpg","thumb":"https:\/\/cdn.philasearch.com\/A09454\/E00555\/0055500049.jpg"},{"image":"https:\/\/cdn.philasearch.com\/A09454\/E00555\/0055500049a.jpg","thumb":"https:\/\/cdn.philasearch.com\/A09454\/E00555\/0055500049a.jpg"},{"image":"https:\/\/cdn.philasearch.com\/A09454\/E00555\/0055500049b.jpg","thumb":"https:\/\/cdn.philasearch.com\/A09454\/E00555\/0055500049b.jpg"},{"image":"https:\/\/cdn.philasearch.com\/A09454\/E00555\/0055500049c.jpg","thumb":"https:\/\/cdn.philasearch.com\/A09454\/E00555\/0055500049c.jpg"},{"image":"https:\/\/cdn.philasearch.com\/A09454\/E00555\/0055500049d.jpg","thumb":"https:\/\/cdn.philasearch.com\/A09454\/E00555\/0055500049d.jpg"},{"image":"https:\/\/cdn.philasearch.com\/A09454\/E00555\/0055500049e.jpg","thumb":"https:\/\/cdn.philasearch.com\/A09454\/E00555\/0055500049e.jpg"},{"image":"https:\/\/cdn.philasearch.com\/A09454\/E00555\/0055500049f.jpg","thumb":"https:\/\/cdn.philasearch.com\/A09454\/E00555\/0055500049f.jpg"}]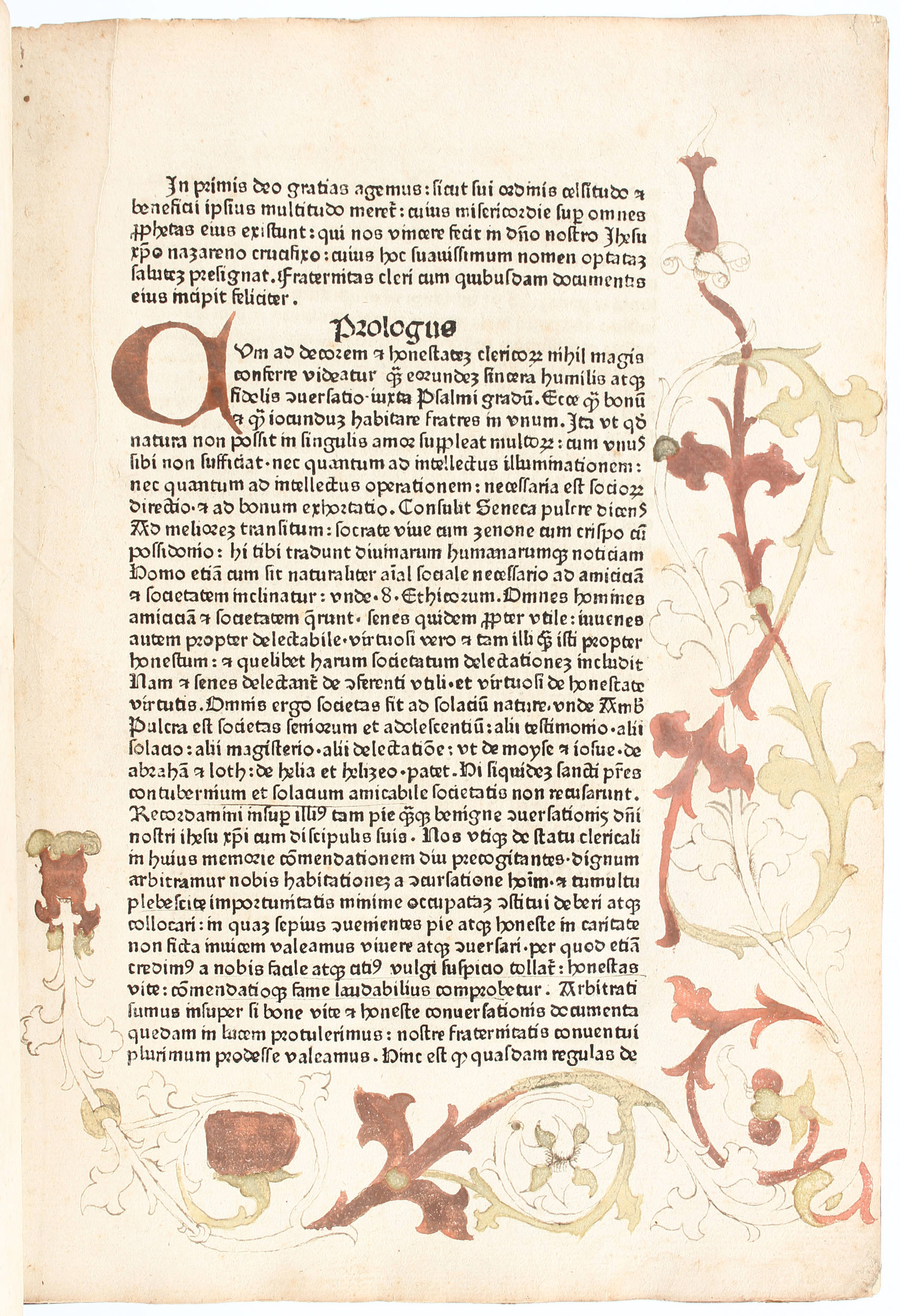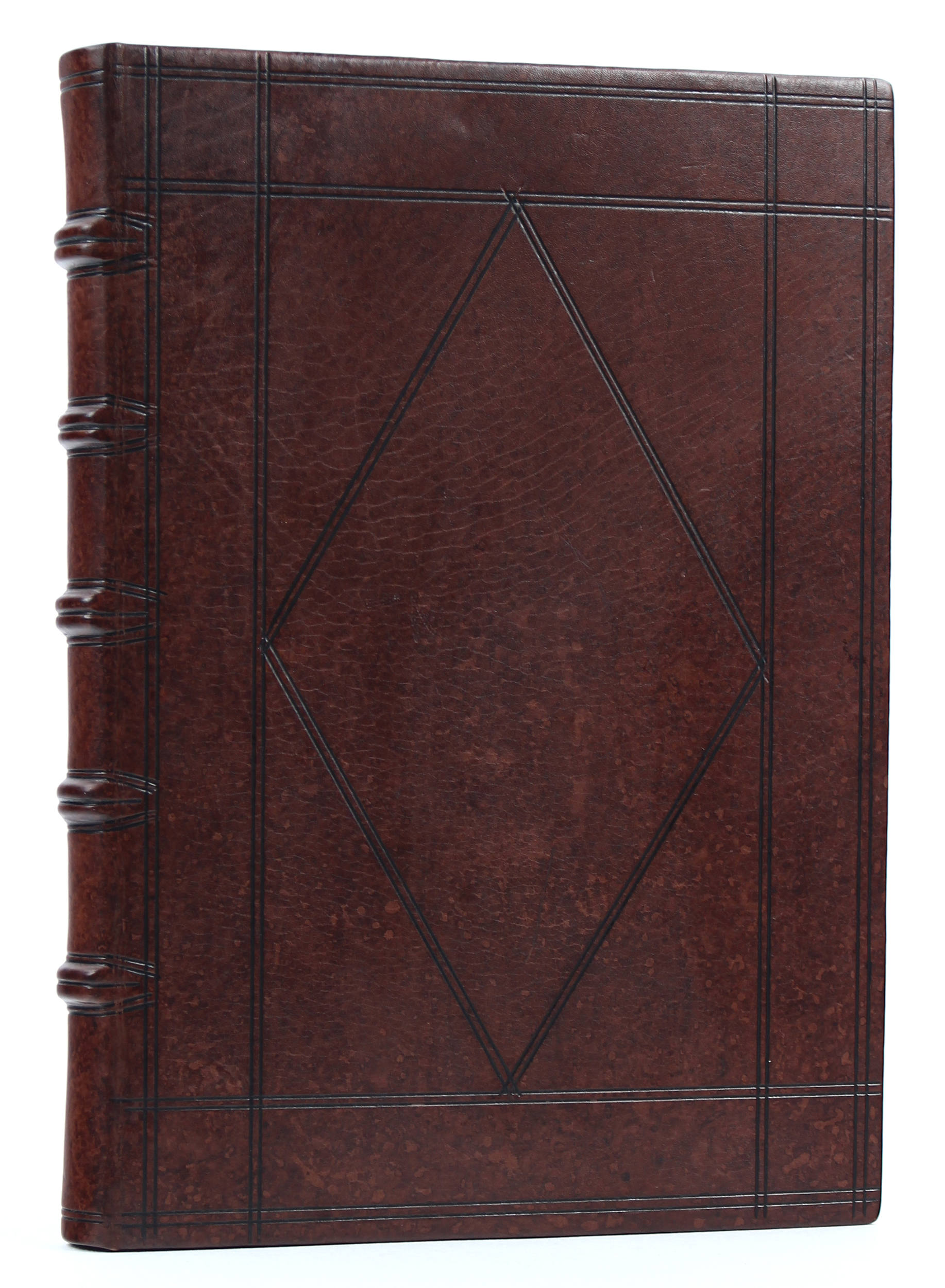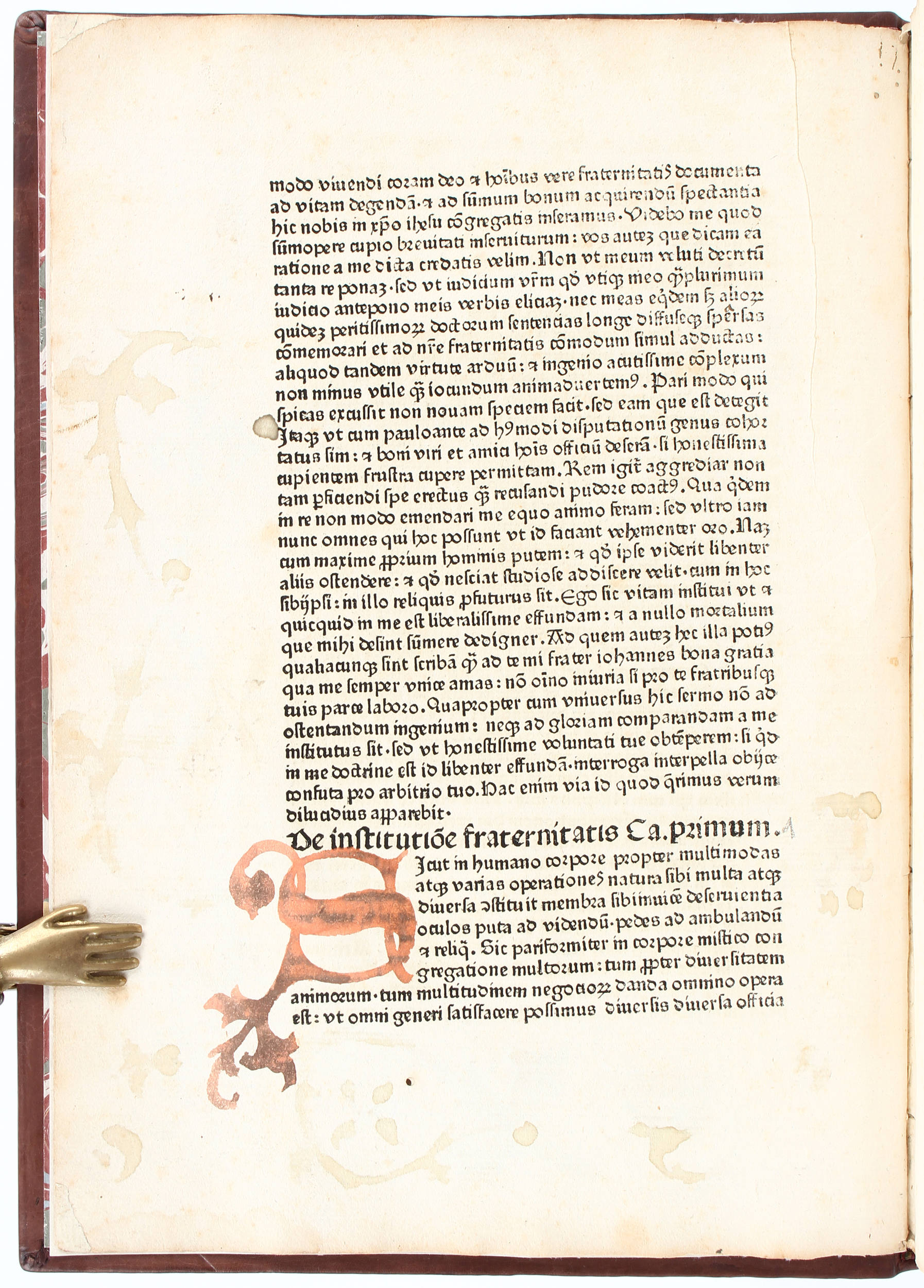 unsold
Auction schedule:
October 30th, 2018 session starting 10:00 a.m.
Ulmer, U. Fraternitas cleri. (Ulm, Johann Zainer), um 1480. Kl.-fol. (29:21 cm). Mit in Rot und Grün eingemalter Ranke sowie etlichen in Rot eingemalten Lombarden. 87 nn. Bll. (o.d.l.w.). Mod. Maroquinband im Stil d. Zt., mod. Lwd.-Kassette.
First edition. - Slight foxing, some browning to first leaves, and some soiling to verso of final leaf. Small wormhole to lower margin in places. Restored marginal tears to first and 5th leaf, restored lower corner to final 6 leaves, also 3 small holes to final one restored. Pencil note to recto of first leaf. Some marginalia. Lacking final blank. Recent morocco bound to style, cloth case.

Hain-C. 16083; GW M 48846; BMC II, 529; Goff U-57. - Erste Ausgabe dieses Werks über den Klerus und dessen moralische Ideale. In der schönen Antiquatype Zainers gedruckt. Eine weitere Ausgabe erschien zwischen 1481-83 in Straßburg bei Jacob Eber. - Leicht stockfleckig, erste Bll. auch leicht gebräunt, im ersten Drittel kl. Wurmgang im weißen Unterrand. Das 1. Bl. mit restaurierten Randläsuren (3 Ausrisse, 1 kl. Einriss), Bl. 5 mit rep. Randeinriss bis an den Text, am Schluss 6 Bll. mit ergänztem Ausriss der Unterecke und das letzte auch mit 3 hinterlegten Löchlein mittig im Text. Das 1. Bl. recto mit Bleistiftanm., das letzte verso leicht angeschmutzt. Mit einigen Marginalien von alter Hand und einzelnen Handhinweisen.