Lot 13

*


Mariae Tagzeiten
sold
[{"image":"https:\/\/cdn.philasearch.com\/A09454\/E01129\/0112900021.jpg","thumb":"https:\/\/cdn.philasearch.com\/A09454\/E01129\/0112900021.jpg"},{"image":"https:\/\/cdn.philasearch.com\/A09454\/E01129\/0112900021a.jpg","thumb":"https:\/\/cdn.philasearch.com\/A09454\/E01129\/0112900021a.jpg"},{"image":"https:\/\/cdn.philasearch.com\/A09454\/E01129\/0112900021b.jpg","thumb":"https:\/\/cdn.philasearch.com\/A09454\/E01129\/0112900021b.jpg"},{"image":"https:\/\/cdn.philasearch.com\/A09454\/E01129\/0112900021c.jpg","thumb":"https:\/\/cdn.philasearch.com\/A09454\/E01129\/0112900021c.jpg"}]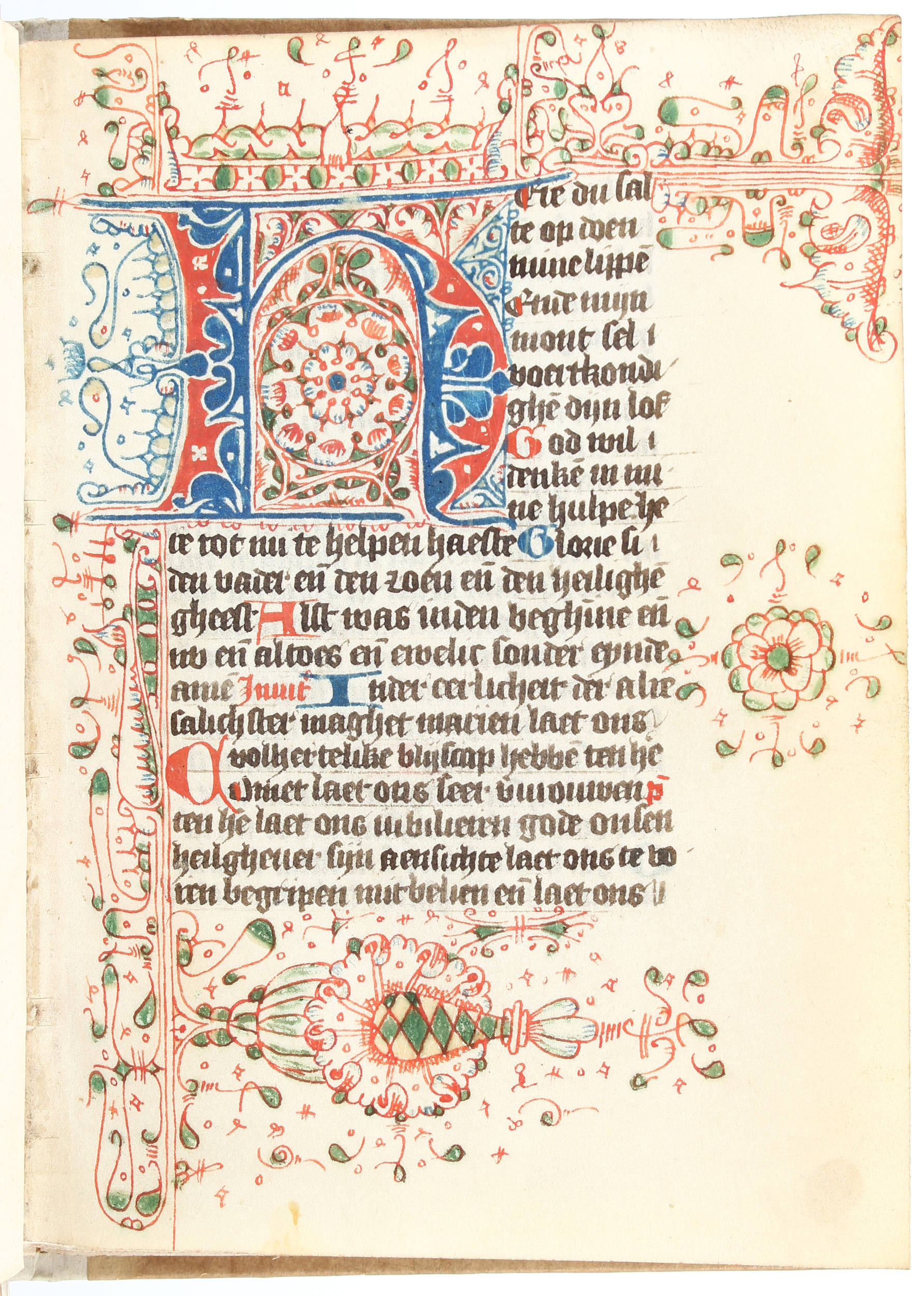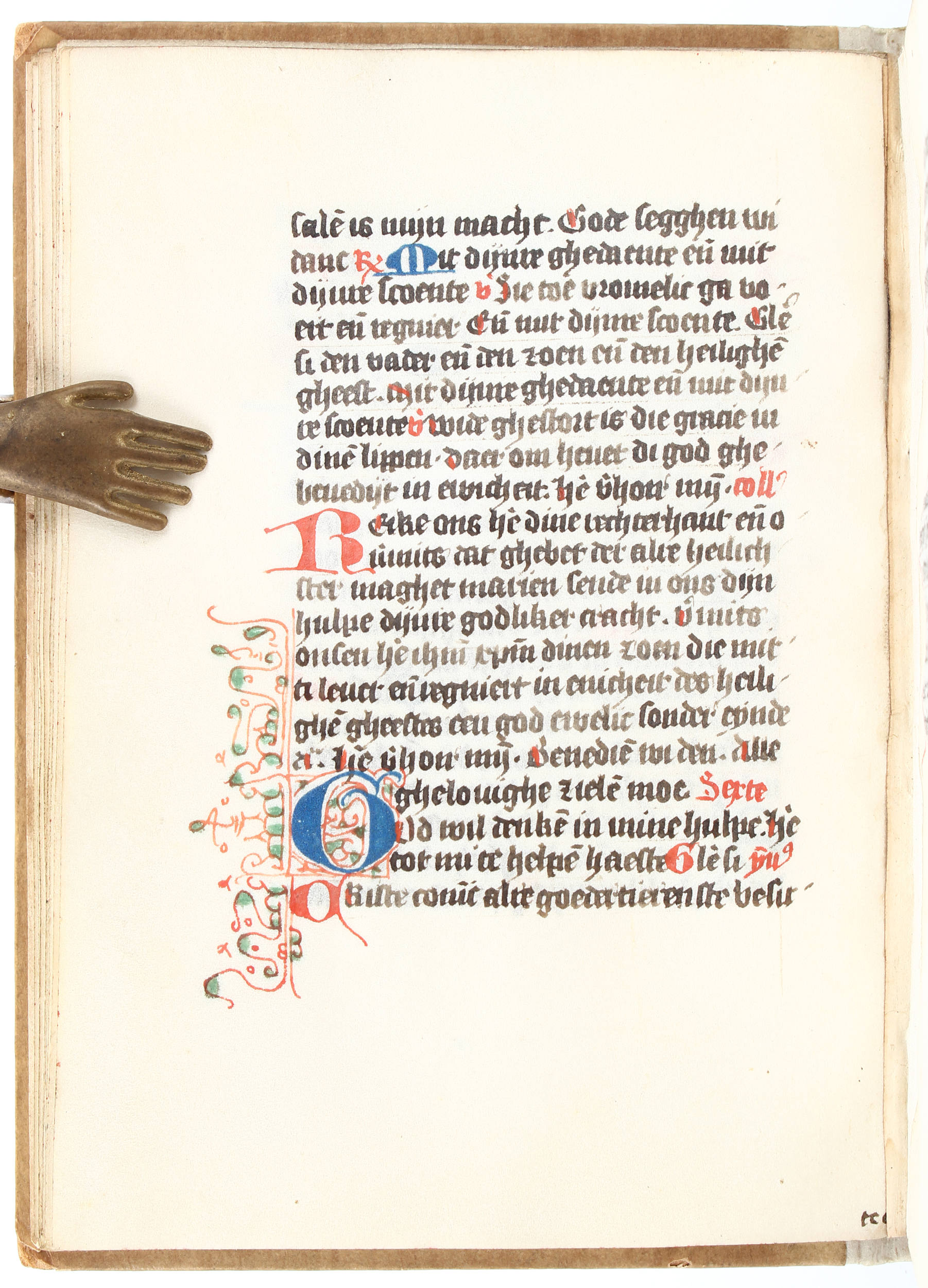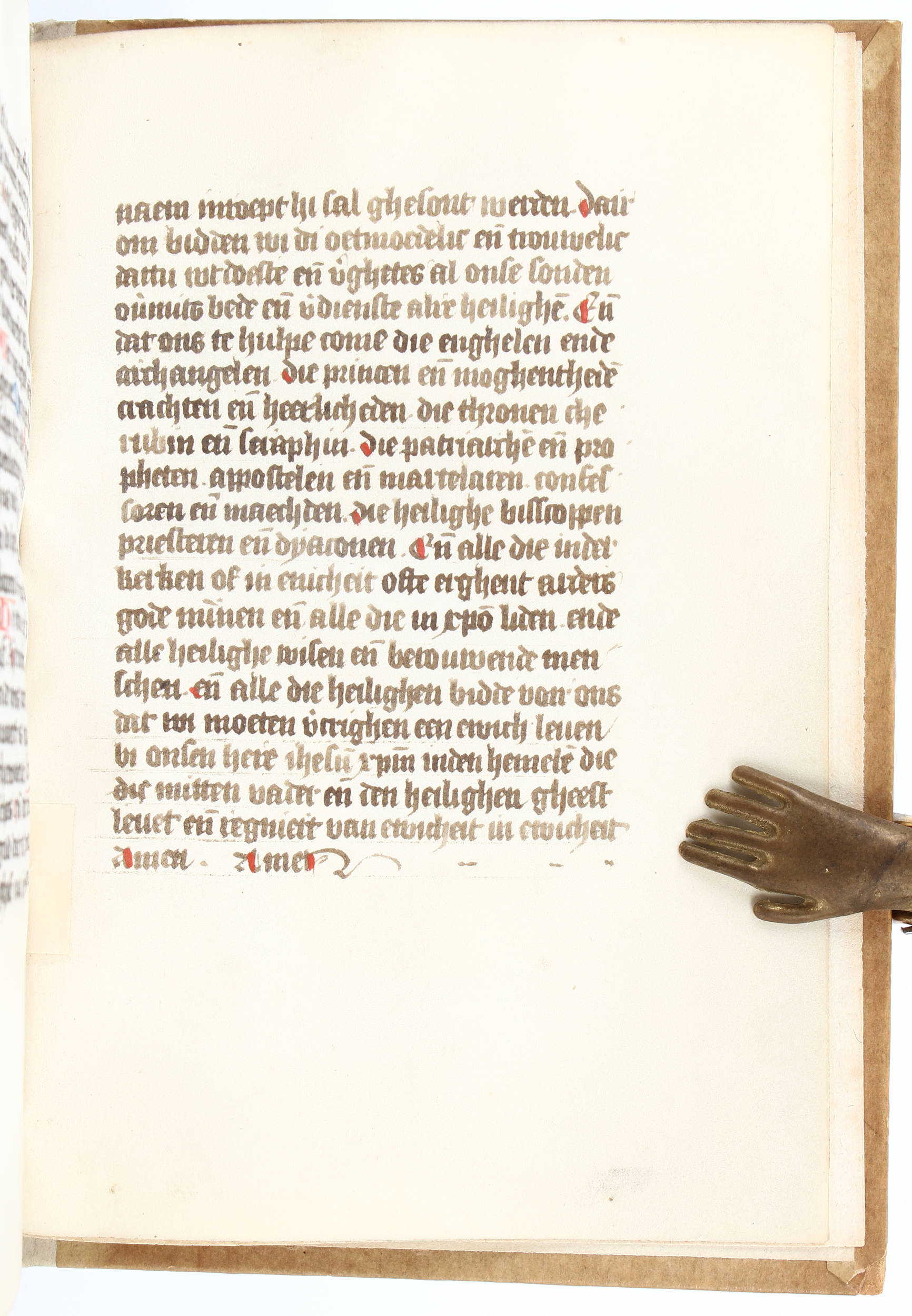 sold
Auction schedule:
October 30th, 2018 session starting 10:00 a.m.
Gebetbücher. - Mariae Tagzeiten. Incipit: "Here du salte opdoen mine lippe(n) ende mijn mont". Niederdeutsche Handschrift auf Pergament. Wohl Rheinland, Ende des 15. Jahrhunderts. Blattgr. 16,5:12 cm, Schriftspiegel 9,5:6,5 cm. 21 Zeilen, regliert. Textura in braunschwarzer Tinte, Rubriken in Rot, durchgehend ein- oder zweizeilige Initialen, alternierend in Rot u. Blau. Mit 1 zehnzeiligen Fleuronnée-Initiale in Blau, Rot und Grün mit vegetabilen Randornamenten sowie 7 dreizeiligen Initialen in den gleichen Farben. 27 nn. Bll. Hprgt. d. 20. Jh.
Low German Hours of the Virgin, manuscript on vellum. Rhineland (?), end of the 15th century. 27 leaves (complete). Written in a gothic littera textualis in black ink, rubrics in red, versal initials throughout alternately in red and blue. With 1 very large 10-line initial in red and blue and 7 smaller 3-line initials in blue, all with penwork in red and green. - Wide margins, extensions of the large initial fractionally cropped. 20th century vellum-backed boards, engr. armorial bookplate on front pastedown.
Vollständiges Marienoffizium in niederdeutscher Sprache. - Sauber und breitrandig, lediglich die äußersten Ausläufer der Eingangsinitiale gering angeschnitten. Provenienz: Innendeckel mit gest. Wappen-Exlibris; Karl & Faber, Auktion 96 (1965), Nr. 10.