Lot 17

*


Horae B. M. V. für Utrecht, Niederlande
sold
[{"image":"https:\/\/cdn.philasearch.com\/A09454\/E01129\/0112900019.jpg","thumb":"https:\/\/cdn.philasearch.com\/A09454\/E01129\/0112900019.jpg"},{"image":"https:\/\/cdn.philasearch.com\/A09454\/E01129\/0112900019a.jpg","thumb":"https:\/\/cdn.philasearch.com\/A09454\/E01129\/0112900019a.jpg"},{"image":"https:\/\/cdn.philasearch.com\/A09454\/E01129\/0112900019b.jpg","thumb":"https:\/\/cdn.philasearch.com\/A09454\/E01129\/0112900019b.jpg"},{"image":"https:\/\/cdn.philasearch.com\/A09454\/E01129\/0112900019c.jpg","thumb":"https:\/\/cdn.philasearch.com\/A09454\/E01129\/0112900019c.jpg"},{"image":"https:\/\/cdn.philasearch.com\/A09454\/E01129\/0112900019d.jpg","thumb":"https:\/\/cdn.philasearch.com\/A09454\/E01129\/0112900019d.jpg"},{"image":"https:\/\/cdn.philasearch.com\/A09454\/E01129\/0112900019e.jpg","thumb":"https:\/\/cdn.philasearch.com\/A09454\/E01129\/0112900019e.jpg"},{"image":"https:\/\/cdn.philasearch.com\/A09454\/E01129\/0112900019f.jpg","thumb":"https:\/\/cdn.philasearch.com\/A09454\/E01129\/0112900019f.jpg"},{"image":"https:\/\/cdn.philasearch.com\/A09454\/E01129\/0112900019g.jpg","thumb":"https:\/\/cdn.philasearch.com\/A09454\/E01129\/0112900019g.jpg"},{"image":"https:\/\/cdn.philasearch.com\/A09454\/E01129\/0112900019h.jpg","thumb":"https:\/\/cdn.philasearch.com\/A09454\/E01129\/0112900019h.jpg"},{"image":"https:\/\/cdn.philasearch.com\/A09454\/E01129\/0112900019i.jpg","thumb":"https:\/\/cdn.philasearch.com\/A09454\/E01129\/0112900019i.jpg"}]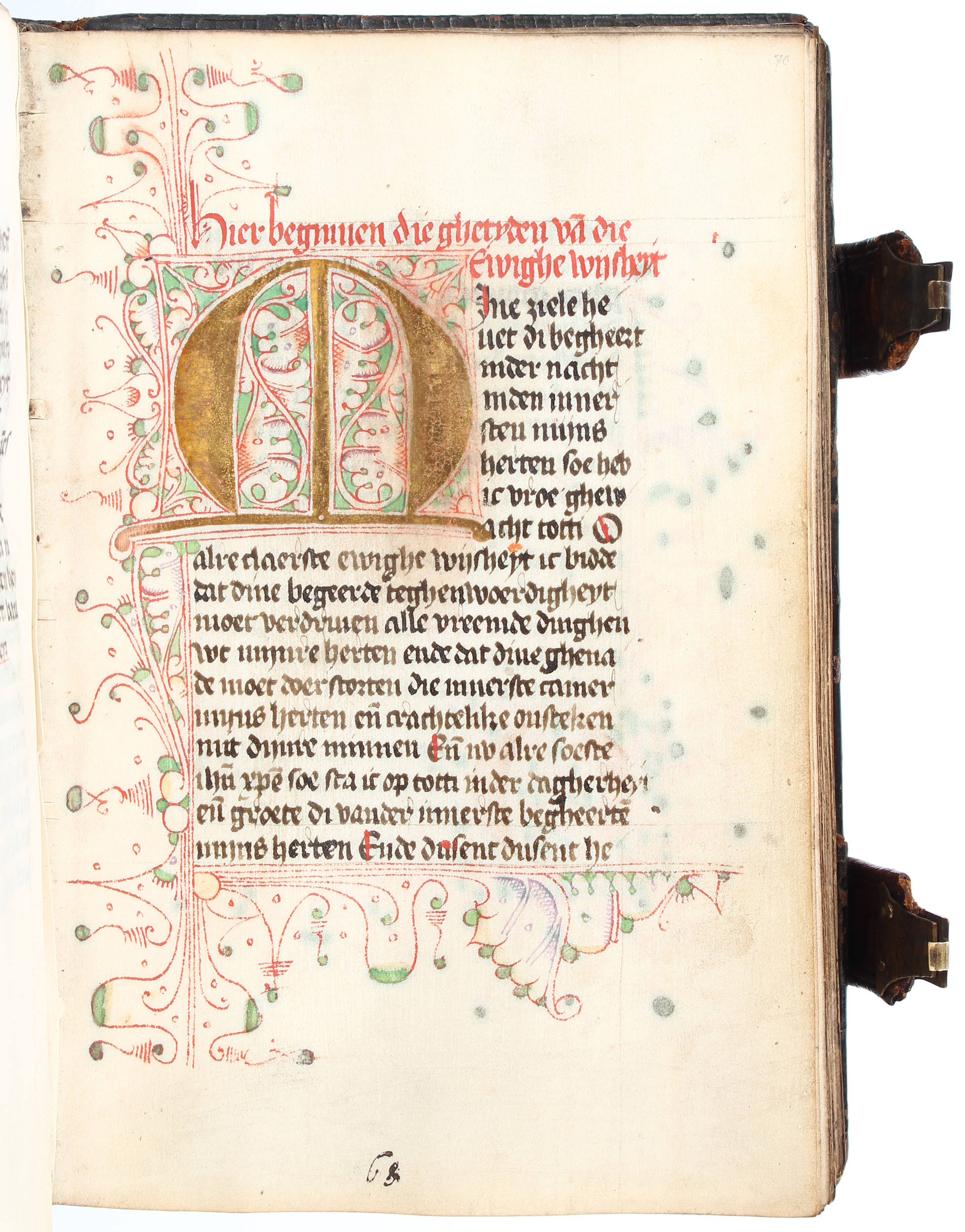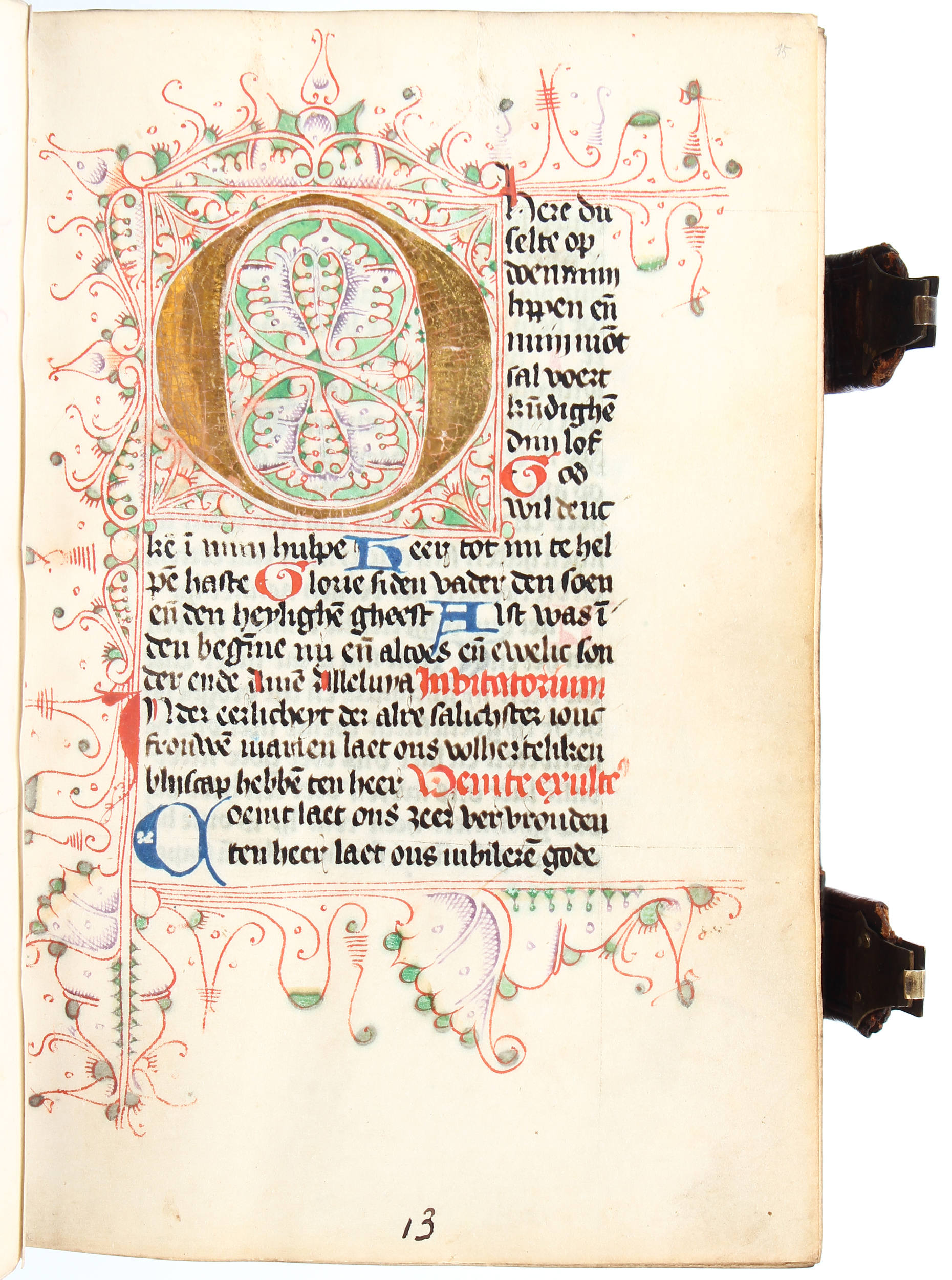 sold
Auction schedule:
October 30th, 2018 session starting 10:00 a.m.
Mondsichelmadonna-Einband
Horae B. M. V. Niederländisches Stundenbuch zum Gebrauch von Utrecht. Handschrift auf Pergament. Nordniederlande, Mitte des 15. Jahrhunderts. Blattgröße 17:11,5 cm, Schriftspiegel 9:6 cm. 20 (Kalender: 18) Zeilen. Littera hybrida in schwarzer Tinte, rubriziert, durchgehend rote und blaue Initialen. Mit 4 acht- bis zehnzeiligen und vielen kleineren Blattgoldinitialen, jeweils mit Fleuronnée in Blau, Rot u. Grün und seitlichen Ausläufern, teils über zwei oder drei Seiten. 129 (statt 130) nn. Bll. u. je 2 leere Vor- u. Nachsatzbll. Blindgeprägter brauner Lederband des 15. Jahrhunderts über Holzdeckeln mit figürlicher Mittelplatte (Mondsichelmadonna im Strahlenkranz) mit 2 neueren Messingschließen; berieben u. etwas bestoßen, Restaurierungen an Kopf u. Schwanz des Rückens.
Dutch Book of Hours for the use of Utrecht, manuscript on vellum, mid of the 15th century. 129 leaves (of 130). Written in black ink in a neat gothic bookhand, rubrics in red, versal initials throughout alternately in red and blue. With 4 fine 8- to 10-line and numerous smaller initials, all in burnished gold with penwork in blue, green and red. - Occasional slight spotting and rubbing, a few minor flaws, lacking 1 leaf. Contemporary brown calf tooled in blind over wooden boards, with a stamp of the virgin on a crescent moon, somewhat rubbed and worn, spine restored at ends, later clasps.
Reizvolles Stundenbuch ohne Miniaturen. Der Text ist ganz in niederländischer Sprache, die Übersetzung wird dem Utrechter Domprediger und Begründer der "devotio moderna", Geert Groote (Gerhardus Magnus) zugeschrieben. Die im Kalendar rot hervorgehobenen friesischen Heiligen Bonifatius (5. Juni), Lebuin (12. Nov. hier irrig am 8. Nov. eingetragen), Odulf (12. Juni) und Willibrord (7. Nov.) zeigen, das unser Stundenbuch für den Gebrauch in der Diözese Utrecht eingerichtet ist. Enthalten sind Utrechter Kalendarium (fol. 1r-12v), Marienoffizium (13r-46r), Heilig-Kreuz-Stunden (47r-52v), Bußpsalmen und Litanei (53r-67v), Stunden der Ewigen Weisheit (69r-87r), Gebete in niederländischer Sprache (88r-97v), Totenoffizium (99r-127v, es fehlt das erste Blatt), am Schluss zwei Kommuniongebete (127v-129v). Von einer Hand in gefälliger Form und gut lesbar geschrieben, der Schreiber schwankt zwischen der älteren Textualis und der neueren Bastarda. - Stellenw. gering fleckig u. etwas abgegriffen, wenige Pergamentfehler. Unten ältere Foliierung in Tinte, rechts oben neuere Bleistiftfoliierung. Es fehlt das erste Blatt des Totenoffiziums (bereits zur Zeit der älteren Foliierung). Provenienz: Jean G. Smolderen; C. R. Brom (Besitzeinträge auf dem Vorsatz); Tenner, Auktion 90 (1972), Nr. 5.