Lot 18

*#


Zeytungh aus Paryß
sold
[{"image":"https:\/\/cdn.philasearch.com\/A09454\/E01012\/0101200013.jpg","thumb":"https:\/\/cdn.philasearch.com\/A09454\/E01012\/0101200013.jpg"},{"image":"https:\/\/cdn.philasearch.com\/A09454\/E01012\/0101200013a.jpg","thumb":"https:\/\/cdn.philasearch.com\/A09454\/E01012\/0101200013a.jpg"}]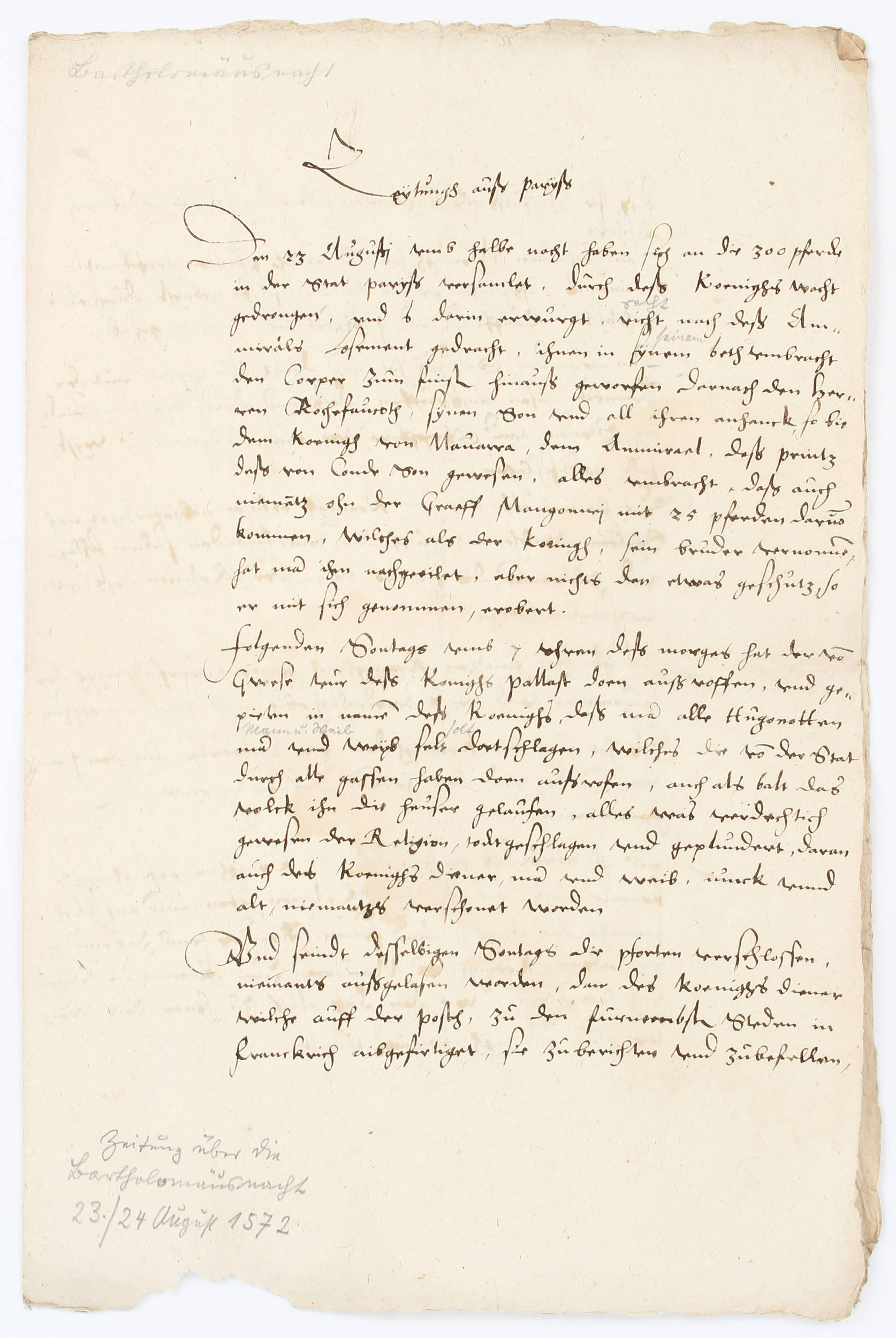 sold
Auction schedule:
October 30th, 2018 session starting 10:00 a.m.
Hugenotten. - Bartholomäusnacht. - Zeytungh auß Paryß. Den 23. Augusti umb halbe nacht haben sich an die 300 pferde in der Stat Paryß versamlet... Deutsche Handschrift auf Papier. O. O. u. J. (1572). Fol. Blattgr. 33:22 cm, Schriftspiegel ca. 23:16 cm. Regelmäßige Kursive in brauner Tinte. 2 S. auf 1 Doppelblatt.
German manuscript on paper. 2 pp., folio. Newsletter by an anonymous author giving a first-hand report of the St. Bartholomew's Day massacre. - Traces of old folds, faint brownish stain, small flaw in lower blank margin.
Zeitgenössischer Bericht über die blutigen Ereignisse in der Nacht vom 23. zum 24. August 1572 und der folgenden Tage. "... Folgenden Sontags vmb 7 vhrnn deß morgens hat der vo(n) Gwese [= Henri de Guise] vur deß Koninghs Pallast doen auß roffen, vnd gepieten in name(n) deß Koenighs, daß ma[n] alle Hugenotten ma[nn] vnd Wayb sult doetschlagen, wilches die vo(n) der Stat durch alle gassen haben doen außrofen, auch als balt das volck ihn die Heuser gelaufen, alles was verdechtich gewesen der Religion, todtgeschlagen und geplundert, daran auch des Koenigs diener, ma[nn] und Weib, iunck vnnd alt, niemantzs verschonet worden...". Auf Papier mit Wasserzeichen "Baselstab frei, mit dreifachem Knauf" (Straßburg um 1570?). - Schwache Faltspuren, schwach bräunender Feuchtigkeitsfleck, unten kleiner Randausbruch weit außerhalb des Textes.