Lot 1937
37 Kupfer-Tabellen in Nürnberg
sold
[{"image":"https:\/\/cdn.philasearch.com\/A09454\/E01058\/0105800006.jpg","thumb":"https:\/\/cdn.philasearch.com\/A09454\/E01058\/0105800006.jpg"},{"image":"https:\/\/cdn.philasearch.com\/A09454\/E01058\/0105800006a.jpg","thumb":"https:\/\/cdn.philasearch.com\/A09454\/E01058\/0105800006a.jpg"},{"image":"https:\/\/cdn.philasearch.com\/A09454\/E01058\/0105800006b.jpg","thumb":"https:\/\/cdn.philasearch.com\/A09454\/E01058\/0105800006b.jpg"},{"image":"https:\/\/cdn.philasearch.com\/A09454\/E01058\/0105800006c.jpg","thumb":"https:\/\/cdn.philasearch.com\/A09454\/E01058\/0105800006c.jpg"},{"image":"https:\/\/cdn.philasearch.com\/A09454\/E01058\/0105800006d.jpg","thumb":"https:\/\/cdn.philasearch.com\/A09454\/E01058\/0105800006d.jpg"},{"image":"https:\/\/cdn.philasearch.com\/A09454\/E01058\/0105800006e.jpg","thumb":"https:\/\/cdn.philasearch.com\/A09454\/E01058\/0105800006e.jpg"},{"image":"https:\/\/cdn.philasearch.com\/A09454\/E01058\/0105800006f.jpg","thumb":"https:\/\/cdn.philasearch.com\/A09454\/E01058\/0105800006f.jpg"},{"image":"https:\/\/cdn.philasearch.com\/A09454\/E01058\/0105800006g.jpg","thumb":"https:\/\/cdn.philasearch.com\/A09454\/E01058\/0105800006g.jpg"},{"image":"https:\/\/cdn.philasearch.com\/A09454\/E01058\/0105800006h.jpg","thumb":"https:\/\/cdn.philasearch.com\/A09454\/E01058\/0105800006h.jpg"},{"image":"https:\/\/cdn.philasearch.com\/A09454\/E01058\/0105800006i.jpg","thumb":"https:\/\/cdn.philasearch.com\/A09454\/E01058\/0105800006i.jpg"}]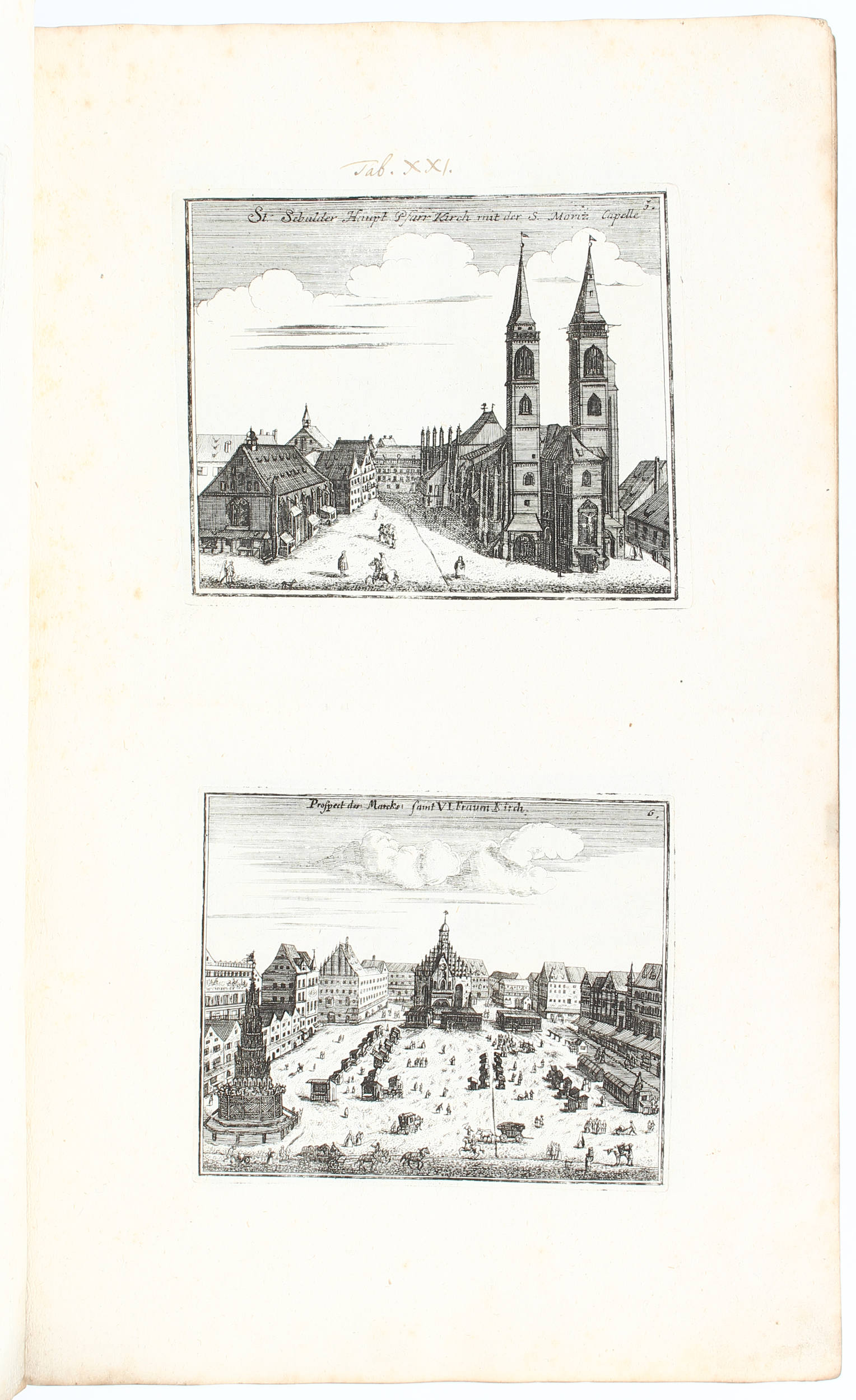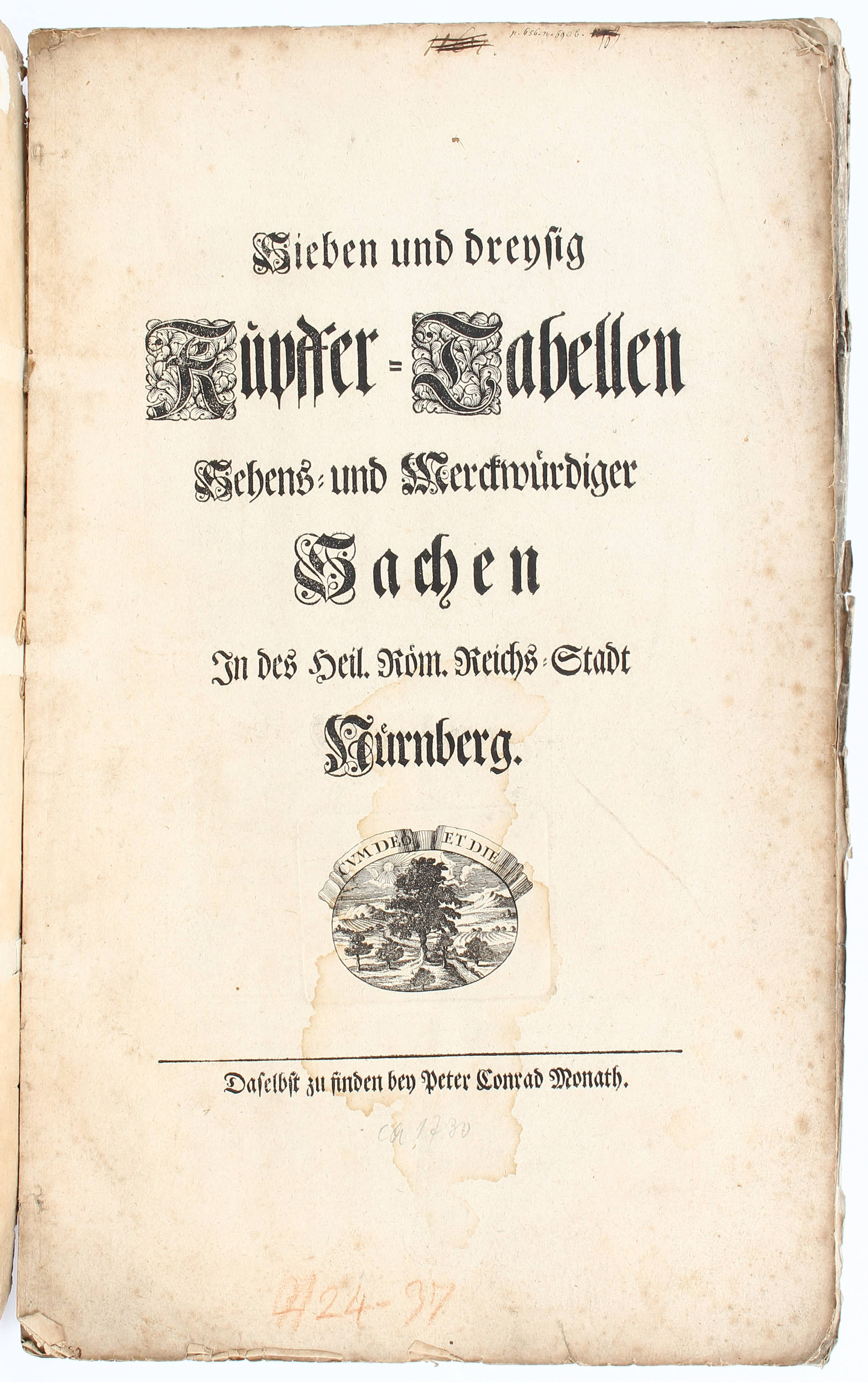 sold
Auction schedule:
October 31st, 2018 session starting 2:30 p.m.
Nürnberg. - Mikoviny, S. - Sieben und dreysig Kupffer-Tabellen sehens- und merckwürdiger Sachen in des Heil. Röm. Reichs-Stadt Nürnberg. Nürnberg, Peter Conrad Monath, ca. 1730-40. Fol. (41:25 cm). Mit gest. Titelvign. u. 101 Kupfern auf 37 (4 gefalt.) Tafeln. 2 Bll. Drucktext (Titel u. Inhalt). Alter Interims-Umschl., fleckig u. lädiert.
Müller, Nürnberger Kupferstich I, 57 f., 108 f. & 157 ff.; vgl. Ornamentstichkat. Bln. 2154 u. Lipperheide Dfe 14 (beide Georg Peter Monath 1777). - Früher Abzug des prächtigen Sammelwerks eigener Verlagsprodukte von P. C. Monath, der den Verlag bis 1747 innehatte. Die Tafeln 1-12 mit blattgroßen bzw. gefalteten zeigen Nürnberger Kunstwerke u. Kuriositäten (Sebaldusgrab, Sakramentshäuslein, Englischer Gruß, Behaim-Globus in 2 Hemisphären, Reliquien, Krönungsinsignien, Kunstwagen, Handwerkserzeugnisse) und entstammen Doppelmayers 1730 bei Monath erschienenen "Nachrichten von Nürnbergischen Mathematicis und Künstlern". Taf. 13-18 enthalten Monaths auch als Oktavbändchen aufgebundene "Kleidungsarten zu Nürnberg" (Lipperheide alt 783) in 52 etwa spielkartengroßen Einzelkupfern, hier unzerschnitten auf den vollen Bögen. Das gleiche gilt für Taf. 19-37 mit Sámuel Mikovinys berühmten, hier etwa halbseitigen 37 "Nürnbergischen Prospecten", darunter Gesamtansicht, Plan und schöne Gebäude- und Komplexansichten. Die hübsche Weltkarte "Geographische Vorstellung eine Globi, welchen Anno 1492 Herr Martin Behaim zu Nürnberg exhibiret" stammt ursprünglich aus J. G. Doppelmayers "Historischen Nachrichten von den Nürnbergischen Mathematicis" (1730, vgl. Lex. Kart. S. 74 f. und Nordenskiöld S. 72 f.: "Doppelmayer gives the first copy of the globe, although on a much reduced scale"). - Vor allem zu Beginn etwas gebräunt u. stockfl., Taf. oben hs. nummeriert, Heftung gelockert, Drucktext lose, Titel mit Feuchtigkeitsfleck, Taf. 1 mit Einrissen u. Quetschfalte. Provenienz: Dörling, Auktion 46 (Bibliothek John H. Vorwald, Bankenese, Juni 1933), Nr. 553.