Lot 2146
Francisci, Geschicht-Spiegel
sold
[{"image":"https:\/\/cdn.philasearch.com\/A09454\/E01022\/0102200009.jpg","thumb":"https:\/\/cdn.philasearch.com\/A09454\/E01022\/0102200009.jpg"},{"image":"https:\/\/cdn.philasearch.com\/A09454\/E01022\/0102200009a.jpg","thumb":"https:\/\/cdn.philasearch.com\/A09454\/E01022\/0102200009a.jpg"},{"image":"https:\/\/cdn.philasearch.com\/A09454\/E01022\/0102200009b.jpg","thumb":"https:\/\/cdn.philasearch.com\/A09454\/E01022\/0102200009b.jpg"},{"image":"https:\/\/cdn.philasearch.com\/A09454\/E01022\/0102200009c.jpg","thumb":"https:\/\/cdn.philasearch.com\/A09454\/E01022\/0102200009c.jpg"},{"image":"https:\/\/cdn.philasearch.com\/A09454\/E01022\/0102200009d.jpg","thumb":"https:\/\/cdn.philasearch.com\/A09454\/E01022\/0102200009d.jpg"},{"image":"https:\/\/cdn.philasearch.com\/A09454\/E01022\/0102200009e.jpg","thumb":"https:\/\/cdn.philasearch.com\/A09454\/E01022\/0102200009e.jpg"},{"image":"https:\/\/cdn.philasearch.com\/A09454\/E01022\/0102200009f.jpg","thumb":"https:\/\/cdn.philasearch.com\/A09454\/E01022\/0102200009f.jpg"},{"image":"https:\/\/cdn.philasearch.com\/A09454\/E01022\/0102200009g.jpg","thumb":"https:\/\/cdn.philasearch.com\/A09454\/E01022\/0102200009g.jpg"}]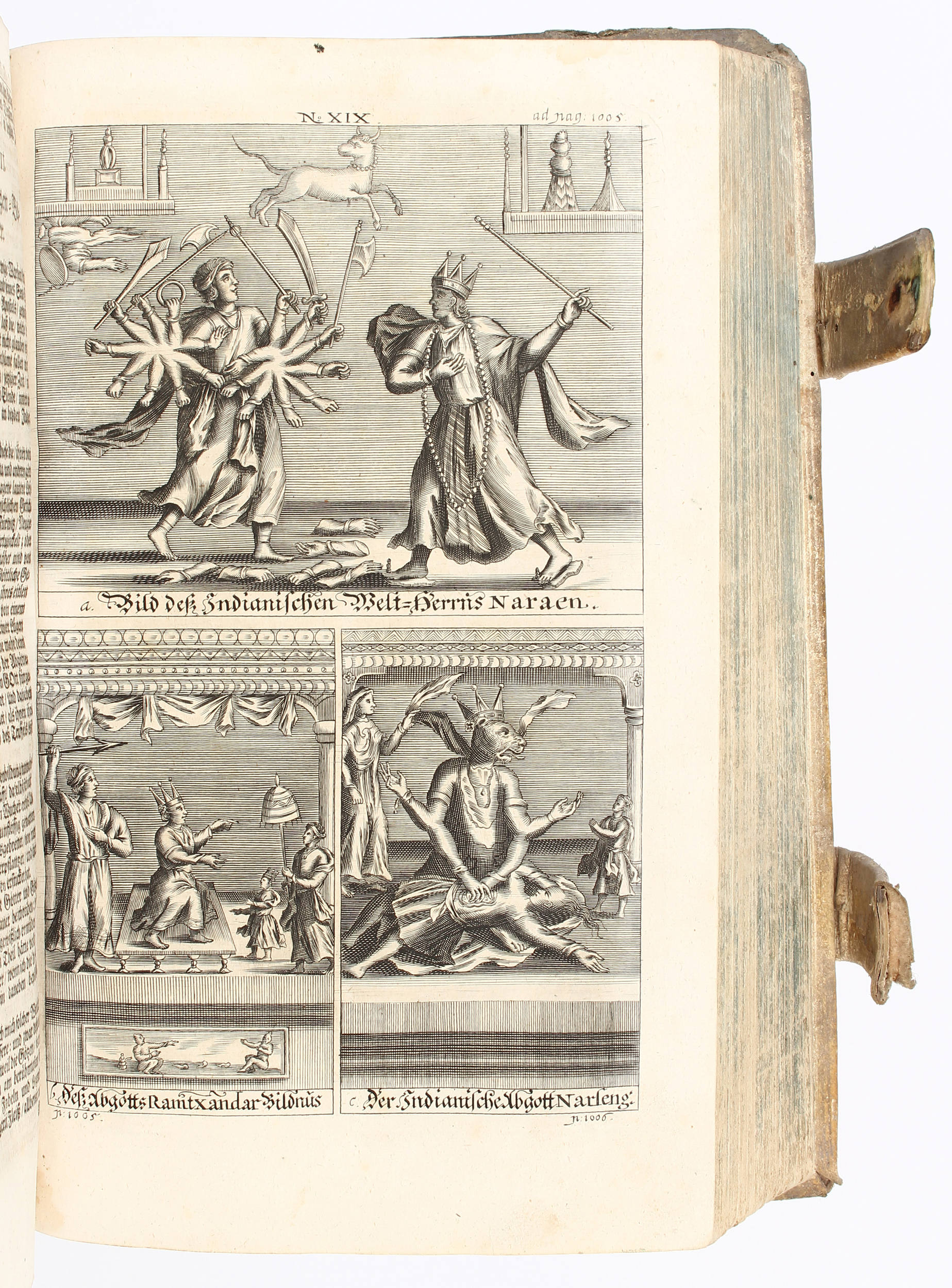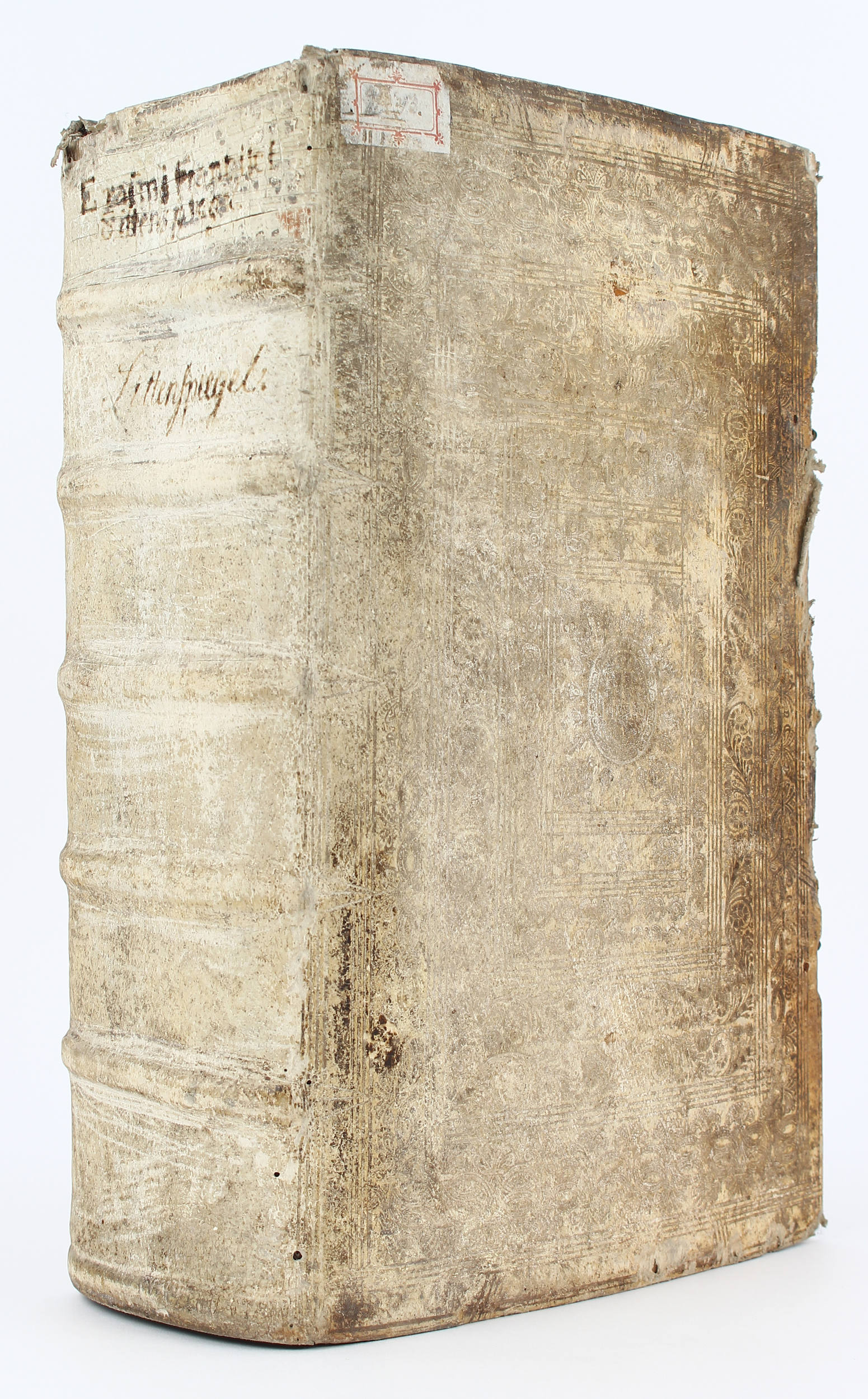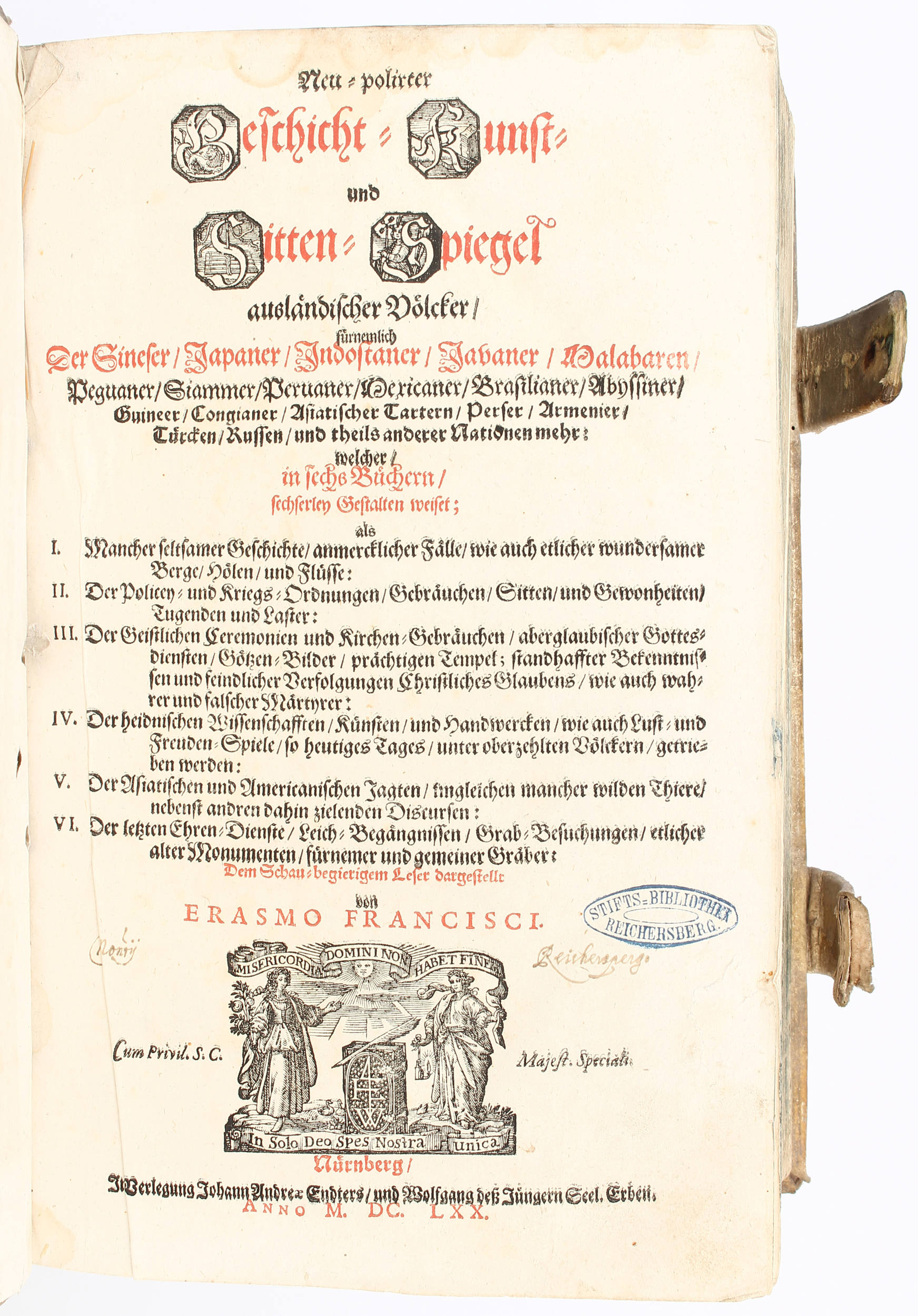 sold
Auction schedule:
October 31st, 2018 session starting 3:30 p.m.
Francisci, E. Neu-polirter Geschicht-, Kunst- und Sitten-Spiegel ausländischer Völcker. Nürnberg, Endter, 1670. Fol. (34,5:22 cm). Mit gest. Front., gest. Wappentaf., gest. Widmungsbl. u. 52 (2 doppelblattgr.) Kupfertaf. 14 Bll. (inkl. Widm.), 1550 S., 15 Bll. Blindgepr. Schweinsldrbd. d. Zt. über Holzdeckeln, stärker berieben, Ecken u. Kanten bestoßen, Bezug an den Kanten tls. abgeplatzt, vorderes Innengelenk etwas gelockert, Schließen fehlen.
First edition. Greate compendium of global culture history. With 52 engr. plates, depicting profane rites, deities, ceremonies, torture scenes, etc. - Some foxing and waterstaining, tears to folding plates and some margins of plates, some spotting to edges, library stamp to title, some holes to engr. title. Bound in contemp. pigskin over wooden boards, rubbed, edges torn, inner hinge somewhat loosening, lacking clasps.
Dünnhaupt 1528, 19.1; Lipperheide Ci 37; Cordier, BJ 382 & BS 29; Sabin 25462. - Erste Ausgabe. "Umfangreicher Sammelband über Sitten u. Gebräuche exotischer Völker. Eine kultur- u. sittengeschichtl. Fundgrube, die zahlr. Dichtern von Grimmelshausen bis zu Fr. Schiller als Quelle diente" (Dünnhaupt). - "The notice of American matters form more than a hundred pages" (Sabin). - Etwas stockfleckig, tls. mit kl. Wasserrand oben, einige Taf. mit Randeinrissen, 1 Falttaf. mit gr. Einrissen u. Quetschalte, die andere mit Einriss im Falz, Schnitt fleckig, Drucktitel mit Bibl.-Stempel u. hs. Besitzeintrag, Kupfertitel mit Löchern im Bundsteg u. äußeren Bildrand.