Lot 2154
Monconys, Reisen
sold
[{"image":"https:\/\/cdn.philasearch.com\/A09454\/E01109\/0110900002.jpg","thumb":"https:\/\/cdn.philasearch.com\/A09454\/E01109\/0110900002.jpg"},{"image":"https:\/\/cdn.philasearch.com\/A09454\/E01109\/0110900002a.jpg","thumb":"https:\/\/cdn.philasearch.com\/A09454\/E01109\/0110900002a.jpg"},{"image":"https:\/\/cdn.philasearch.com\/A09454\/E01109\/0110900002b.jpg","thumb":"https:\/\/cdn.philasearch.com\/A09454\/E01109\/0110900002b.jpg"},{"image":"https:\/\/cdn.philasearch.com\/A09454\/E01109\/0110900002c.jpg","thumb":"https:\/\/cdn.philasearch.com\/A09454\/E01109\/0110900002c.jpg"},{"image":"https:\/\/cdn.philasearch.com\/A09454\/E01109\/0110900002d.jpg","thumb":"https:\/\/cdn.philasearch.com\/A09454\/E01109\/0110900002d.jpg"},{"image":"https:\/\/cdn.philasearch.com\/A09454\/E01109\/0110900002e.jpg","thumb":"https:\/\/cdn.philasearch.com\/A09454\/E01109\/0110900002e.jpg"},{"image":"https:\/\/cdn.philasearch.com\/A09454\/E01109\/0110900002f.jpg","thumb":"https:\/\/cdn.philasearch.com\/A09454\/E01109\/0110900002f.jpg"}]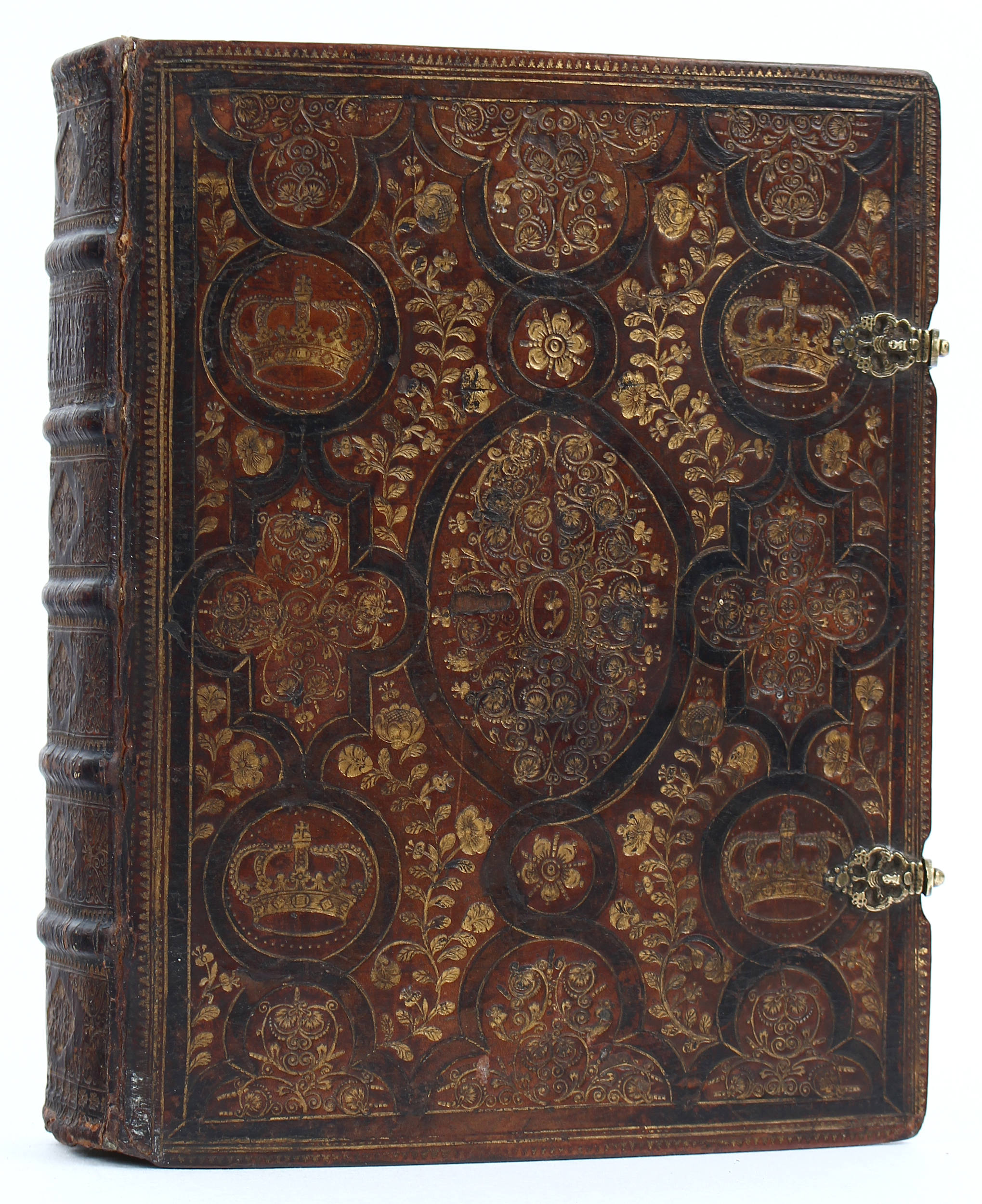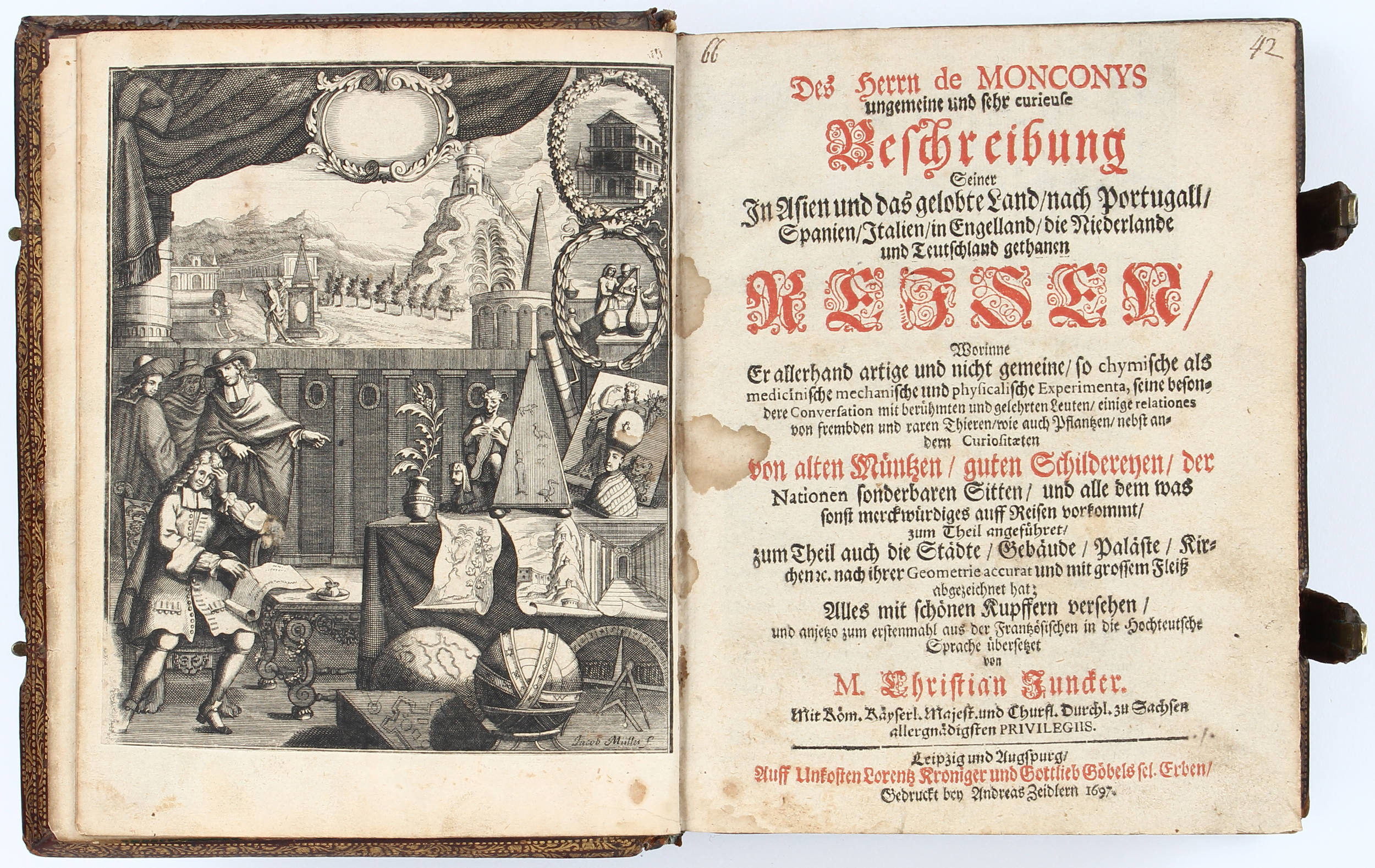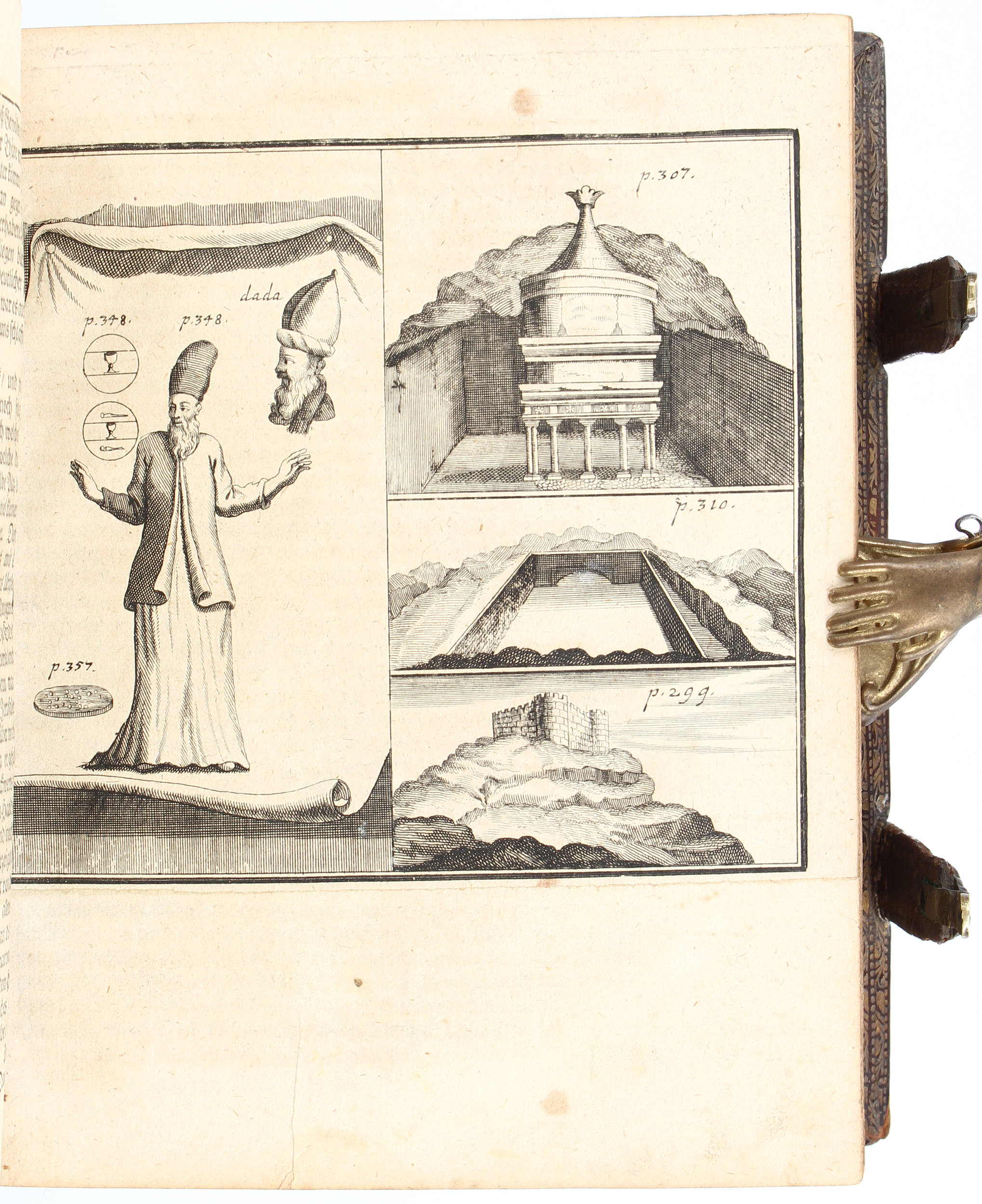 sold
Auction schedule:
October 31st, 2018 session starting 3:30 p.m.
Monconys, B. de. Ungemeine und sehr curieuse Beschreibung seiner in Asien und das gelobte Land, nach Portugall, Spanien, Italien, in Engelland, die Niederlande und Teutschland gethanen Reisen. Zum erstenmahl übersetzet von C. Juncker. Leipzig u. Augsburg, Kroniger u. Göbels Erben, 1697. 4to (22:17,5 cm). Mit gest. Front., 1 Textkupfer u. 20 (statt 24) Kupfertafeln. 1 Bl., 1024 S., 8 Bll. Lederband d. Zt. über Holzdeckeln mit reicher Vergoldung u. Goldschnitt u. 2 Schließen, Deckel mit je vier Kronen, floralen Motiven etc., unterteilt von schwarzen, goldgefassten Bändern; etwas berieben, Vordergelenk angeplatzt, Vorderdeckel mit kl. Bezugsfehlstelle.
VD 17 39:129508T (irrige Kollation); Palau 175.837; Foulché-D. 73; Tobler 103; Fromm 18088; Ferchl 364; vgl. Blackmer 1146. - Erste deutsche Ausgabe. Vielseitige Reisebeschreibung, stark naturwissenschaftlich orientiert. Die Kupfer zeigen Apparaturen, Maschinen, technische Anlagen, Natureignisse etc. "His work is of interest for the history of science because he visited many scientists and alchemists on his travels" (Blackmer). Die Kollation bei VD 17 irrig, da offenbar auf dem Münchner Exemplar beruhend, das 1 Tafel doppelt enthält. - Etwas gebräunt u. vereinzelt etwas fleckig, Titel u. erste Bll. etwas wasserfleckig; S. 547f. mit Einriss bis in den Text u. Verlust weniger Buchstaben. Exemplar ohne die 4 Bll. Widmung an die Verleger (vgl. VD 17). Fehlen 4 Tafeln.