Lot 2581

*#


"Asiae nova". Visscher 1636
sold
[{"image":"https:\/\/cdn.philasearch.com\/A09454\/E01043\/0104300003.jpg","thumb":"https:\/\/cdn.philasearch.com\/A09454\/E01043\/0104300003.jpg"}]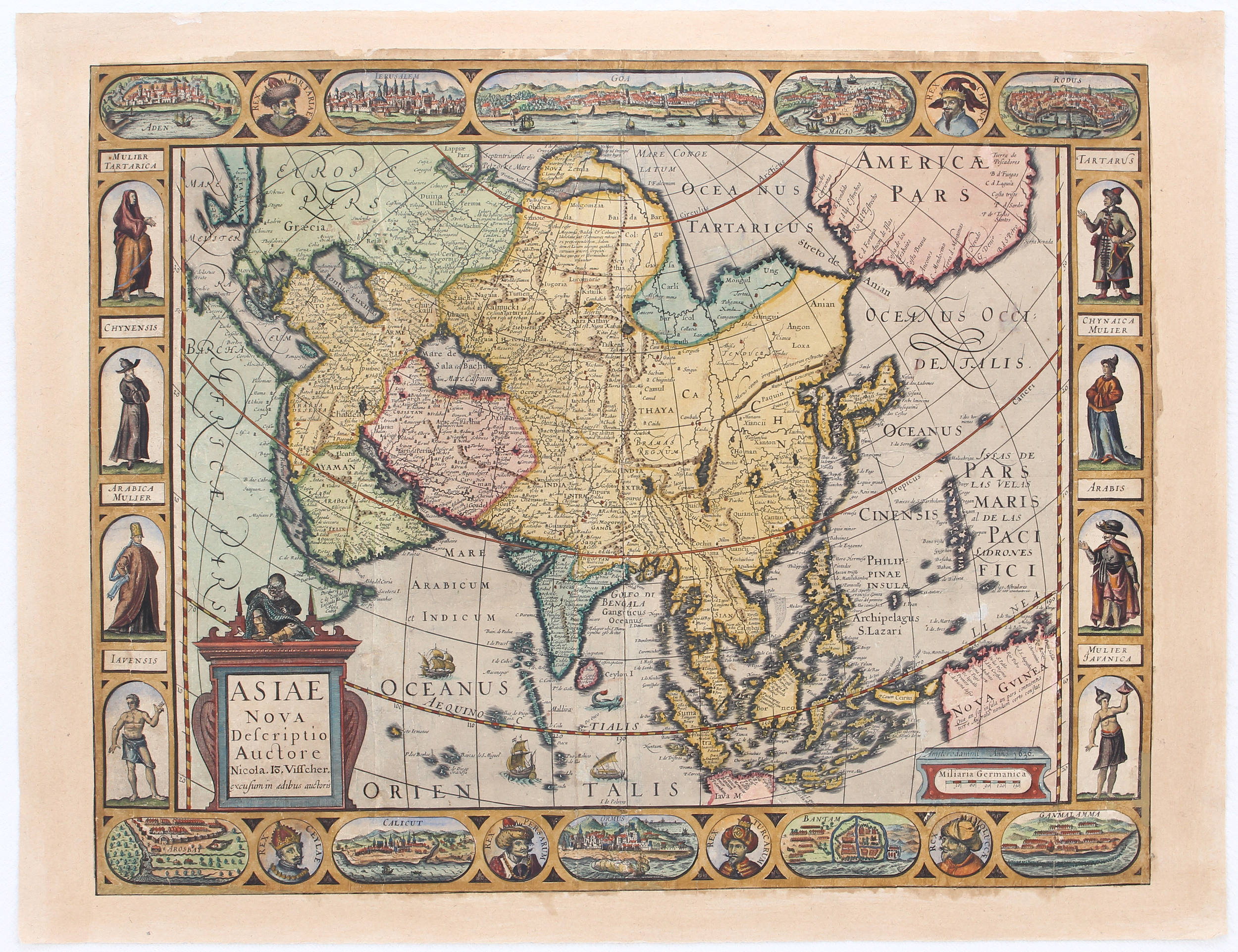 sold
Auction schedule:
October 31st, 2018 session starting 5:00 p.m.
The Kaerius-Visscher Map
"Asiae nova descriptio". Flächenkol. Kupferkarte von N. J. Visscher, Amsterdam, 1636. Mit 2 ausgem. fig. u. ornament. Kartuschen u. kl. kol., maritimer Staffage; eingefasst von kol. Bildleisten: oben u. unten 10 Stadtansichten u. 6 Porträts, seitl. je 4 männl. Trachtenfiguren. 43,5:55,5 cm.
Decorative map after van den Keere, here in the second state publ. by Visscher with date changed to 1636; this and most of the later states up to 1657 are only known in few copies. The borders remained the same incl. views of Jerusalem, Goa, Macao and Rhodos. - Col. in full. Some browning and spotting; carefully restored throughout incl. splits, tears, small holes and a few flaws, and partly reinstatement of outer borders supplied in mss.; mounted on brownish paper with wide margins.
Schilder/Stopp, MCN VI, 20.3 u. VIII, 24.3; vgl. Campbell 11 (nur Dat. 1657). - Die Karte gehört zu der Folge von Erdteilkarten, die P. Kaerius erstmals 1614 veröffentlichte und die dann - nur mit einer neuen Kartusche versehen - ab 1631 bei Visscher mit unterschiedl. Datierungen erschienen sind, mittlerweile gibt es 5 Zustände wie von Schilder im Kaerius-Band beschrieben. - Gebräunt u. etwas fleckig; mit Rissen, Löchlein u. Fehlstellen sorgfältig restauriert, ferner die Randeinfassung größtenteils nachgezeichnet u. kol.; auf bräunl. Papier mit breiten Rändern aufgezogen.