Lot 2583

*#


Asien. N. de Fer 1696. Rolle
sold
[{"image":"https:\/\/cdn.philasearch.com\/A09454\/E01045\/0104500001.jpg","thumb":"https:\/\/cdn.philasearch.com\/A09454\/E01045\/0104500001.jpg"}]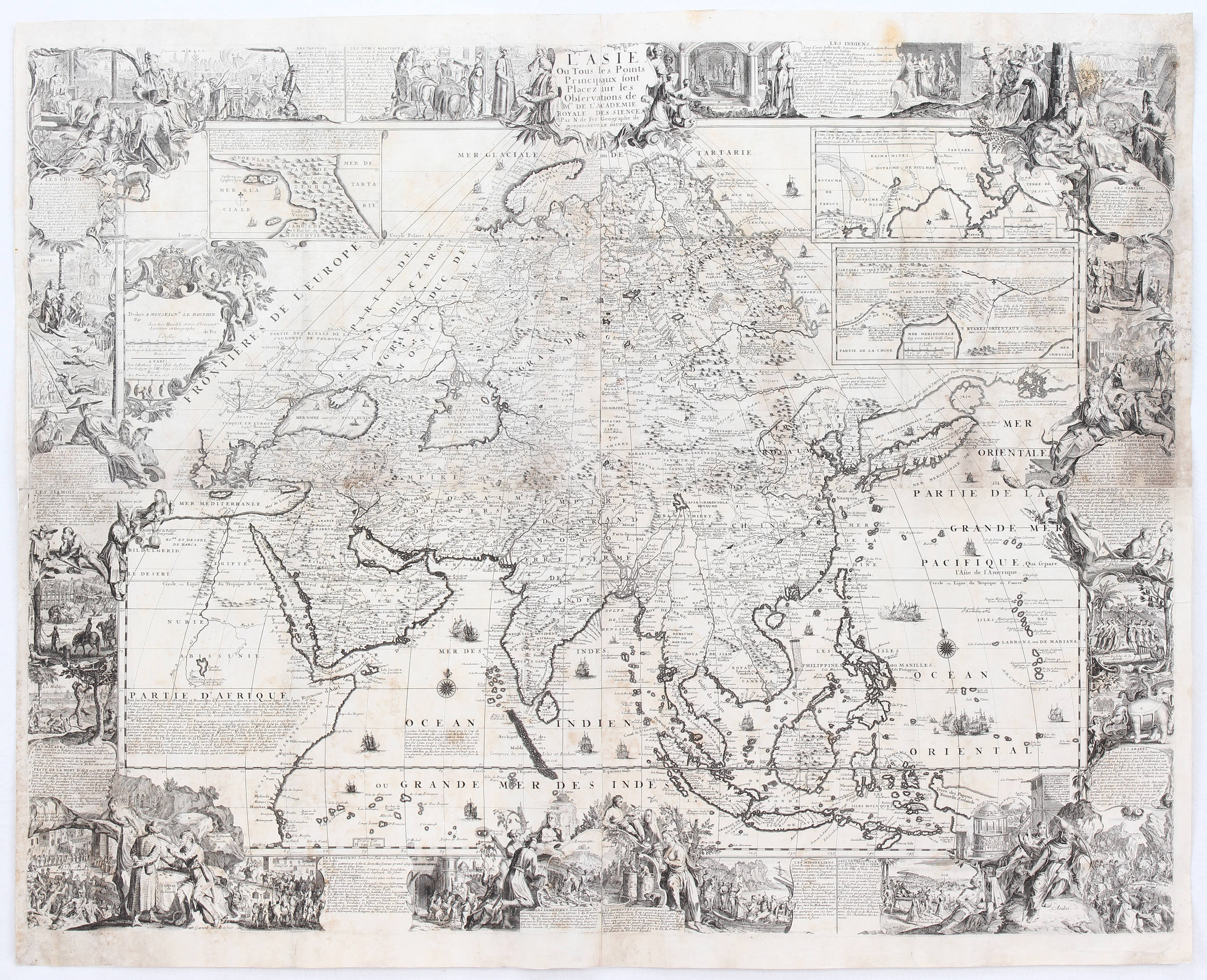 sold
Auction schedule:
October 31st, 2018 session starting 5:00 p.m.
Early Wall Map by de Fer
"L'Asie ou tous les points principaux...les observations de M. de l'Academie des Sciences". Kupferkarte von N. de Fer, Paris, 1696; gest. von H. van Loon. Mit 3 Nebenkarten und eingefasst von Bordüre mit Vignetten und Erkl. zu den Völkern Asiens nach (N.) Guerard. Von 4 Platten gedruckt und zusammengesetzt; 91:118 cm.
Rare. Early wall-map by de Fer with decorative borders, dated 1696 in the small dedication cartouche at left. The geographical features correspond with those of the smaller maps described by Sweet. - 4 sheets, joined. Uncol. Cleaned and sized, still some spotting and waterstaining, stronger at margins; repairs to some cracks due to waterdamage and to larger tear at right affecting engraved area, there loss of image in the border (2:3 cm); some small marginal folds and creasemarks; rolled up.
Sweet 84 (Ausg. bei Danet 1728/40) u. vgl. 82/3 mit Abb. - Seltene, frühe Wandkarte von de Fer, hier in der kl. Widmungskartusche mit Dat. 1696. Die geographische Darstellung entspricht den bei Sweet ausführl. beschriebenen kleineren Atlasausgaben inkl. derjenigen im Bereich der Beringstraße, der falschen Bez. Neu Guinea als 'Nouvelle Zeelande' etc. sowie des relativ großen Textes in Westafrika. Die dekorativen Vignetten mit fig. Szenen u.a. zu "Ceylan (&) Pekin (&) Japonais (&) Meaco (&) Philippines". - Gereinigt u. stabilisiert, noch etwas braun- u. wasserfleckig, Ränder tlw. etwas stärker; rechts einige Bruchstellen durch Wasserschaden sowie großer Randeinriss hinterlegt, Bildverlust in der Bordüre (2:3 cm), ferner kl. Knick- u. Quetschfalten in den Rändern; gerollt.