Lot 26

*#


Lepanto, Außzug eines Brieffs
sold
[{"image":"https:\/\/cdn.philasearch.com\/A09454\/E01012\/0101200005.jpg","thumb":"https:\/\/cdn.philasearch.com\/A09454\/E01012\/0101200005.jpg"}]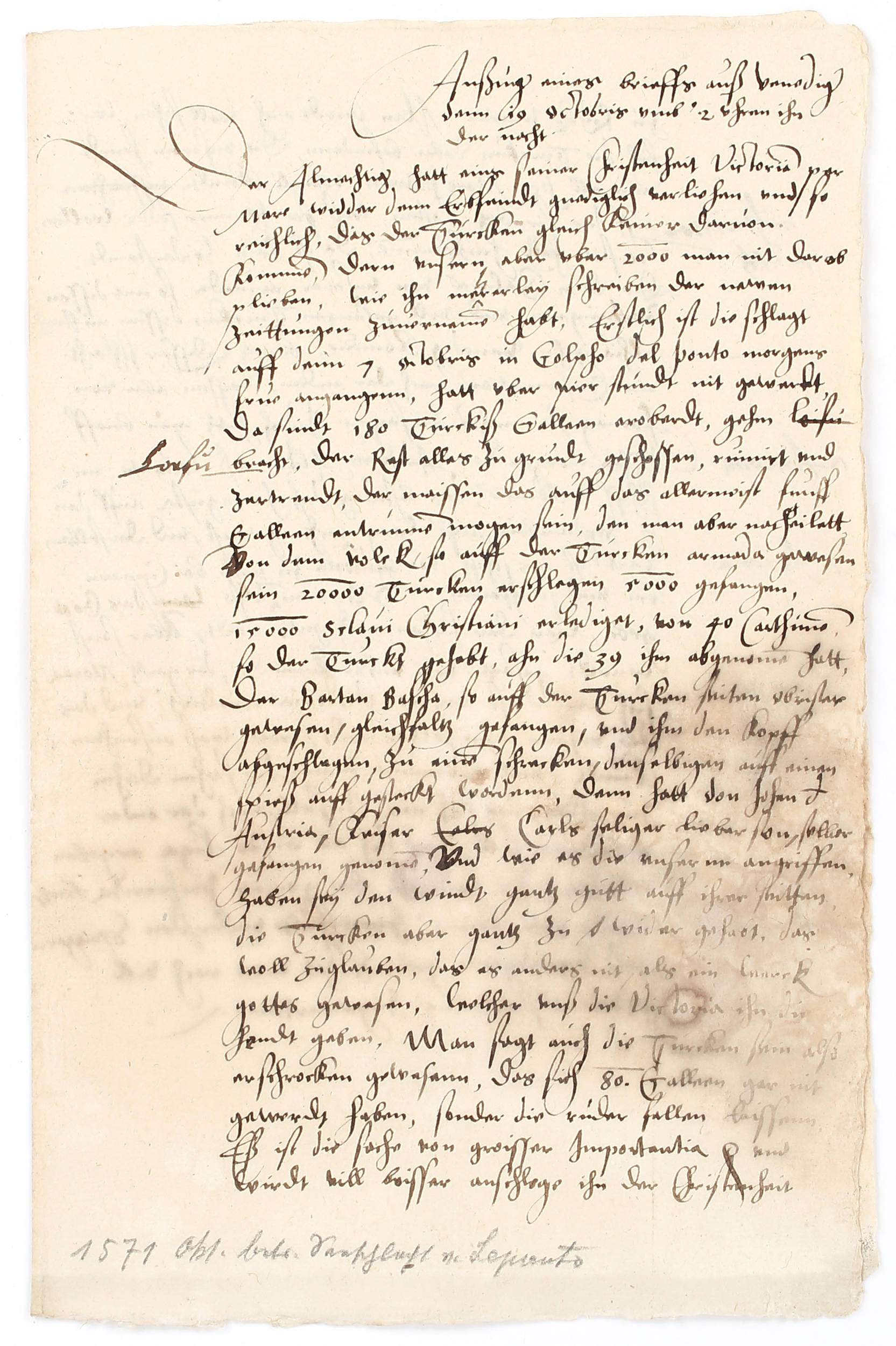 sold
Auction schedule:
October 30th, 2018 session starting 10:00 a.m.
Lepanto. - Außzug eines Brieffs aus Venedig denn 19 octobris umb 2 uhrnn ihn der nacht. Deutsche Handschrift auf Papier. O. O. u. J. (1571). Fol. Blattgr. 29:18,5 cm, Schriftspiegel ca. 25:14 cm. Regelmäßige Kursive in brauner Tinte. 2 S. auf 1 Doppelblatt.
German manuscript on paper. 2 pp., folio. Contemporary account on the siege of Famagusta and the Battle of Lepanto - Lower half somewhat browned, a few mildew spots, ink somewhat faded in places.
"Der Almechtig hatt eins seiner Christenheit Victoria per Mare widder denn Erbfeindt gnediglich verliehen, und so reichlich, das der Türcken gleich keiner darvon komme...". Die Zahl der in der Seeschlacht getöteten Osmanen wird mit 20.000 angegeben, die der Gefangenen mit 6.000, 15.000 vormals von den Türken versklavte Christen seien nunmehr befreit worden. Erwähnung findet auch die der Schlacht vorausgehende Belagerung von Famagusta durch osmanische Truppen. Auf Büttenpapier ohne Wasserzeichen. - In der unteren Hälfte durch Feuchtigkeitseinwirkung etwas gebräunt u. leicht sporfleckig, Schrift dort teilw. etwas verblasst.