Lot 3204

*#


Balkan. Teilbl. (Gastaldi-Forlani)
sold
[{"image":"https:\/\/cdn.philasearch.com\/A09454\/E01110\/0111000054.jpg","thumb":"https:\/\/cdn.philasearch.com\/A09454\/E01110\/0111000054.jpg"}]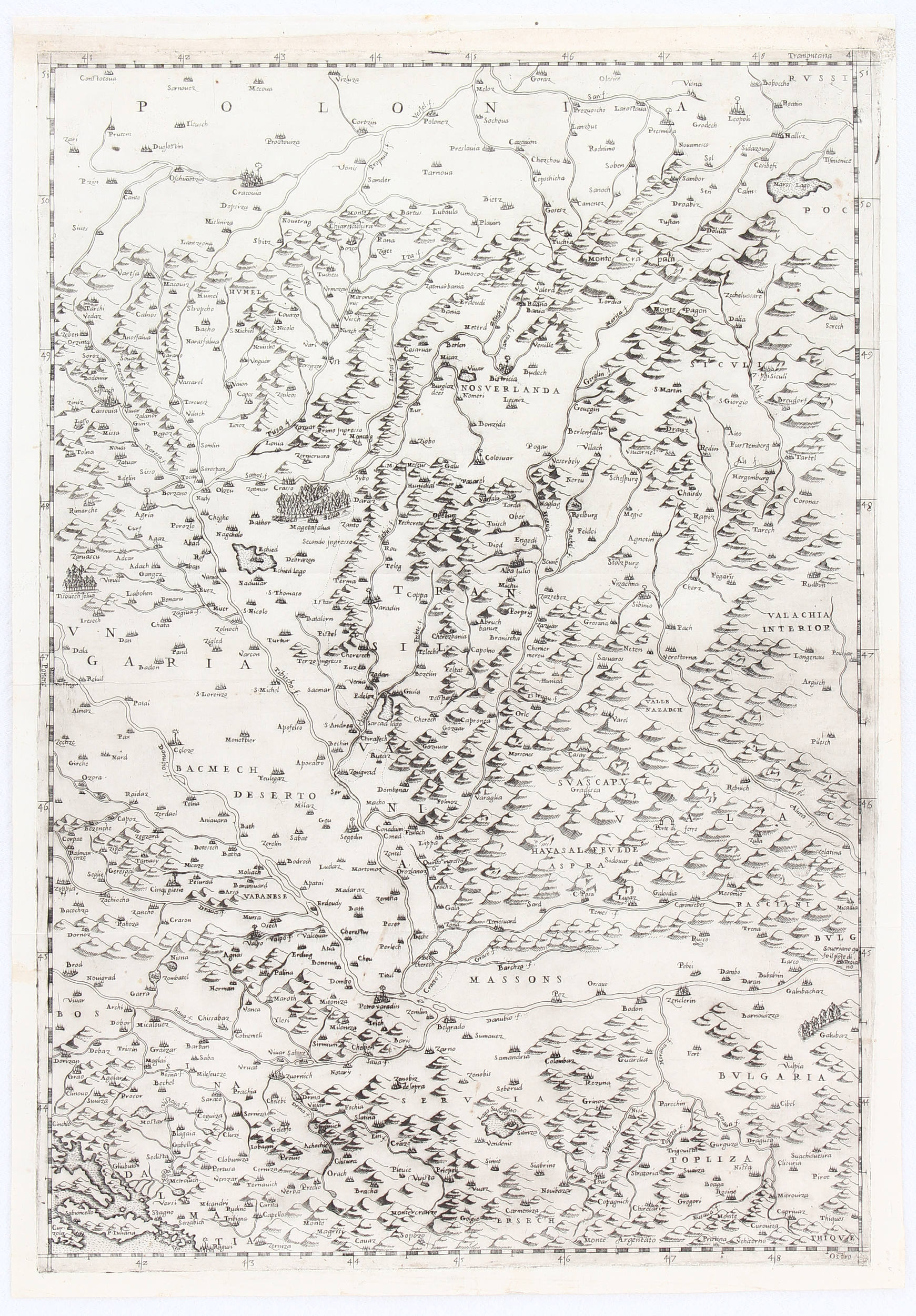 sold
Auction schedule:
November 1st, 2018 session starting 11:30 a.m.
Balkan. ("La discrittione della Transilvania et parte del l'Ungaria, et il simile della Romania"). 1 (von 3) Bl. Kupf.-Kte. (nach G. Gastaldi von P. Forlani, Venedig, 1566). Plattengröße 51,5:35,5 cm.
Szántai, Gastaldi 4 (a-d); Woodward, Forlani 62; Tooley, Italian Atlases 29; Szathmáry 62. - Mittleres Teilstück der seltenen dreiblättr. Karte in der Begrenzung Südpolen-Bulgarien-Ragusa mit Siebenbürgen im Zentrum. "A new edition of Gastaldi's map of 1559, on 3 sheets instead of 2... the centre sheet bears no name or title" (T.). Es folgten Ausgaben mit den Adressen von D. Bertelli (1568) und N. Valegio (1593) sowie eine Bearbeitung von S. Scolari (1673). Unser Expl. aus einer frühen Ausgabe auf Papier mit WZ 'Siren in circle under six-pointed star' (vgl. Woodward, Watermarks 91/92); wohl aus einem Sammelatlas, da eingefaltet und am oberen Blattrand aufgefalzt. - Kräftiger Abdruck mit etwas Plattenton, vereinzelt leicht fleckig und am Oberrand durch den Falz etwas leimschattig. Unten im Bild 2 kl. Löcher und im Unterrand wenige winzige Wurmstiche. Oben rechts und links mittig kl. Knitterfalten.