Lot 90
Antoninus Florentinus, Summa theologica IV
sold
[{"image":"https:\/\/cdn.philasearch.com\/A09454\/E01103\/0110300001.jpg","thumb":"https:\/\/cdn.philasearch.com\/A09454\/E01103\/0110300001.jpg"},{"image":"https:\/\/cdn.philasearch.com\/A09454\/E01103\/0110300001a.jpg","thumb":"https:\/\/cdn.philasearch.com\/A09454\/E01103\/0110300001a.jpg"},{"image":"https:\/\/cdn.philasearch.com\/A09454\/E01103\/0110300001b.jpg","thumb":"https:\/\/cdn.philasearch.com\/A09454\/E01103\/0110300001b.jpg"},{"image":"https:\/\/cdn.philasearch.com\/A09454\/E01103\/0110300001c.jpg","thumb":"https:\/\/cdn.philasearch.com\/A09454\/E01103\/0110300001c.jpg"},{"image":"https:\/\/cdn.philasearch.com\/A09454\/E01103\/0110300001d.jpg","thumb":"https:\/\/cdn.philasearch.com\/A09454\/E01103\/0110300001d.jpg"}]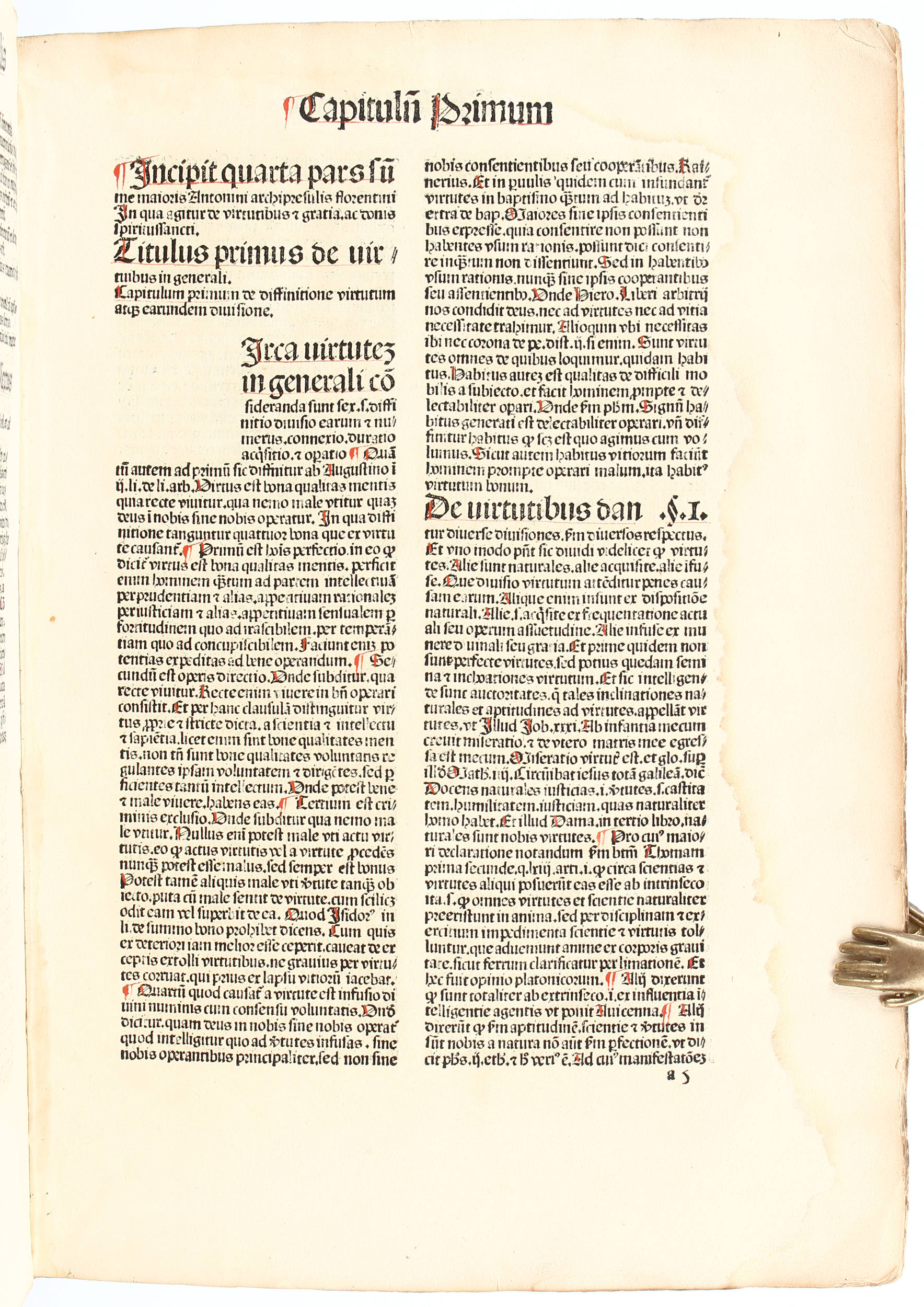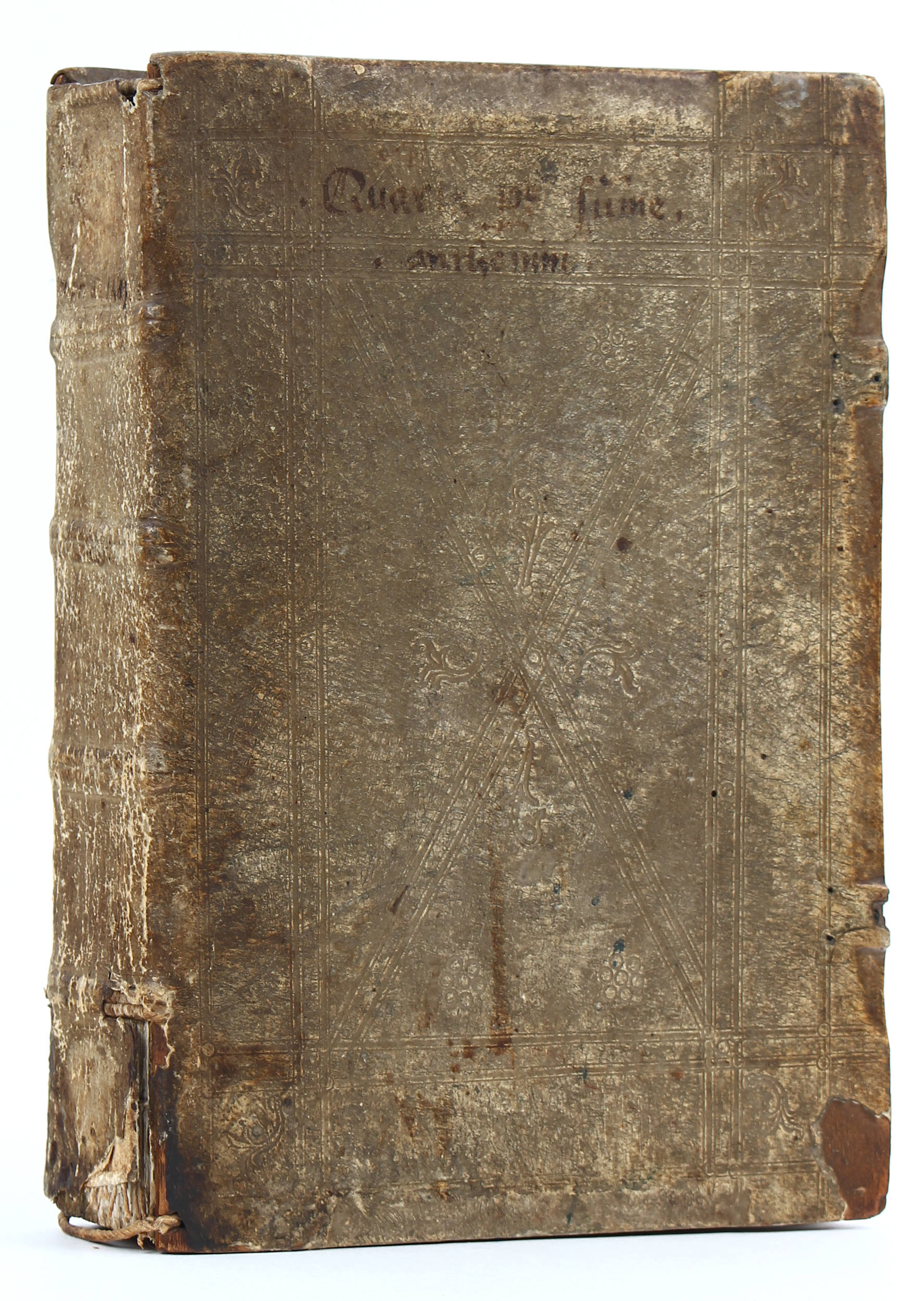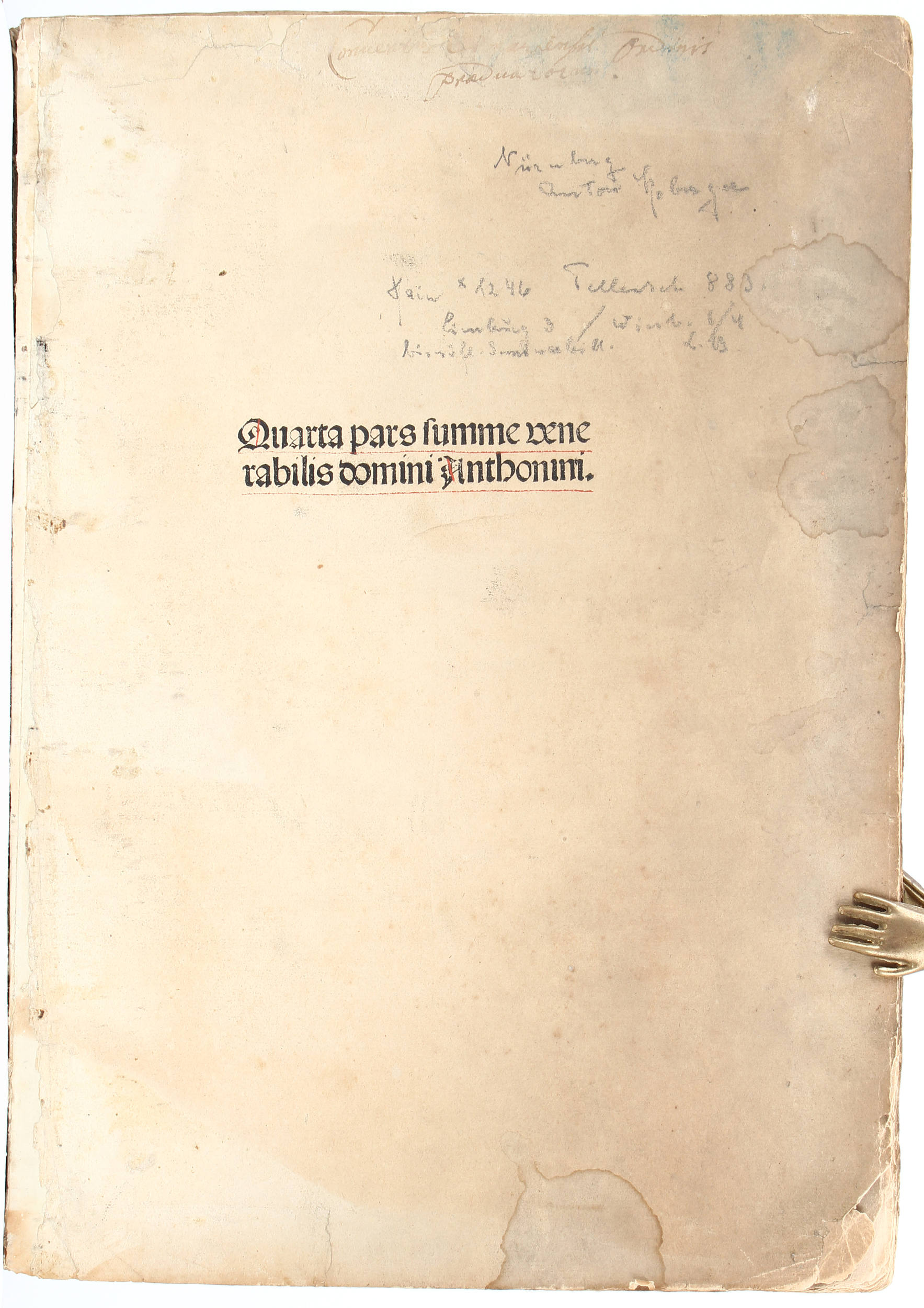 sold
Auction schedule:
October 30th, 2018 session starting 10:00 a.m.
Antoninus Florentinus. Summa theologica. Teil 4 (von 4). (Speyer, Peter Drach), 17. Feb. 1487. Fol. (32:22 cm). Got. Typ., 2 Kol. Rubriziert. 366 nn. Bll. Schweinsldr. d. Zt. über Holzdeckeln mit spätgotischer Blindprägung; berieben, etwas wurmstichig, Bezugsfehlstellen an Ecken u. Rücken, Schließen fehlen.
Sixth edition. Part 4 only. Rubricated. - Some browning, occasional spotting or faint marginal dampstaining, title and last leaf somewhat frayed and backed. Bound in contemporary blindstamped pigskin over wooden boards, rubbed, some worming, some wear to corners and spine, clasps lacking.
Hain-C. 1247; GW 2190; BMC II, 495; Goff A-876. - Sechste Ausgabe, die erste bei Drach, der 1477 bereits Pars 2 separat gedruckt hatte. Vorliegend Teil 4 der insgesamt 4 Bände und (seit 1485) die Tabula des Johannes Molitor umfassenden Summa. Die Sittenlehre des bedeutenden Kirchenlehrers und späteren Erzbischof von Florenz, beeinflusst von der "Summa theologica" des Thomas von Aquin. - Etwas gebräunt, vereinzelt etwas fleckig oder schwach wasserrandig, Titel u. Schlussblatt aufgezogen u. mit Randläsuren.