Lot 91
Augustinus, De civitate dei
closed
[{"image":"https:\/\/cdn.philasearch.com\/A09454\/E01087\/0108700001.jpg","thumb":"https:\/\/cdn.philasearch.com\/A09454\/E01087\/0108700001.jpg"},{"image":"https:\/\/cdn.philasearch.com\/A09454\/E01087\/0108700001a.jpg","thumb":"https:\/\/cdn.philasearch.com\/A09454\/E01087\/0108700001a.jpg"},{"image":"https:\/\/cdn.philasearch.com\/A09454\/E01087\/0108700001b.jpg","thumb":"https:\/\/cdn.philasearch.com\/A09454\/E01087\/0108700001b.jpg"},{"image":"https:\/\/cdn.philasearch.com\/A09454\/E01087\/0108700001c.jpg","thumb":"https:\/\/cdn.philasearch.com\/A09454\/E01087\/0108700001c.jpg"},{"image":"https:\/\/cdn.philasearch.com\/A09454\/E01087\/0108700001d.jpg","thumb":"https:\/\/cdn.philasearch.com\/A09454\/E01087\/0108700001d.jpg"},{"image":"https:\/\/cdn.philasearch.com\/A09454\/E01087\/0108700001e.jpg","thumb":"https:\/\/cdn.philasearch.com\/A09454\/E01087\/0108700001e.jpg"}]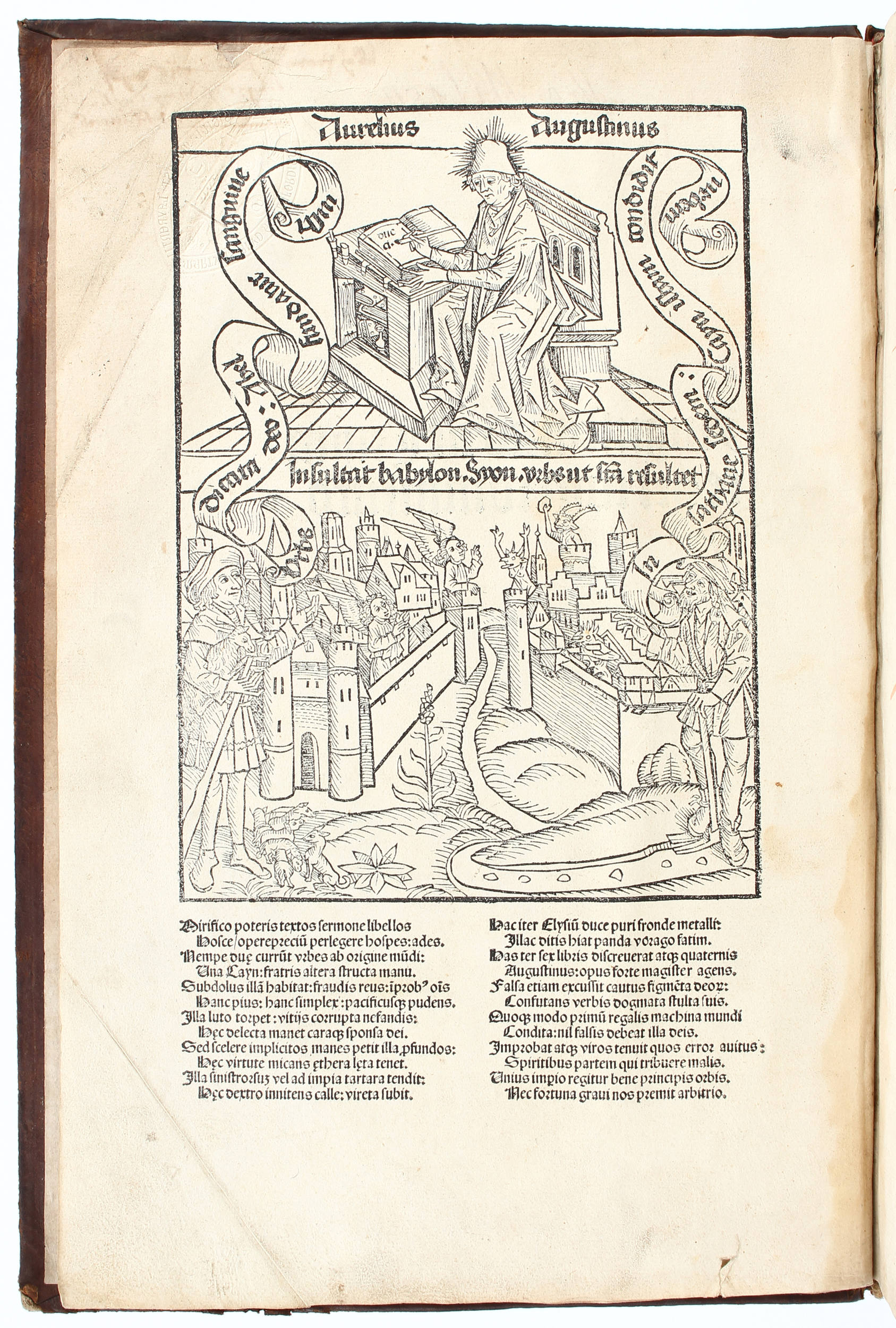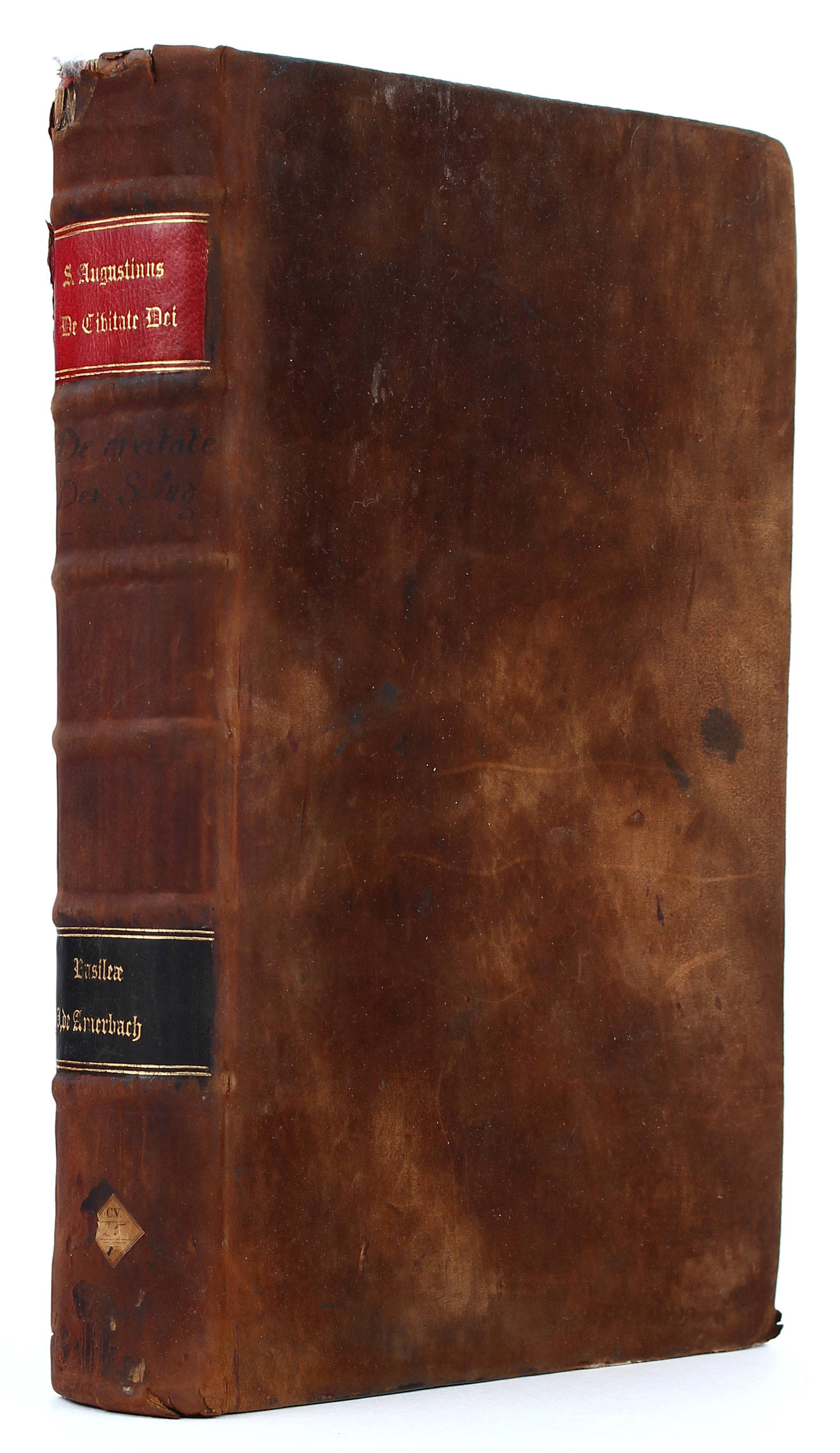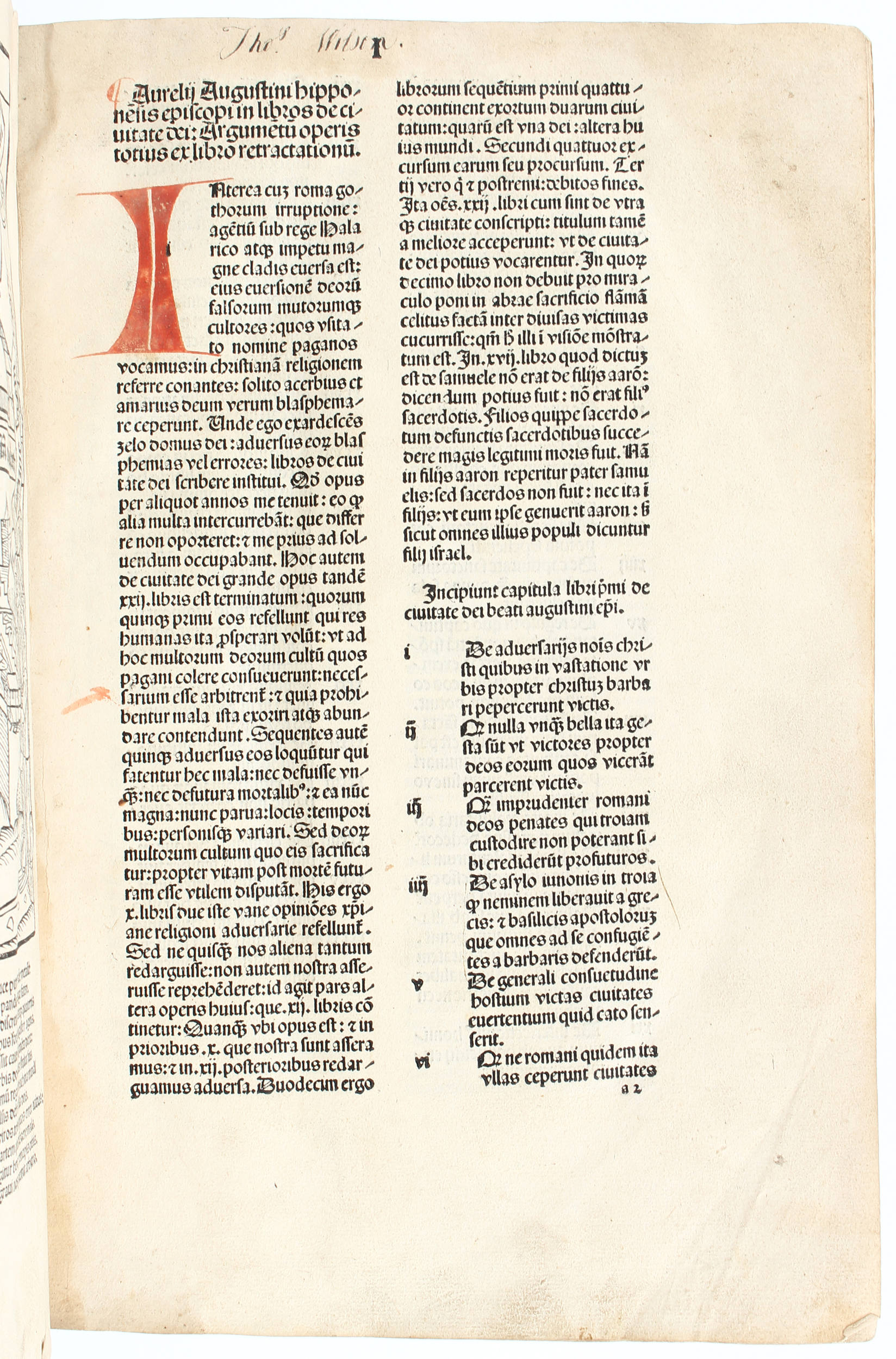 unsold
Auction schedule:
October 30th, 2018 session starting 10:00 a.m.
Augustinus, A. De civitate dei cum commento. (Mit Komm. von Thomas Waleys und Nicolaus Trivet). Basel, J. Amerbach, 1490. Fol. (32,4:22,5 cm). Got. Typ., 2 Kol., Scholiendruck. Rubriziert. Mit einem großen Textholzschnitt (der Hl. Augustinus). 268 Bll. Älterer Wildlederband, 2 spätere Rückenschilder.
Few head-titles slightly trimmed, marginal dampmarking in places, little fingerstaining, neat old ink. annotations (partly cropped) to approx. first 40 ll., title dusty and with browning to top margin as well as some ink annotations; minor creasing to first leaves and little fingerstaining as well as dampmarking to gutter; l. m4 marginal lesions and repaird tear (not affecting text); small tear to centre of last 5 leaves (l. O4 with minimal loss of letters); last leaf marginal lesions and soiled on verso. Old stamp and bookplate to endpapers. Bound in later calf, recent title pieces to spine, spine chipped at head and foot.
Hain-C. 2066; GW 2888; BMC III 752; Goff A-1244. - Mit dem "Gottesstaat" schuf Augustinus weit mehr als eine Apologie des Christentums, sein Werk durchdrang das gesamte Mittelalter und beeinflusste Philosophie und Theologie bis in die Gegenwart. "Der Gedanke des Völkerrechts leitet sich zum Teil aus diesem Buch her; Grotius zitierte den hl. Augustinus, Luther und Calvin nahmen beide nächst der Bibel selbst Augustinus als Grundstein des Protestantismus... In unseren Tagen haben Lionel Curtis, Jacques Maritain, Reinhold Niebuhr, Paul Tillich und andere Denker aus diesem großen Werk Anregung geschöpft" (PMM 3). - Kopftitel gelegentlich leicht angeschnitten, hier und da oben gering feuchtigkeitsrandig, wenige Fingerflecken, etwa die ersten 40 Bll. mit alten, teils angeschnittenen feinen lateinischen Tintennotizen, Titel angestaubt und oben im Rand stärker gebräunt sowie mit alten Tinten- bzw. Besitzvermerken; erste Bll. mit kl. Knitterfalten, etwas fingerfleckig sowie im Bug etwas feuchtigkeitsrandig; Bl. m4 mit Randläsuren u geklebt. Einriss, letzte 5 Bll. mittig mit Hakenriss (bei Bl. O4 minimaler Buchstabenverlust), letztes Bl. mit Randläsuren und verso angeschmutzt, Vorsatz mit Exlibris und Stempel.