Lot 92
Augustinus, Opuscula plurima
sold
[{"image":"https:\/\/cdn.philasearch.com\/A09454\/E00844\/0084400006.jpg","thumb":"https:\/\/cdn.philasearch.com\/A09454\/E00844\/0084400006.jpg"},{"image":"https:\/\/cdn.philasearch.com\/A09454\/E00844\/0084400006a.jpg","thumb":"https:\/\/cdn.philasearch.com\/A09454\/E00844\/0084400006a.jpg"},{"image":"https:\/\/cdn.philasearch.com\/A09454\/E00844\/0084400006b.jpg","thumb":"https:\/\/cdn.philasearch.com\/A09454\/E00844\/0084400006b.jpg"},{"image":"https:\/\/cdn.philasearch.com\/A09454\/E00844\/0084400006c.jpg","thumb":"https:\/\/cdn.philasearch.com\/A09454\/E00844\/0084400006c.jpg"},{"image":"https:\/\/cdn.philasearch.com\/A09454\/E00844\/0084400006d.jpg","thumb":"https:\/\/cdn.philasearch.com\/A09454\/E00844\/0084400006d.jpg"},{"image":"https:\/\/cdn.philasearch.com\/A09454\/E00844\/0084400006e.jpg","thumb":"https:\/\/cdn.philasearch.com\/A09454\/E00844\/0084400006e.jpg"}]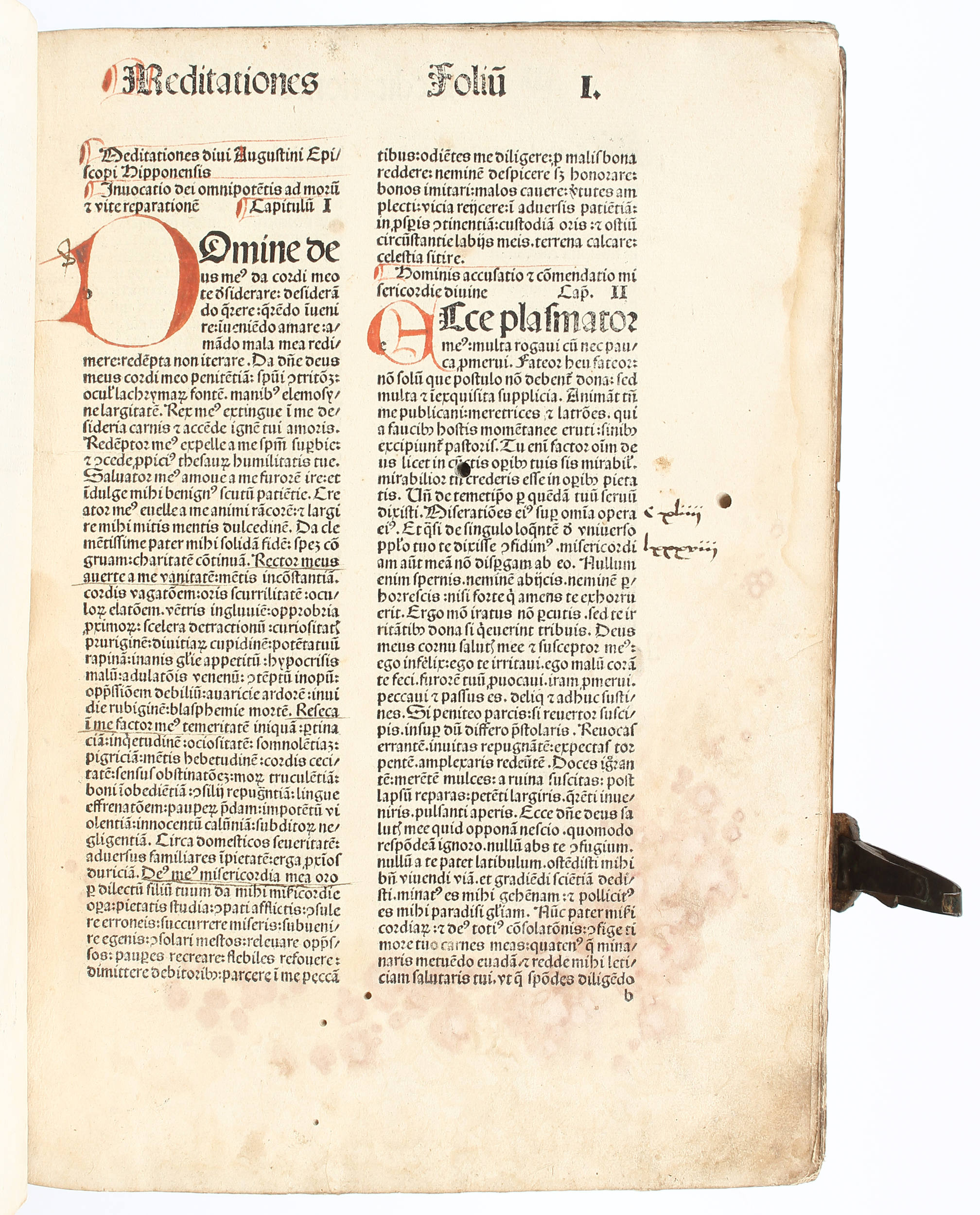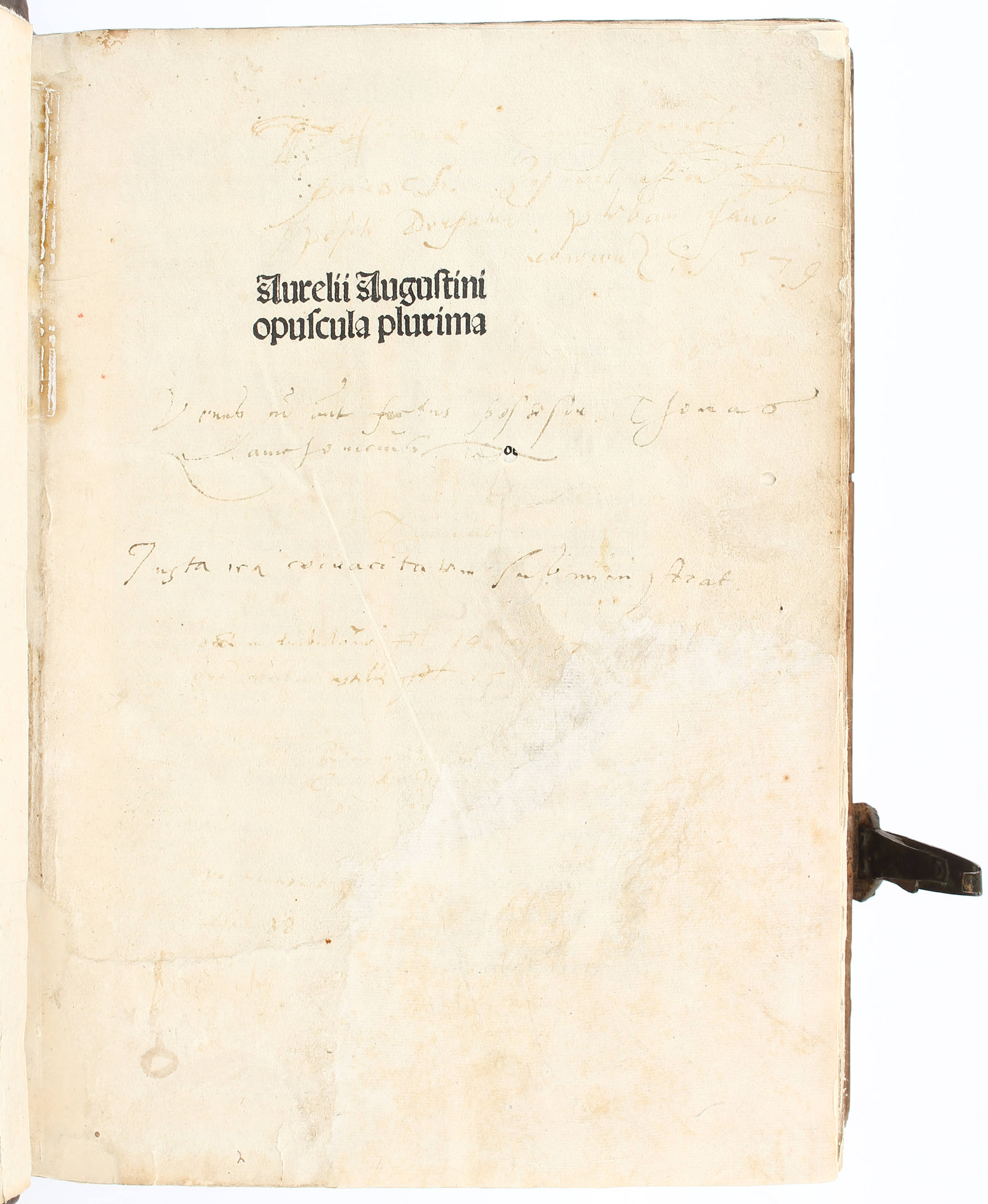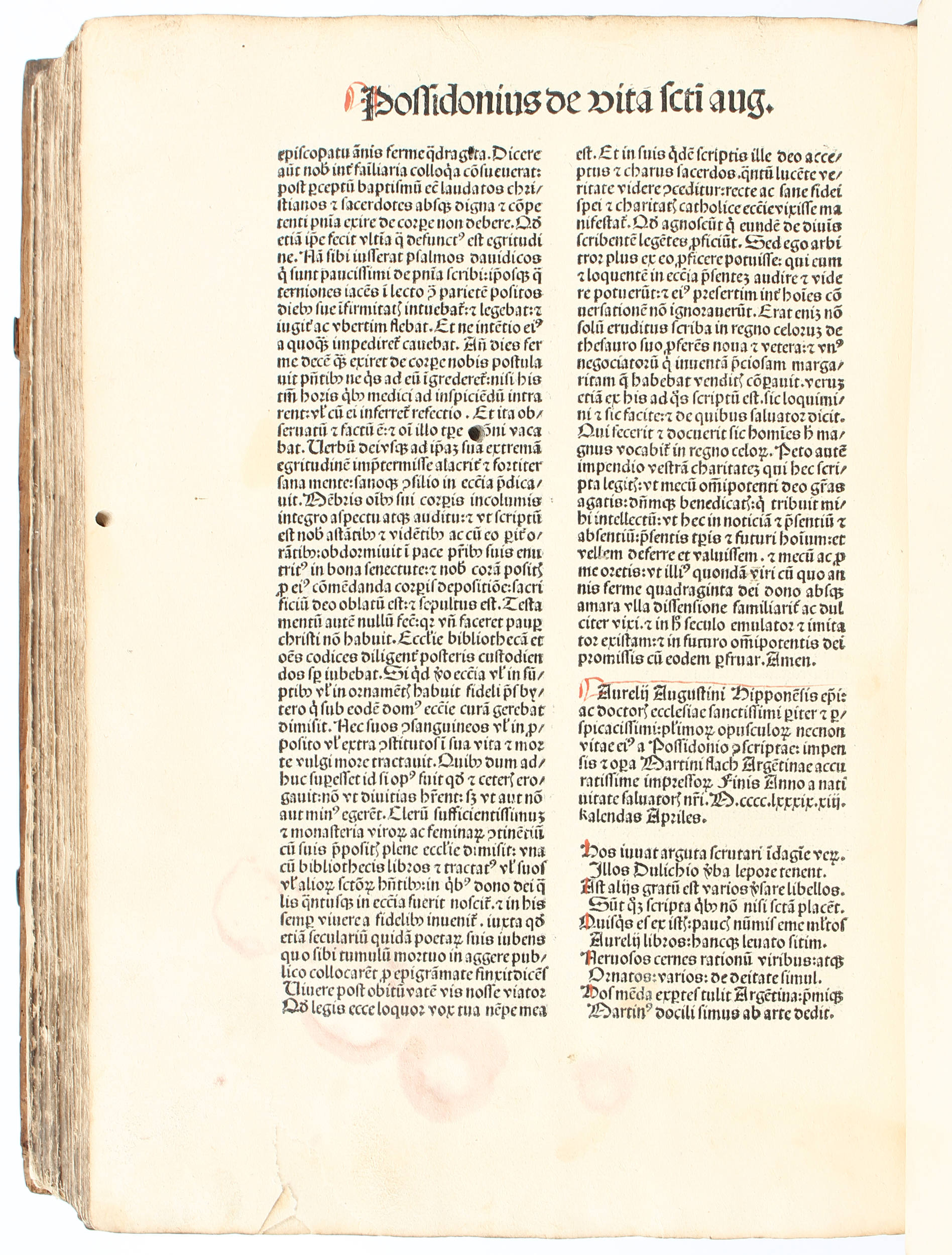 sold
Auction schedule:
October 30th, 2018 session starting 10:00 a.m.
Augustinus, A. Opuscula plurima. Straßburg, M. Flach, 20. März 1489. Fol. (29:21 cm). Got. Typ. Zahlr. eingemalte Initialen in Rot und Blau. 6 nn., 267 num., 1 w. Bll. - Angebunden: Johannes Guallensis. Summa collationum. Straßburg, (G. Husner), 1489. Got. Typ. Eingemalte Initialen in Rot. 80 nn. Bll. (l.w.). Alter restaurierter Holzdeckelband mit mod. Ldr.-Rücken, 1 alten Schließe, 1 Schließenrest.
Two works in one volume. - Overall spotted and waterstained, somewhat mouldy in places, some worming with slight loss of some letters, few old annotations. Few marginal restorations, large restorations to first two leaves. Recent calf over old wooden boards, one clasp. Sold waf.
I. Hain-C. 1948; GW 2865; BMC I, 149; Goff A-1218. - Erste Straßburger Ausgabe. - Teilw. fleckig, durchgehende Feuchtigkeitsspuren oder Wasserränder, teilw. sporfleckig. Einige durchgehende Wurmlöcher, vereinzelt kleinere Wurmspuren. Einige Randrestaurierungen, größere auf den ersten 2 Bll. Vereinzelt alte Anmerkungen, 2 Bll. mit Ausriss im weißen Rand.
II. Hain-C. 7444; GW M13987; BMC I, 138; Goff J-332. - Eine Art Manual für Pfarrer und Prediger, verfasst von dem aus Wales stammenden Franziskaner und Moraltheologen. - Wasserrandig, teilw. sporfleckig, einige alte Randanmerkungen. Wenige durchgehende Wurmlöcher mit etwas Buchstabenverlust. oRR.