Lot 94
Bonaventura, Sermones de tempore
sold
[{"image":"https:\/\/cdn.philasearch.com\/A09454\/E01076\/0107600004.jpg","thumb":"https:\/\/cdn.philasearch.com\/A09454\/E01076\/0107600004.jpg"},{"image":"https:\/\/cdn.philasearch.com\/A09454\/E01076\/0107600004b.jpg","thumb":"https:\/\/cdn.philasearch.com\/A09454\/E01076\/0107600004b.jpg"},{"image":"https:\/\/cdn.philasearch.com\/A09454\/E01076\/0107600004c.jpg","thumb":"https:\/\/cdn.philasearch.com\/A09454\/E01076\/0107600004c.jpg"},{"image":"https:\/\/cdn.philasearch.com\/A09454\/E01076\/0107600004d.jpg","thumb":"https:\/\/cdn.philasearch.com\/A09454\/E01076\/0107600004d.jpg"}]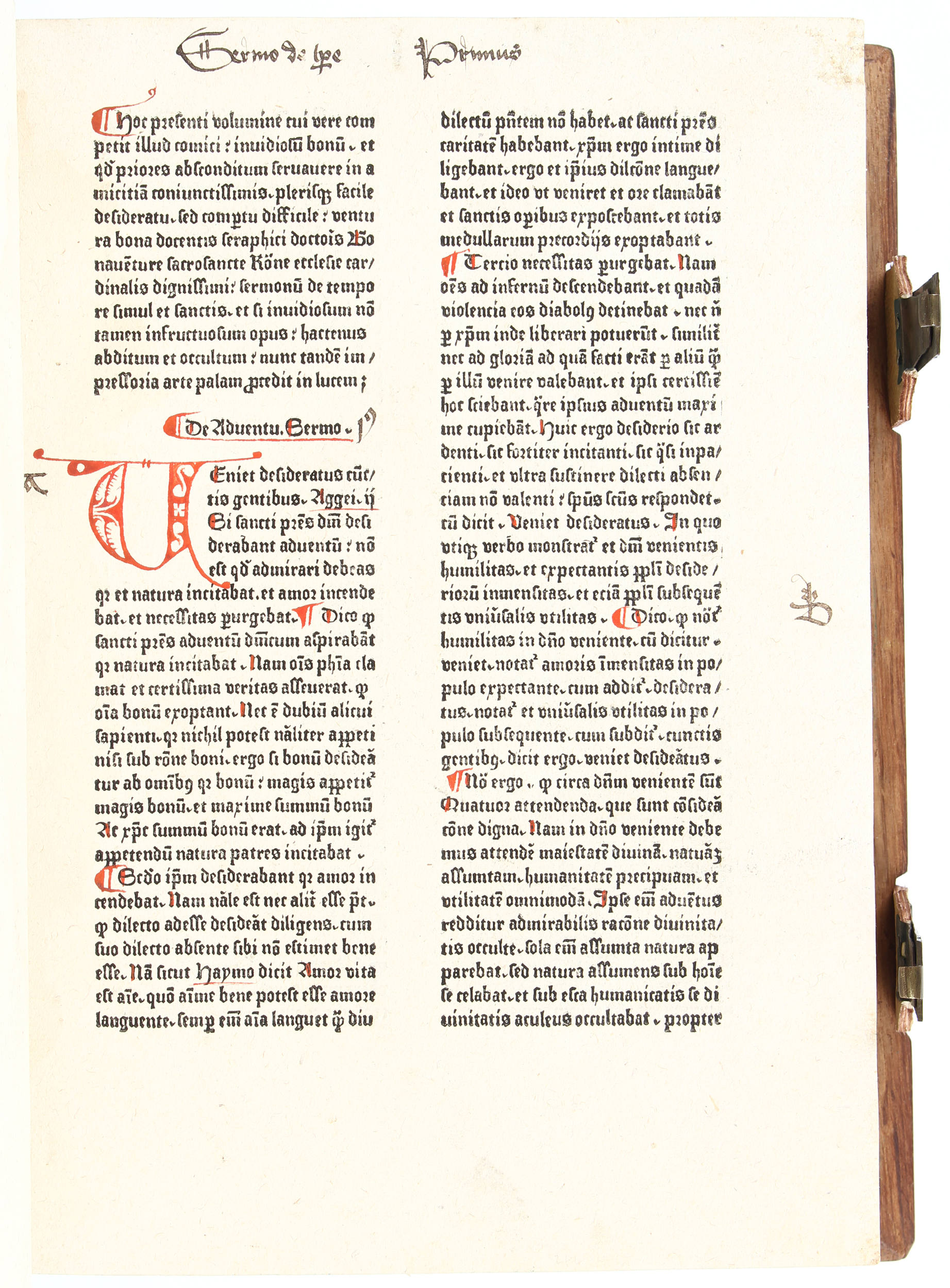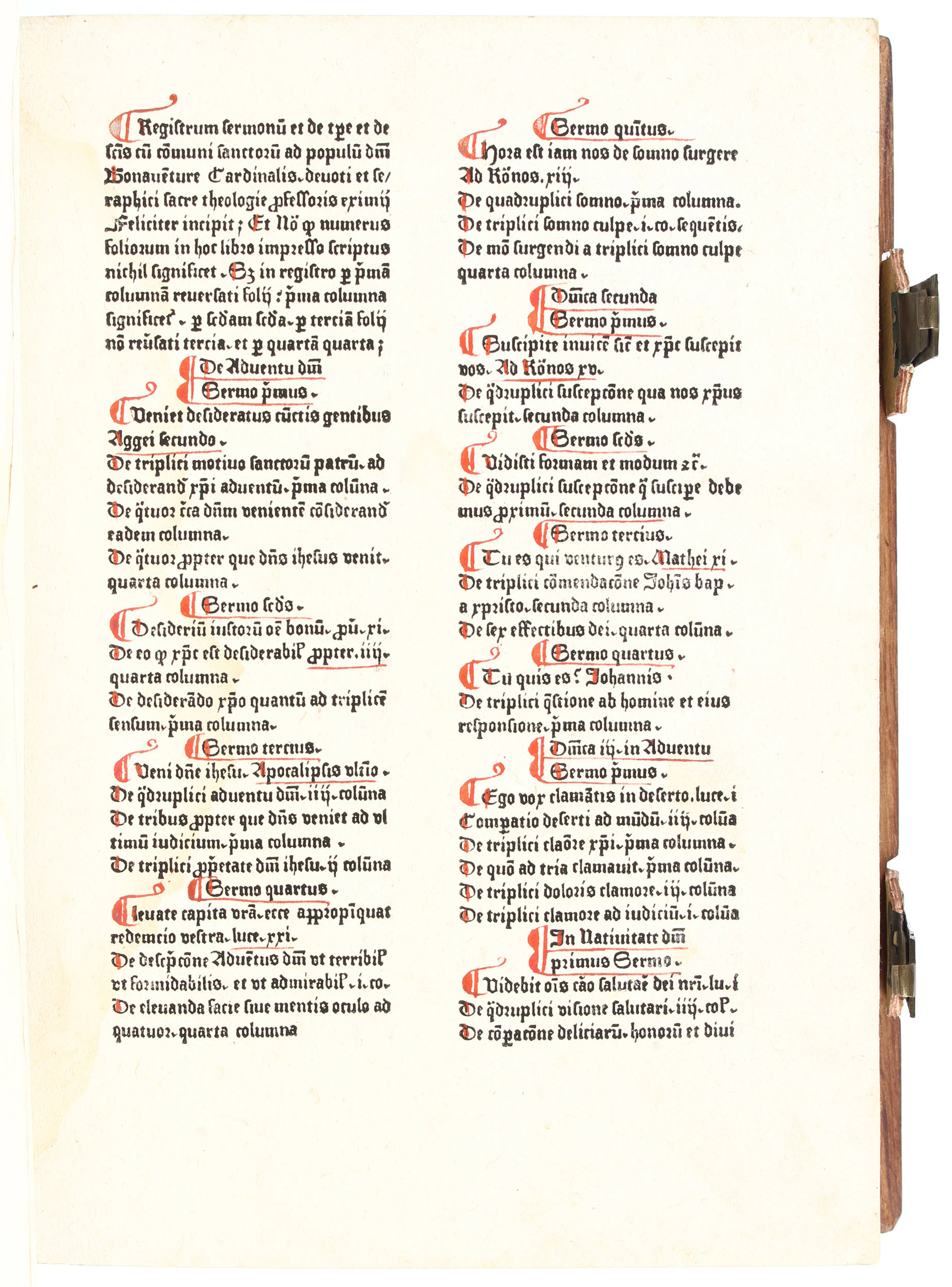 sold
Auction schedule:
October 30th, 2018 session starting 10:00 a.m.
From the First Printing Press in Zwolle
Bonaventura (Pseudo-), S. (d.i. Servasanctus [Tuscus de Faenza]). Sermones de tempore et de sanctis. Zwolle, (Johannes de Vollenhoe), 1479. Kl.-fol. (29,5:22 cm). Got. Typ. 2 Kol. Rubriziert, zahlr. eingemalte Initialen in Rot. 342 Bll. (Bl. 1 u. 11 weiß, ohne die zwei letzten weißen). Mod. Hprgt. im alten Stil unter Verwendung alter Holzdeckel, zwei Schließen.
First edition, first issue, of the most substantial work from the first press at Zwolle. Formerly attributed to Peter van Os, now reassigned by Lotte and Wytze Hellinga to Johannes de Vollenhoe, whose name appears in the colophon of one of the Zwolle editions. Rubricated, initials supplied in red. Contemp. manuscript headlines, foliation, and marginal section lettering. - Slight spotting, some thumbing, dampmarking in places, few marginal repairs to outer and inner margins, towards end slight marginal worming. Upper margins occasionally softened or with tiny holes caused by erasure of the printed foliation. Lacking the last two blanks. Bound in old wooden boards backed in modern pigskin to old style, two clasps.
Hain 3511 (= HCR 3512 = HC 8976); GW 4810; BMC IX, 80; Goff B-948. - Erste Ausgabe, erster Druck. Im Zweitdruck wurden mehrere Lagen neu gesetzt, teilw. finden sich Mischexemplare. Alle genannten Bibliographien nennen noch Peter van Os als Drucker. Nach neueren Forschungen von Lotte u. Wytze Hellinga ist dieser Druck zweifelsfrei Johannes de Vollenhoe, dem Erstdrucker von Zwolle, zuzuschreiben. Die ersten Drucke verließen 1477 seine Pressen. - Gering fleckig, stellenw. etwas fingerfleckig, vereinzelte Feuchtigkeitsspuren u. vereinzelte Reparaturen im Rand u. Bund, gegen Ende des Bandes geringe Wurmspuren im Rand. Hs. Überschriften mit brauner Tinte. Kleine Rasurstelle im oberen Rand durch Entfernung der gedruckten Foliierung.