Lot 95
Breviarium Romanum
closed
[{"image":"https:\/\/cdn.philasearch.com\/A09454\/E01078\/0107800001.jpg","thumb":"https:\/\/cdn.philasearch.com\/A09454\/E01078\/0107800001.jpg"},{"image":"https:\/\/cdn.philasearch.com\/A09454\/E01078\/0107800001a.jpg","thumb":"https:\/\/cdn.philasearch.com\/A09454\/E01078\/0107800001a.jpg"},{"image":"https:\/\/cdn.philasearch.com\/A09454\/E01078\/0107800001b.jpg","thumb":"https:\/\/cdn.philasearch.com\/A09454\/E01078\/0107800001b.jpg"},{"image":"https:\/\/cdn.philasearch.com\/A09454\/E01078\/0107800001c.jpg","thumb":"https:\/\/cdn.philasearch.com\/A09454\/E01078\/0107800001c.jpg"},{"image":"https:\/\/cdn.philasearch.com\/A09454\/E01078\/0107800001d.jpg","thumb":"https:\/\/cdn.philasearch.com\/A09454\/E01078\/0107800001d.jpg"},{"image":"https:\/\/cdn.philasearch.com\/A09454\/E01078\/0107800001e.jpg","thumb":"https:\/\/cdn.philasearch.com\/A09454\/E01078\/0107800001e.jpg"},{"image":"https:\/\/cdn.philasearch.com\/A09454\/E01078\/0107800001f.jpg","thumb":"https:\/\/cdn.philasearch.com\/A09454\/E01078\/0107800001f.jpg"}]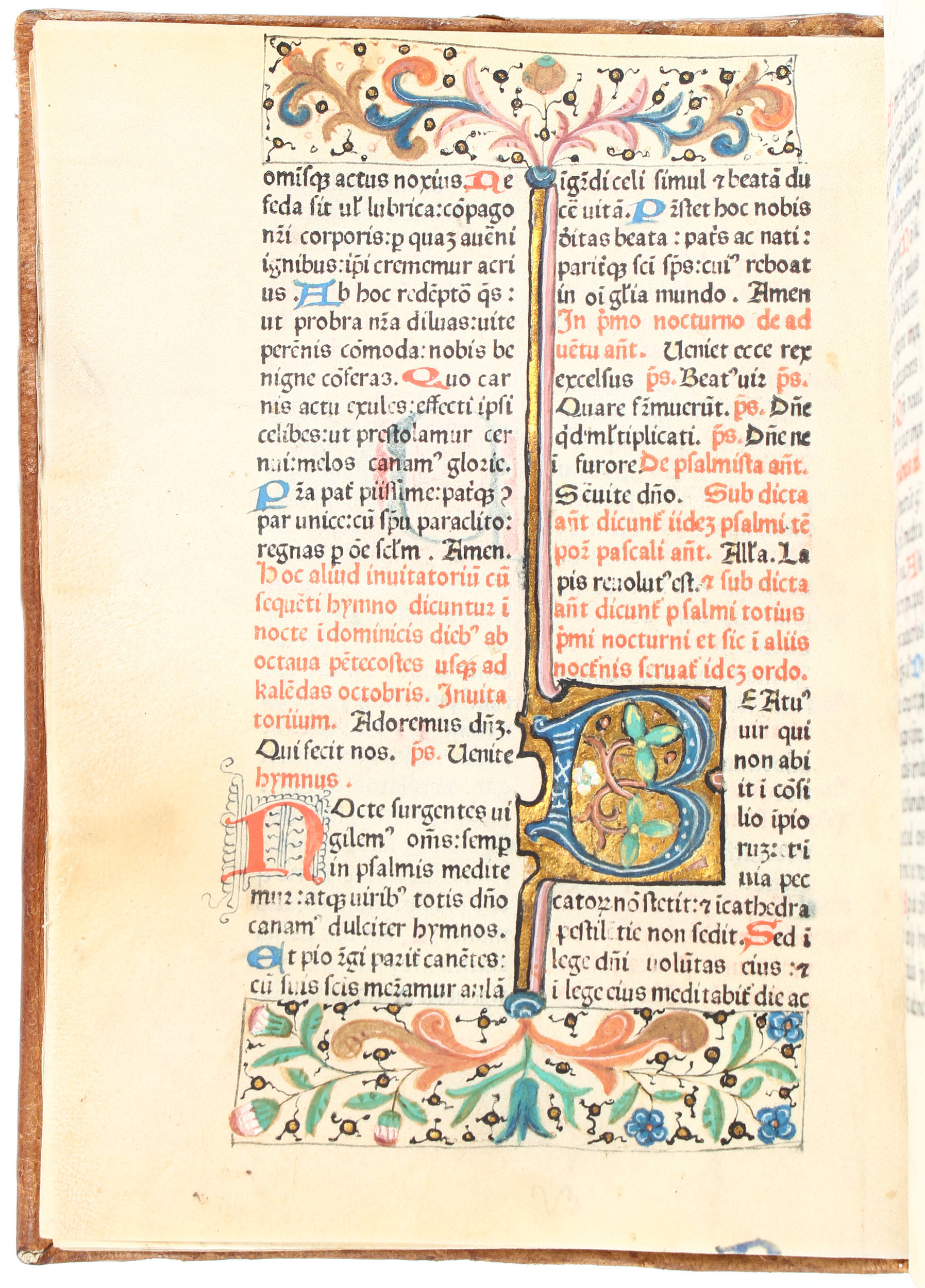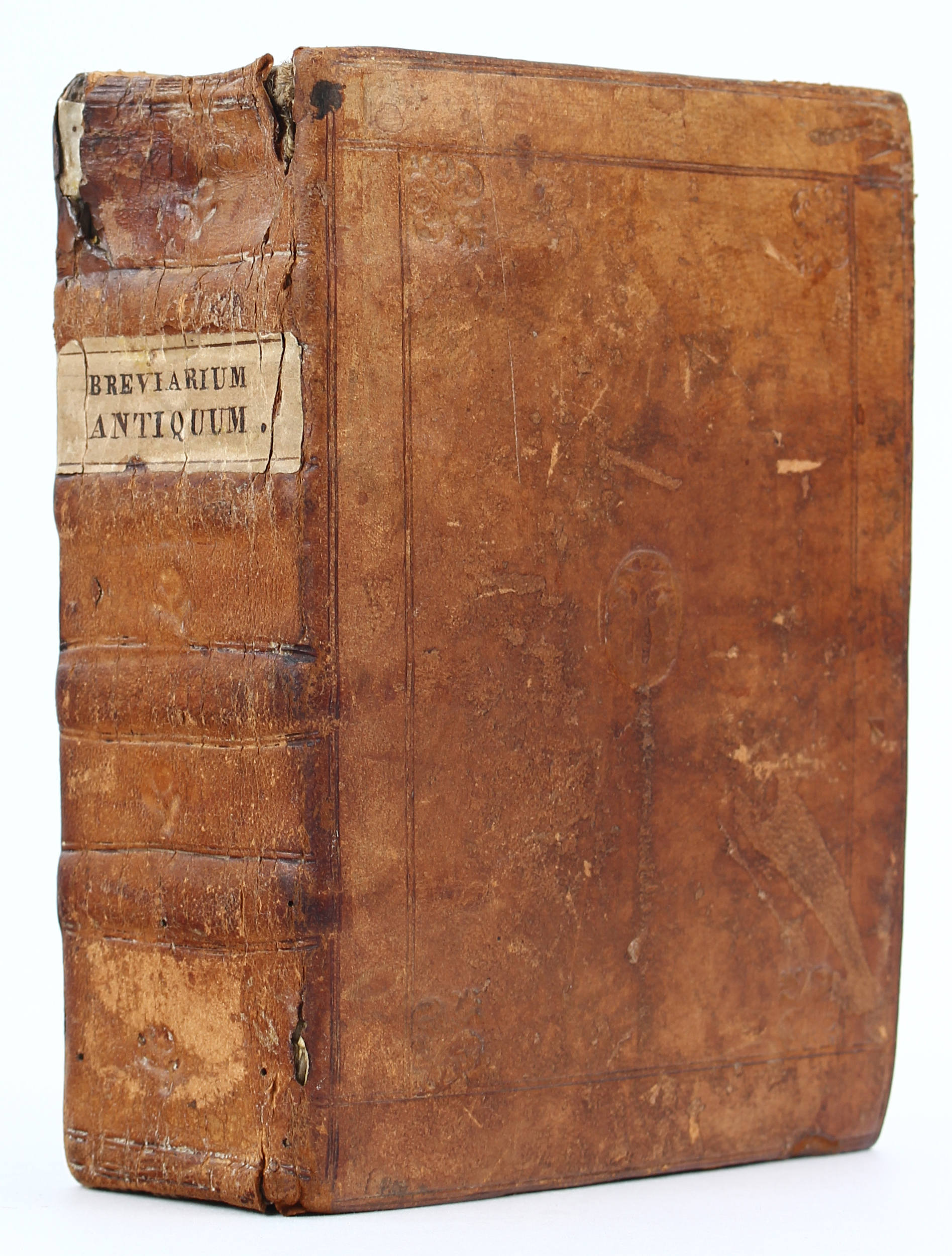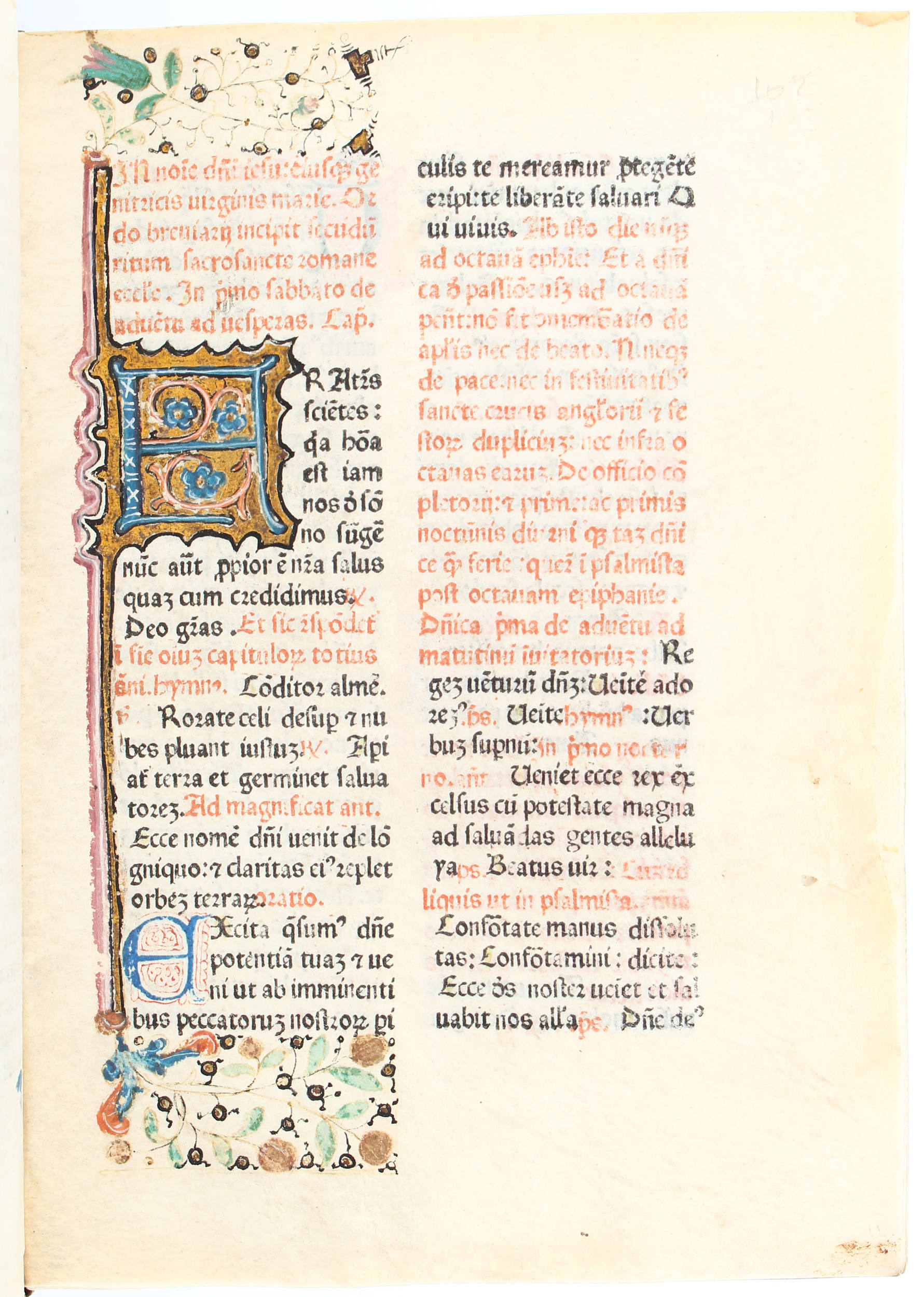 unsold
Auction schedule:
October 30th, 2018 session starting 10:00 a.m.
Breviarium Romanum (Breviarium Franciscanum). Auf Pergament gedruckt. (Venedig, Jacobus Rubeus, 1474). (17,5:13 cm). Got. Typ., 2 Kol. Durchgehend in Rot u. Schwarz gedruckt. Mit 10 eingemalten Initialen in Gold u. Farben, davon 2 mit Stableiste sowie floralen Zierleisten in Kopf- u. Fußsteg, und zahlr. mehrzeiligen Fleuronnée-Initialen in Blau u. Rot, dazu ein- oder zweizeilige Initialen in Blau oder Rot, gedruckte Versalien gelb schattiert. 377 (statt 602) Bll. (d. e. w.). Blindgepr. Ldr. d. 18. Jh.; etwas beschabt, Rücken am Kopf eingerissen u. repariert.
One of the two earliest Breviaria ever printed. Printed on vellum in red and black, with contemporary French illumination including 10 initials in gold and colours (2 with top- and bottom margin illuminated friezes), other initials in red and blue, most with decorative penwork, capitals stroked in yellow. - A few flaws in the vellum repaired, occasional light staining, waterstaining in the bottom margin of last two quires touching a few lines, last 2-3 leaves browned, stamp on first leaf of calendar. Lacking 255 leaves: 9 in the Proprium de tempore, 132 in the Proprium de sanctis and all of the Commune sanctorum. 18th century blindstamped Italian goatskin, somewhat rubbed, head of spine repaired.
Hain 3891; GW 5125; Goff B-1117; Bohatta 391; nicht im BMC. - Große Seltenheit, GW (online) verzeichnet lediglich vier Exemplare weltweit, davon mindestens zwei unvollständig und nur eins (Paris, Bibliothèque nationale) ebenfalls auf Pergament gedruckt. Gleichzeitig einer der beiden ältesten Brevierdrucke überhaupt, die Priorität des vorliegenden oder des undatierten Turiner Drucks bei Johannes Fabri und Johanninus de Petro (GW 5124, "nicht vor 1474" datiert) ist nicht entschieden. Die zeitgenössische Illumination stammt aus einem französischen Atelier. Inhalt: 1. Kalendarium (8 Bll.). - 2. Psalterium (94 Bll.). - 3. Proprium de tempore (215 statt 224 Bll.). - 4. Proprium de sanctis (60 statt 192 Bll.). - Einige Pergamentfehler repariert, gelegentlich leicht fleckig, ca. letzte 2 Lagen unten mit bräunendem Wasserrand, teilw. mit Textberührung, letzte 2-3 Bll. stärker gebräunt, erstes Kalenderblatt mit nicht vollständig lesbarem französischen Stempel. Es fehlen 9 Bll. im Proprium de tempore (davon 1 w.), 132 Bll. im Proprium des sanctis und das vollständige Commune sanctorum.