Lot 97
Duranti, Rationale. Einzelblatt
sold
[{"image":"https:\/\/cdn.philasearch.com\/A09454\/E01073\/0107300051.jpg","thumb":"https:\/\/cdn.philasearch.com\/A09454\/E01073\/0107300051.jpg"},{"image":"https:\/\/cdn.philasearch.com\/A09454\/E01073\/0107300051a.jpg","thumb":"https:\/\/cdn.philasearch.com\/A09454\/E01073\/0107300051a.jpg"}]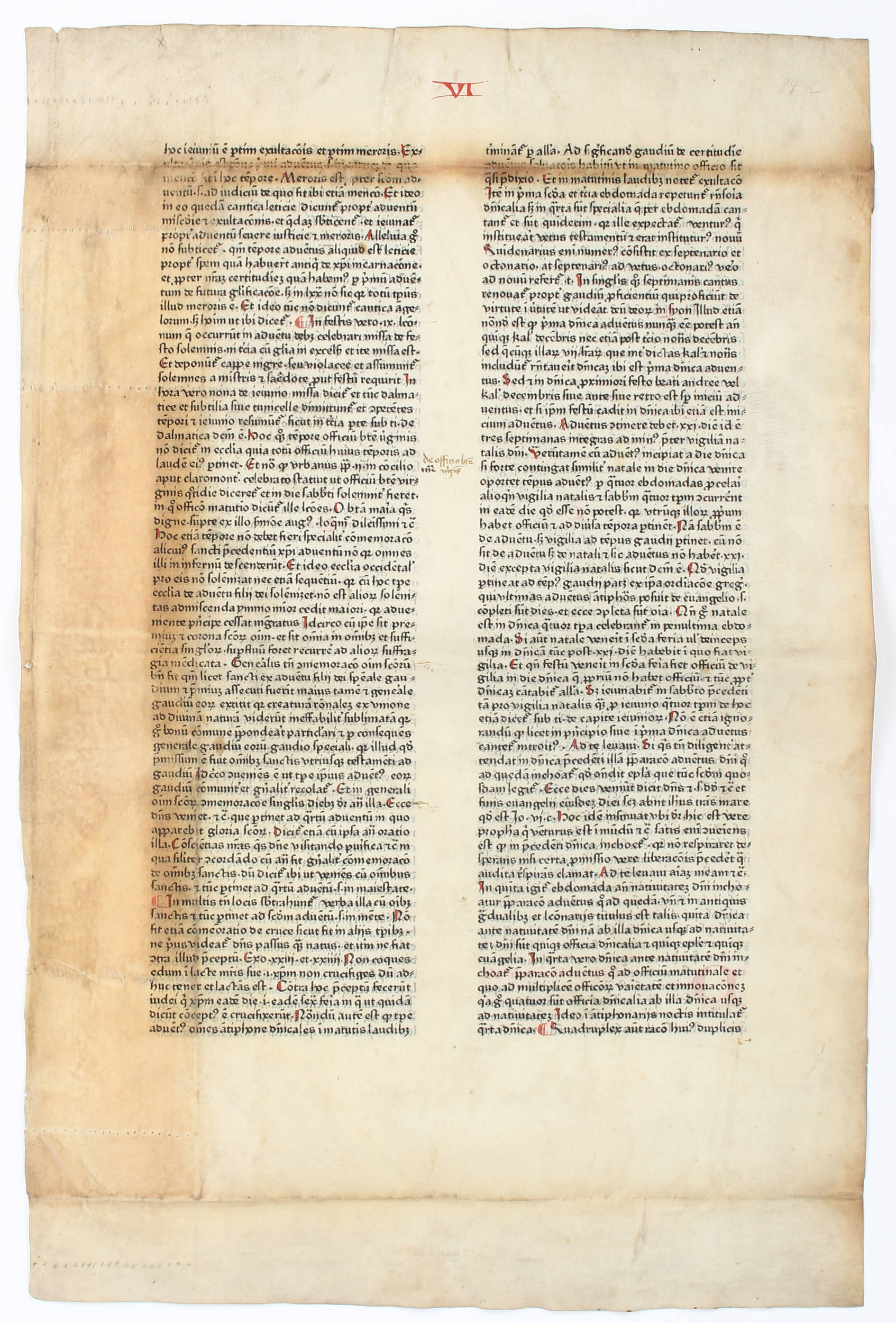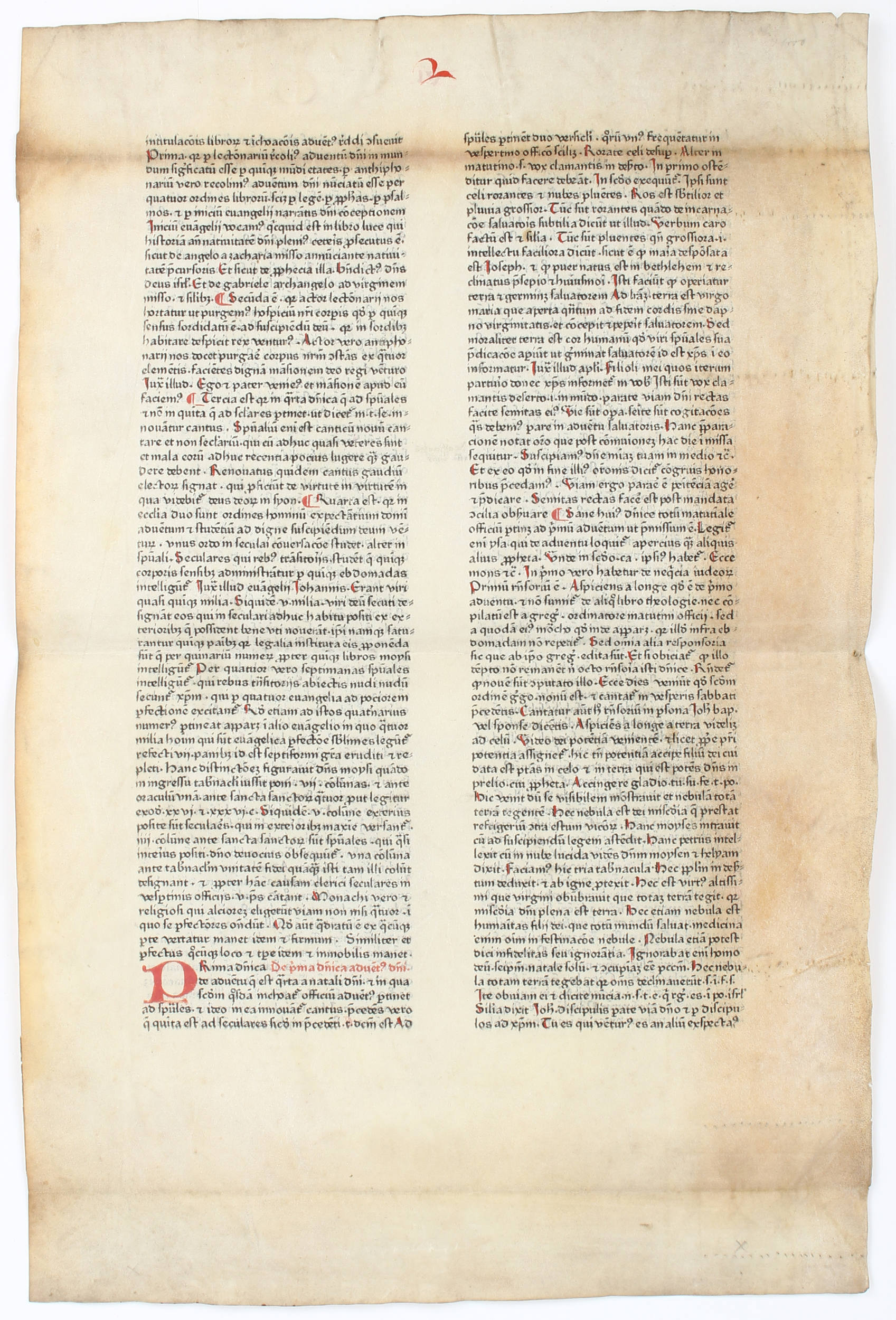 sold
Auction schedule:
October 30th, 2018 session starting 10:00 a.m.
Duranti, G. Rationale divinorum officiorum. Auf Pergament gedruckt. Mainz, Johann Fust u. Peter Schöffer, 6. Oktober 1459. Fol. (Blattgr. 40,5:27 cm). Got. Typ. 2 Kol. Rot rubriziert, Initialen und Rubriken in Rotdruck. - Daraus: Blatt 84.
Fol. 84, printed on vellum. Duranti's Rationale is the fourth printed book extant and the third dated book, preceded only by the Gutenberg Bible (c. 1455) and two Latin Psalters printed by Fust and Schoeffer in 1457 and 1459. It is also the first book to be printed in a text type, the three earlier ones all being in gothic liturgical types. Most of the copies were printed on vellum, only the one at the Bavarian State Library in Munich is on paper. - The leaf has survived as binding material: Traces of folding, some browning and some tiny pinholes. A fine single leaf, taken from a book of paramount importance in the history of typography.
Hain-R. 6471; GW 9101; BMC I, 20; Goff D-403; de Ricci 65. - Vollständig erhaltenes Einzelblatt aus einer der schönsten und seltensten frühen Inkunabeln. Das Rationale ist von größter Bedeutung für die Geschichte der Typographie als das dritte datierte und das vierte gedruckte Buch, vorausgegangen waren nur die um 1455 gedruckte Gutenbergbibel sowie die ebenfalls in der Offizin von Fust und Schöffer entstandenen Psalter vom 14. August 1457 und vom 29. August 1459. Eigens für diesen Druck schuf Schöffer die "Durandus-Type", eine Gotico-Antiqua, die Elemente der Rotunda mit den Stilmerkmalen der italienischen Humanistenhandschrift verbindet. Mit Ausnahme des Münchener Exemplares sind alle bekannten Exemplare auf Pergament gedruckt. - Ehemals Umschlagmaterial, Faltspuren, zweite Textzeile dadurch gebräunt, im linken Rand leichte Bräunung und feine Nadellöchlein bis ca. 1,5 cm in den Text. Insgesamt für einen Einbandfund sehr gut erhalten und breitrandig.