Lot 98
Gregorius IX., Decretales
closed
[{"image":"https:\/\/cdn.philasearch.com\/A09454\/E01078\/0107800003.jpg","thumb":"https:\/\/cdn.philasearch.com\/A09454\/E01078\/0107800003.jpg"},{"image":"https:\/\/cdn.philasearch.com\/A09454\/E01078\/0107800003a.jpg","thumb":"https:\/\/cdn.philasearch.com\/A09454\/E01078\/0107800003a.jpg"},{"image":"https:\/\/cdn.philasearch.com\/A09454\/E01078\/0107800003b.jpg","thumb":"https:\/\/cdn.philasearch.com\/A09454\/E01078\/0107800003b.jpg"},{"image":"https:\/\/cdn.philasearch.com\/A09454\/E01078\/0107800003c.jpg","thumb":"https:\/\/cdn.philasearch.com\/A09454\/E01078\/0107800003c.jpg"},{"image":"https:\/\/cdn.philasearch.com\/A09454\/E01078\/0107800003d.jpg","thumb":"https:\/\/cdn.philasearch.com\/A09454\/E01078\/0107800003d.jpg"}]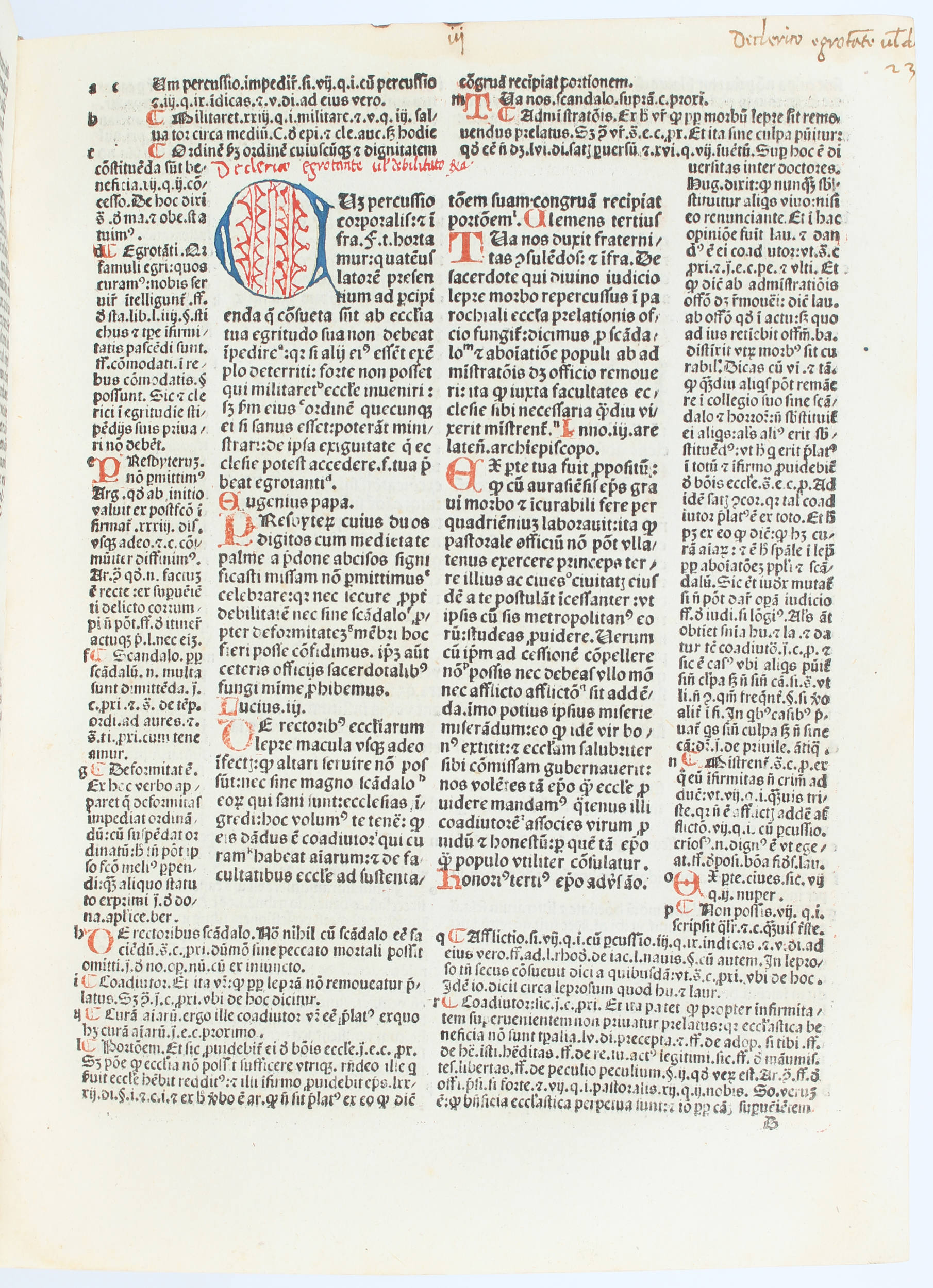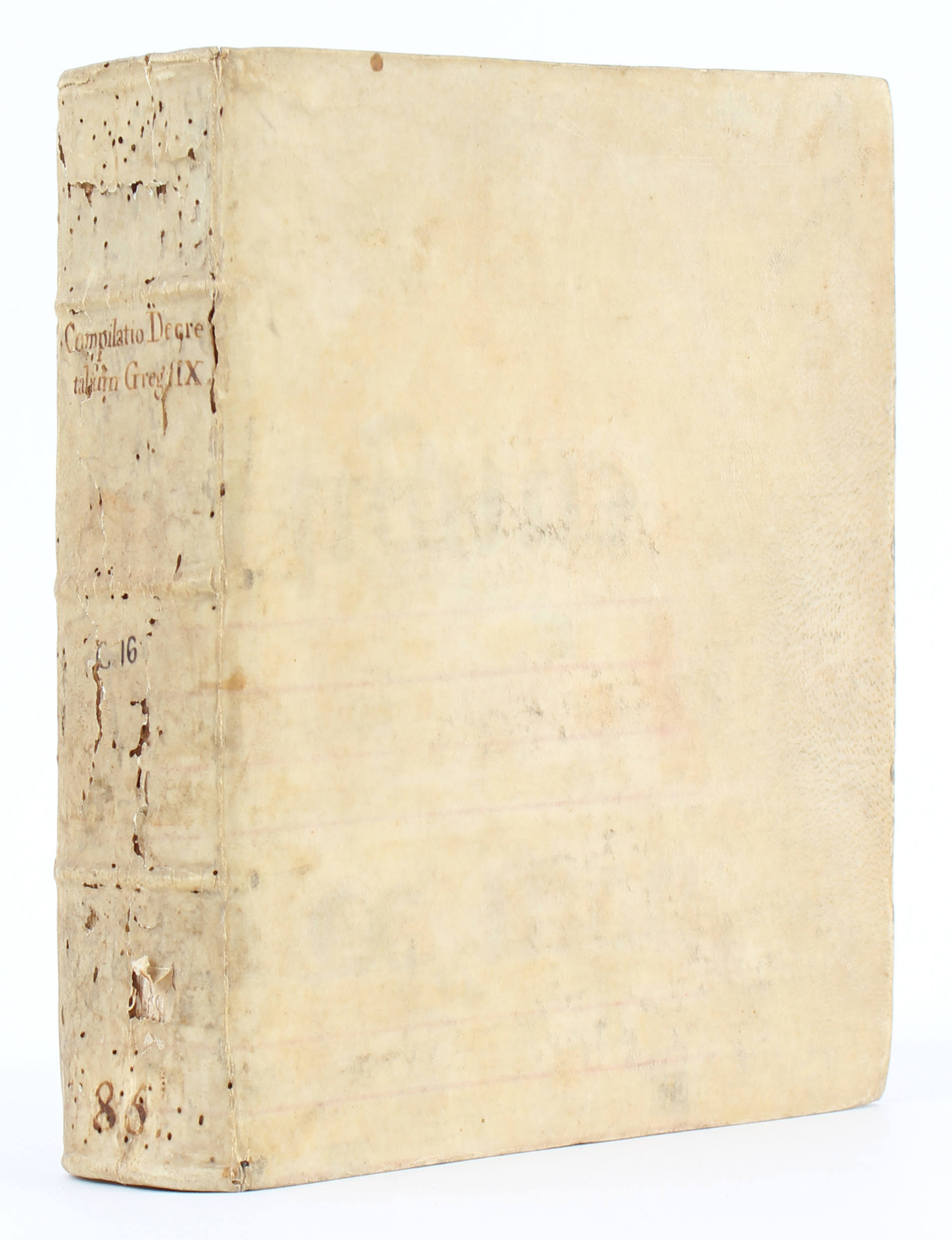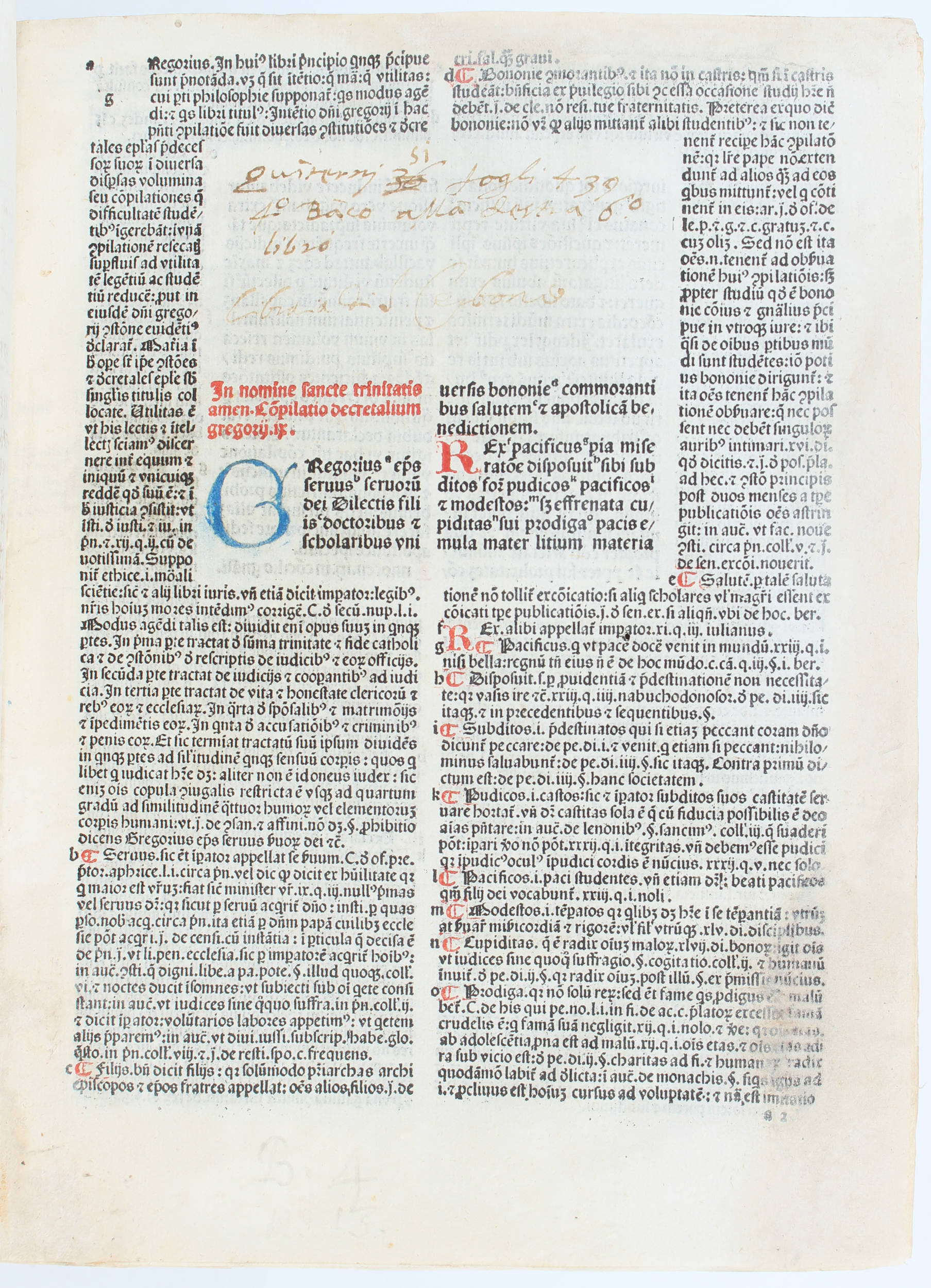 unsold
Auction schedule:
October 30th, 2018 session starting 10:00 a.m.
Gregorius IX. Decretales. Mit der Glosse des Bernardus Parmensis. Venedig, Thomas de Blavis, 22. Dez. 1486. 4to (24:18 cm). Got. Typ. Mit zahlr. eingemalten Initialen in Blau, Druckerm. in Rotdruck. 420 nn. Bll. Spät. Prgt. mit hs. Rtit., Rücken verwurmt, Deckel etwas aufgebogen.
Second Venice edition, the first by de Blavis. Printed in red and black, with numerous initials supplied in blue, woodcut device printed in red beneath register. - Occasional light dampstaining, first 3 leaves repaired at fore edge with loss of a few letters. Extensive manuscript notes on first leaf, manuscript headlines. Later vellum, spine wormed, boards slightly warped.
Hain-C. 8021; GW 11476; BMC V, 318; Goff G-463. - Zweite in Venedig gedruckte Ausgabe, die erste bei Thomas de Blavis. Ganz in Rot und Schwarz gedruckt, zweispaltiger Gesetzestext umgeben vom Kommentar des Bernardus Parmensis. - Gelegentlich leicht wasserrandig, erste 3 Bll. im Außensteg restauriert, dadurch geringer Buchstabenverlust. Erstes Blatt mit umfangreichem Register von alter Hand, im Kopfsteg durchgehend entsprechende handschriftliche Einträge.