Lot 99
Holkot, Super sapientiam Salomonis
sold
[{"image":"https:\/\/cdn.philasearch.com\/A09454\/E00405\/0040500093.jpg","thumb":"https:\/\/cdn.philasearch.com\/A09454\/E00405\/0040500093.jpg"},{"image":"https:\/\/cdn.philasearch.com\/A09454\/E00405\/0040500093a.jpg","thumb":"https:\/\/cdn.philasearch.com\/A09454\/E00405\/0040500093a.jpg"},{"image":"https:\/\/cdn.philasearch.com\/A09454\/E00405\/0040500093b.jpg","thumb":"https:\/\/cdn.philasearch.com\/A09454\/E00405\/0040500093b.jpg"},{"image":"https:\/\/cdn.philasearch.com\/A09454\/E00405\/0040500093c.jpg","thumb":"https:\/\/cdn.philasearch.com\/A09454\/E00405\/0040500093c.jpg"},{"image":"https:\/\/cdn.philasearch.com\/A09454\/E00405\/0040500093d.jpg","thumb":"https:\/\/cdn.philasearch.com\/A09454\/E00405\/0040500093d.jpg"},{"image":"https:\/\/cdn.philasearch.com\/A09454\/E00405\/0040500093e.jpg","thumb":"https:\/\/cdn.philasearch.com\/A09454\/E00405\/0040500093e.jpg"},{"image":"https:\/\/cdn.philasearch.com\/A09454\/E00405\/0040500093f.jpg","thumb":"https:\/\/cdn.philasearch.com\/A09454\/E00405\/0040500093f.jpg"}]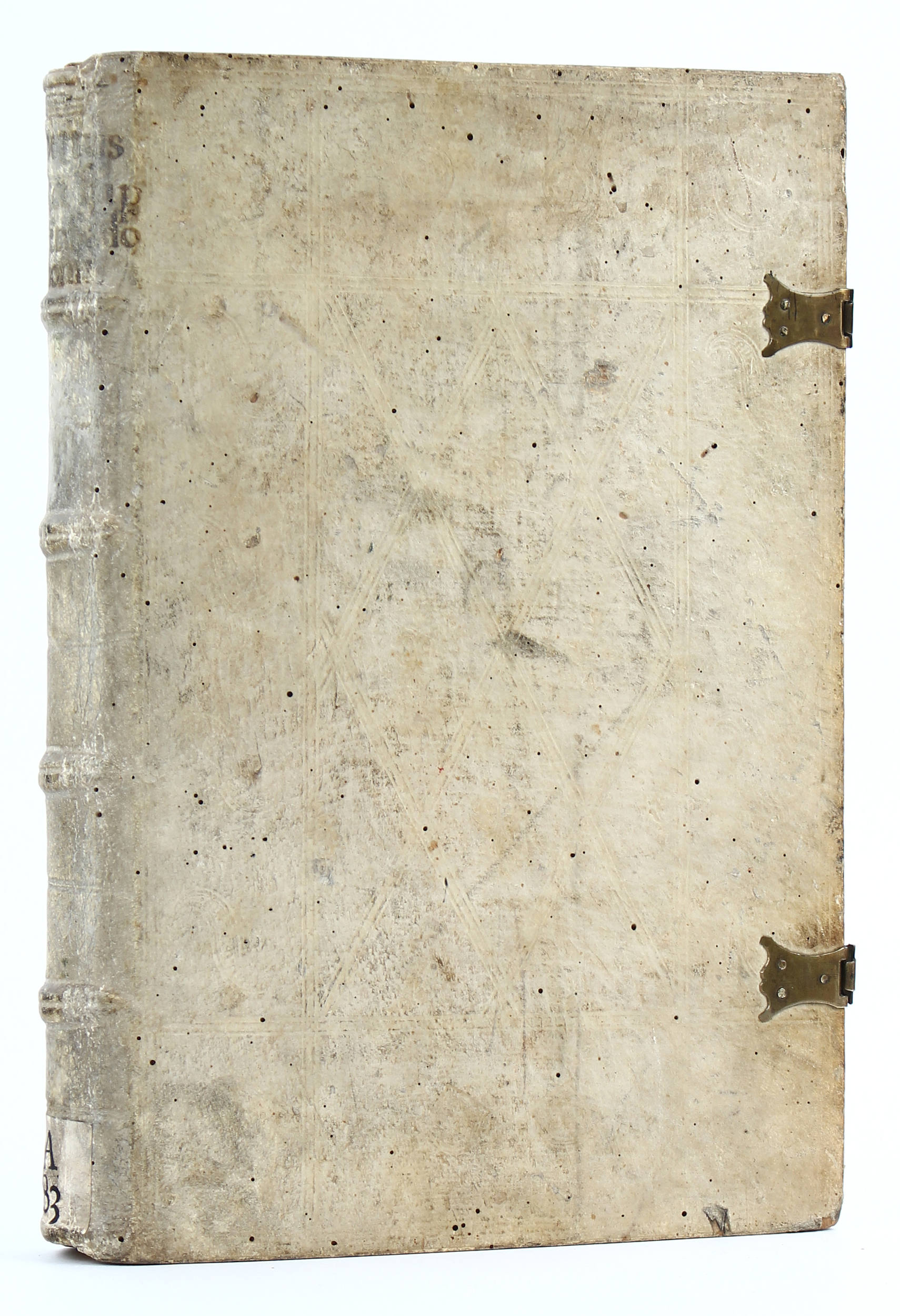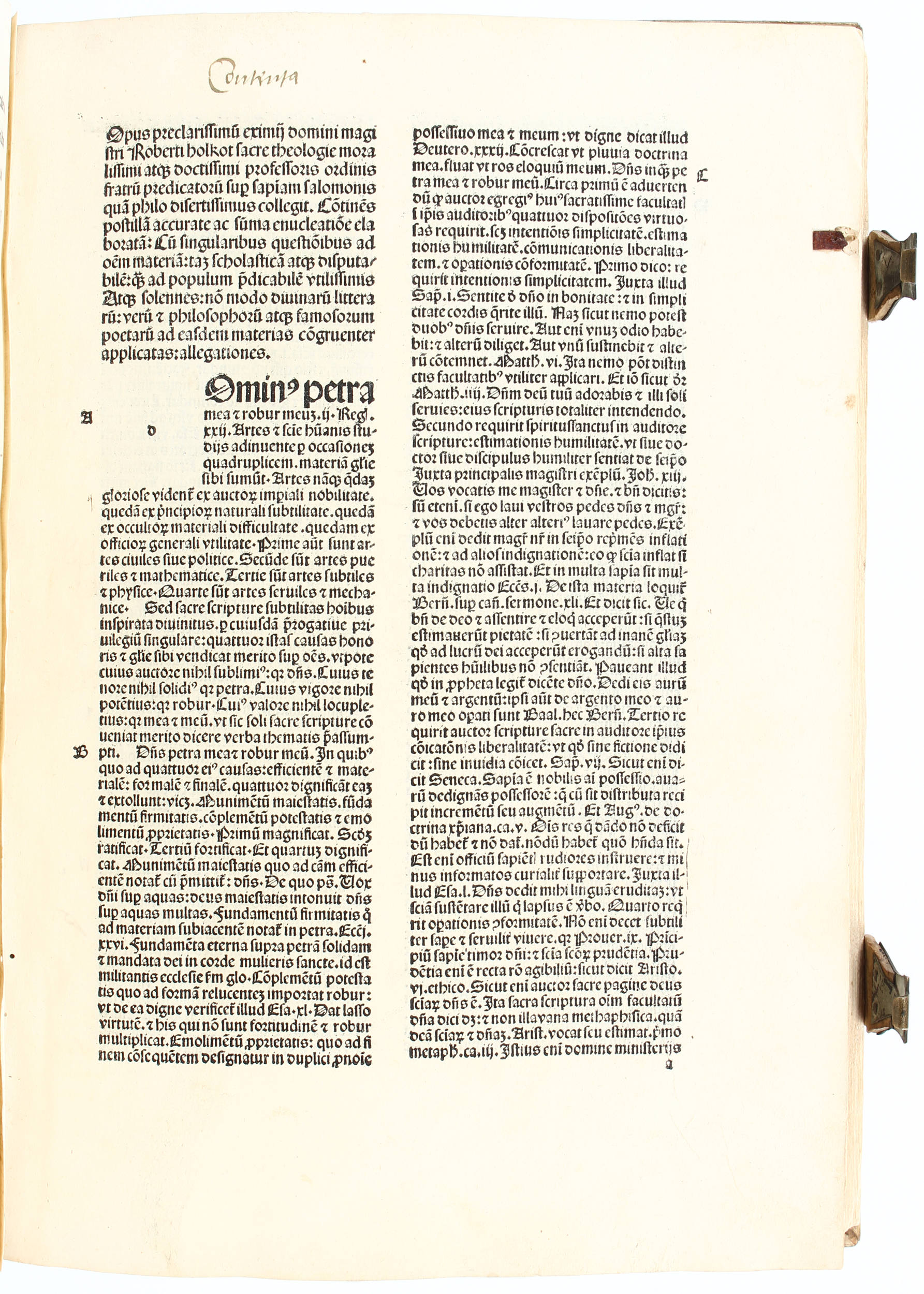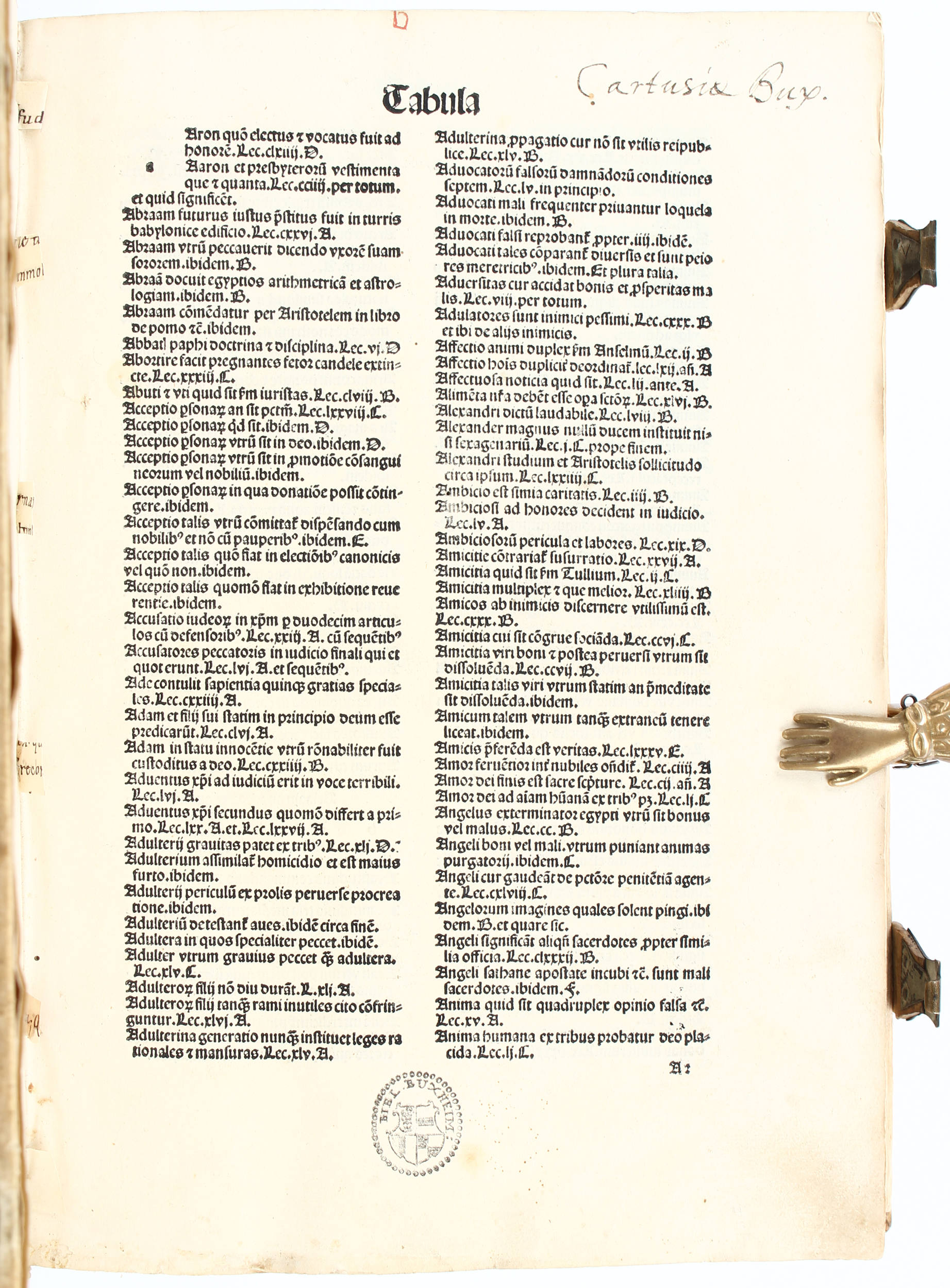 sold
Auction schedule:
October 30th, 2018 session starting 10:00 a.m.
Exemplar Kartause Buxheim
Holkot, R. Super sapientiam Salomonis. Basel, (Johann Amerbach; und Johann Petri de Langendorff?), 1489. Fol. (33,5:23 cm). Got. Typ., 2 Kol. Teilw. rubriziert. 229 (statt 230; d.l.w.) nn. Bll. Wenig späterer blindgeprägt. Schweinsldr. über Holzdeckeln, beide Deckel mit gr. Mittelfeld aus rautenförmigen Streicheisenlinien gefüllt mit und umrandet von Einzelstempeln (Lilien bzw. Ave-Maria-Schriftbänder, Rosetten und kl. Wappenschilde), Rückenfalz aus einer Prgt.-Handschrift in karolingischer Minuskel (Jesaja 57); abgerieben sowie etwas fleckig und wurmstichig, Rücken teilw. etwas gekalkt und mit Signaturschild, Schließen erneuert.
Third or fourth edition, partly rubricated. - Marginal foxing and fingermarking mainly to first leaves, a few small marginal tears, a few small wormholes to final third. Some early annotations. Lacking title-page. With inscription and stamp of the Charterhouse of Buxheim at top resp. foot of first leaf. Bound in near-contemporary blind-stamped pigskin over wooden boards from Christus frei II, with medieval manuscript fragment in binding; rubbed and slightly stained, some small wormholes, clasps renewed.
Hain-C. 8758; GW 12886; BMC III, 751; Goff H 291. - Dritte oder vierte Inkunabelausgabe, eine von insgesamt drei aus dem Jahr 1489. Die Kommentare des Dominikaners Robertus Holkot (gest. 1349), besonders der zur Weisheit Salomos, nähern sich bereits dem Humanismus. "Man könnte ihn den Petrarka unter den Exegeten nennen" (Herzog-H. VII, 745). - Hauptsächlich erste Bll. unten leicht stock- und fingerfleckig. Wenige Bll. mit kl. Eckabriss, ca. letztes Drittel mit Wurmlöchlein. Einige Marginalien von alter Hand. Fehlt das Titelblatt. Provenienz: Aus der Kartause Buxheim, mit Besitzvermerk im Ober- und Stempel im Unterrand von Bl. A2r sowie Num.-Schild auf dem Rücken. - Zum Einband aus der Werkstatt Christus frei II (Wirkungszeit um 1509-14) s. EBDB w002737.