Lot 1846
Mercator, Atlas sive meditationes
sold
[{"image":"https:\/\/cdn.philasearch.com\/A09454\/E01065\/0106500186.jpg","thumb":"https:\/\/cdn.philasearch.com\/A09454\/E01065\/0106500186.jpg"},{"image":"https:\/\/cdn.philasearch.com\/A09454\/E01065\/0106500186a.jpg","thumb":"https:\/\/cdn.philasearch.com\/A09454\/E01065\/0106500186a.jpg"},{"image":"https:\/\/cdn.philasearch.com\/A09454\/E01065\/0106500186b.jpg","thumb":"https:\/\/cdn.philasearch.com\/A09454\/E01065\/0106500186b.jpg"},{"image":"https:\/\/cdn.philasearch.com\/A09454\/E01065\/0106500186c.jpg","thumb":"https:\/\/cdn.philasearch.com\/A09454\/E01065\/0106500186c.jpg"},{"image":"https:\/\/cdn.philasearch.com\/A09454\/E01065\/0106500186d.jpg","thumb":"https:\/\/cdn.philasearch.com\/A09454\/E01065\/0106500186d.jpg"},{"image":"https:\/\/cdn.philasearch.com\/A09454\/E01065\/0106500186e.jpg","thumb":"https:\/\/cdn.philasearch.com\/A09454\/E01065\/0106500186e.jpg"},{"image":"https:\/\/cdn.philasearch.com\/A09454\/E01065\/0106500186f.jpg","thumb":"https:\/\/cdn.philasearch.com\/A09454\/E01065\/0106500186f.jpg"},{"image":"https:\/\/cdn.philasearch.com\/A09454\/E01065\/0106500186g.jpg","thumb":"https:\/\/cdn.philasearch.com\/A09454\/E01065\/0106500186g.jpg"},{"image":"https:\/\/cdn.philasearch.com\/A09454\/E01065\/0106500186h.jpg","thumb":"https:\/\/cdn.philasearch.com\/A09454\/E01065\/0106500186h.jpg"},{"image":"https:\/\/cdn.philasearch.com\/A09454\/E01065\/0106500186i.jpg","thumb":"https:\/\/cdn.philasearch.com\/A09454\/E01065\/0106500186i.jpg"}]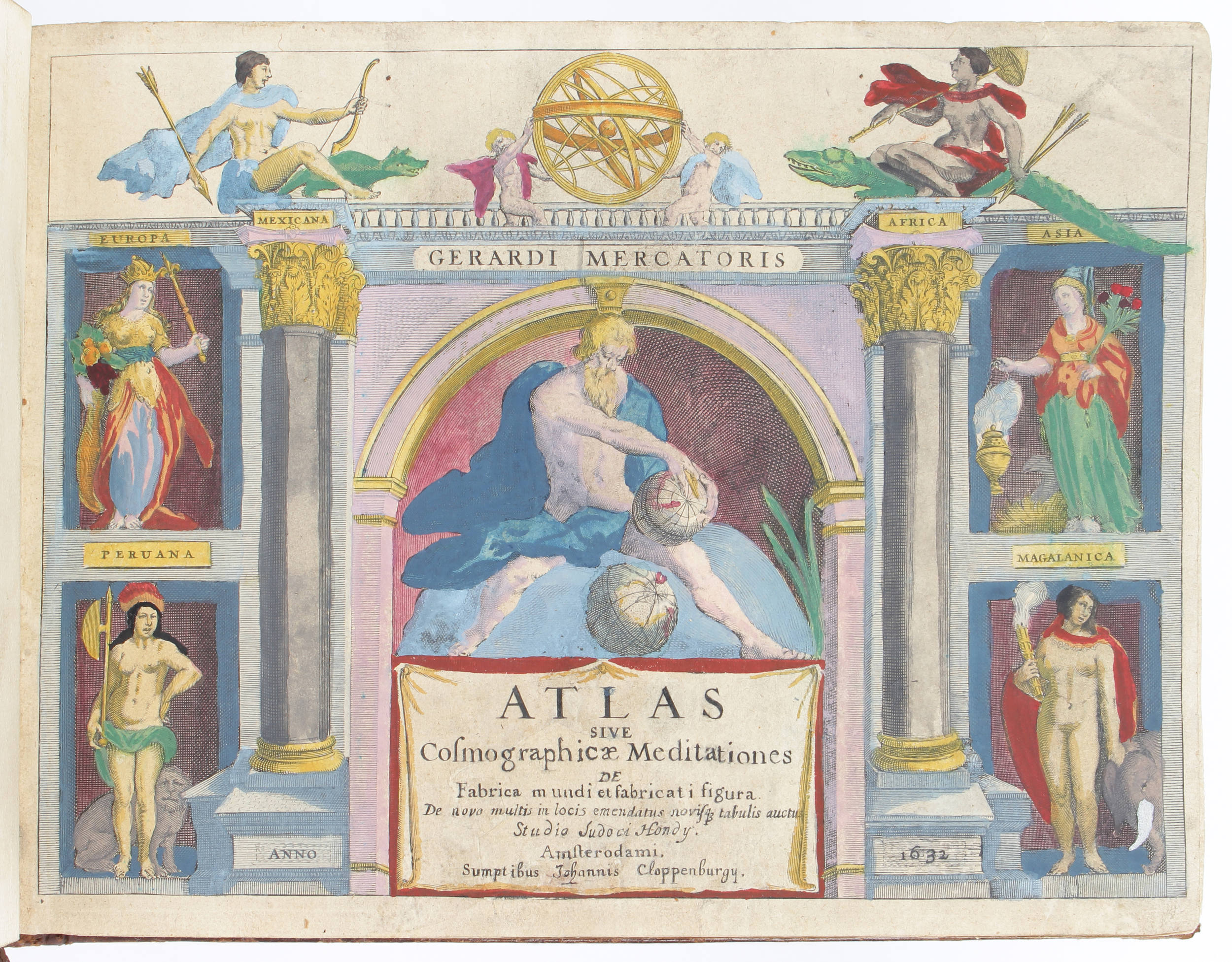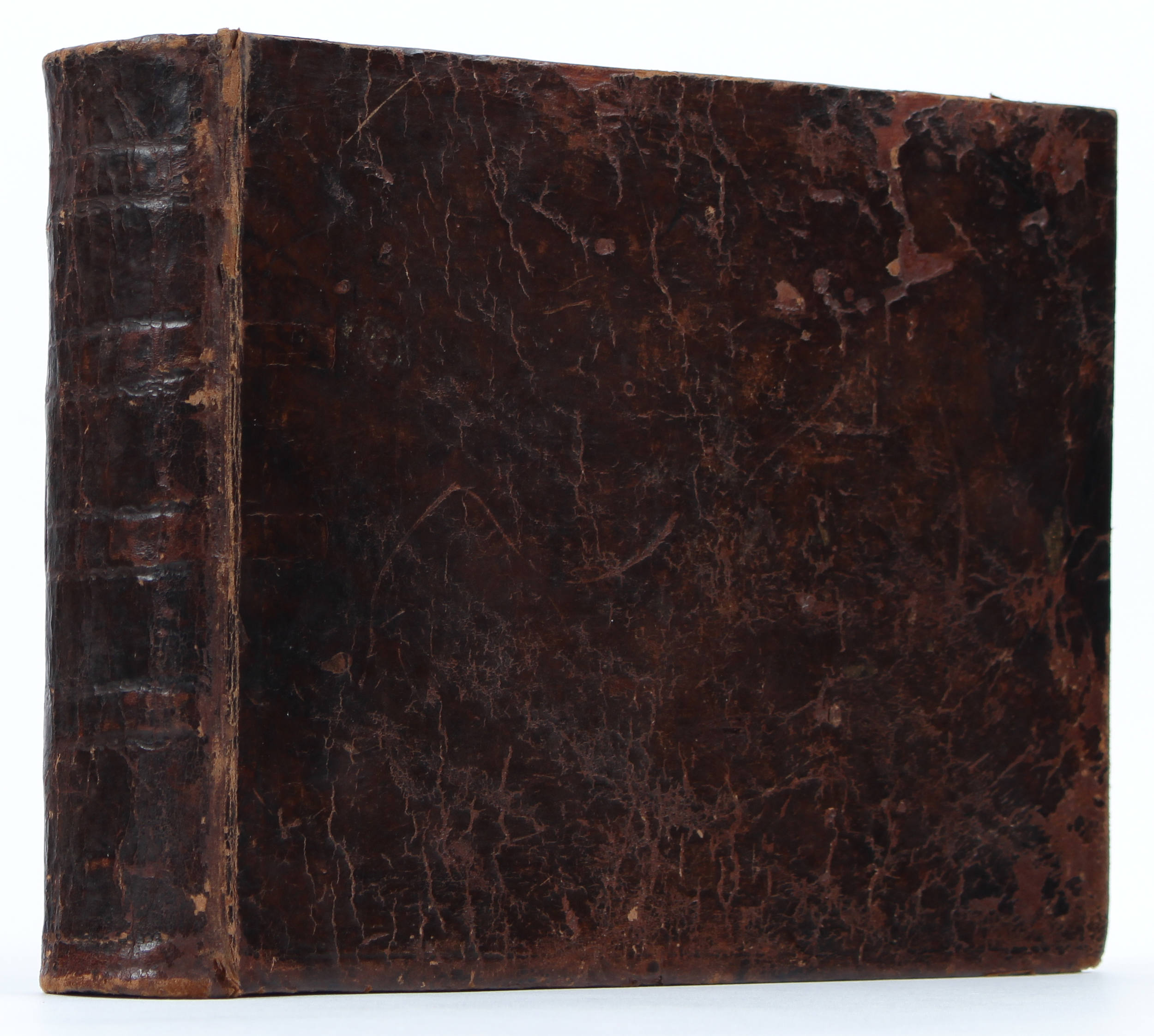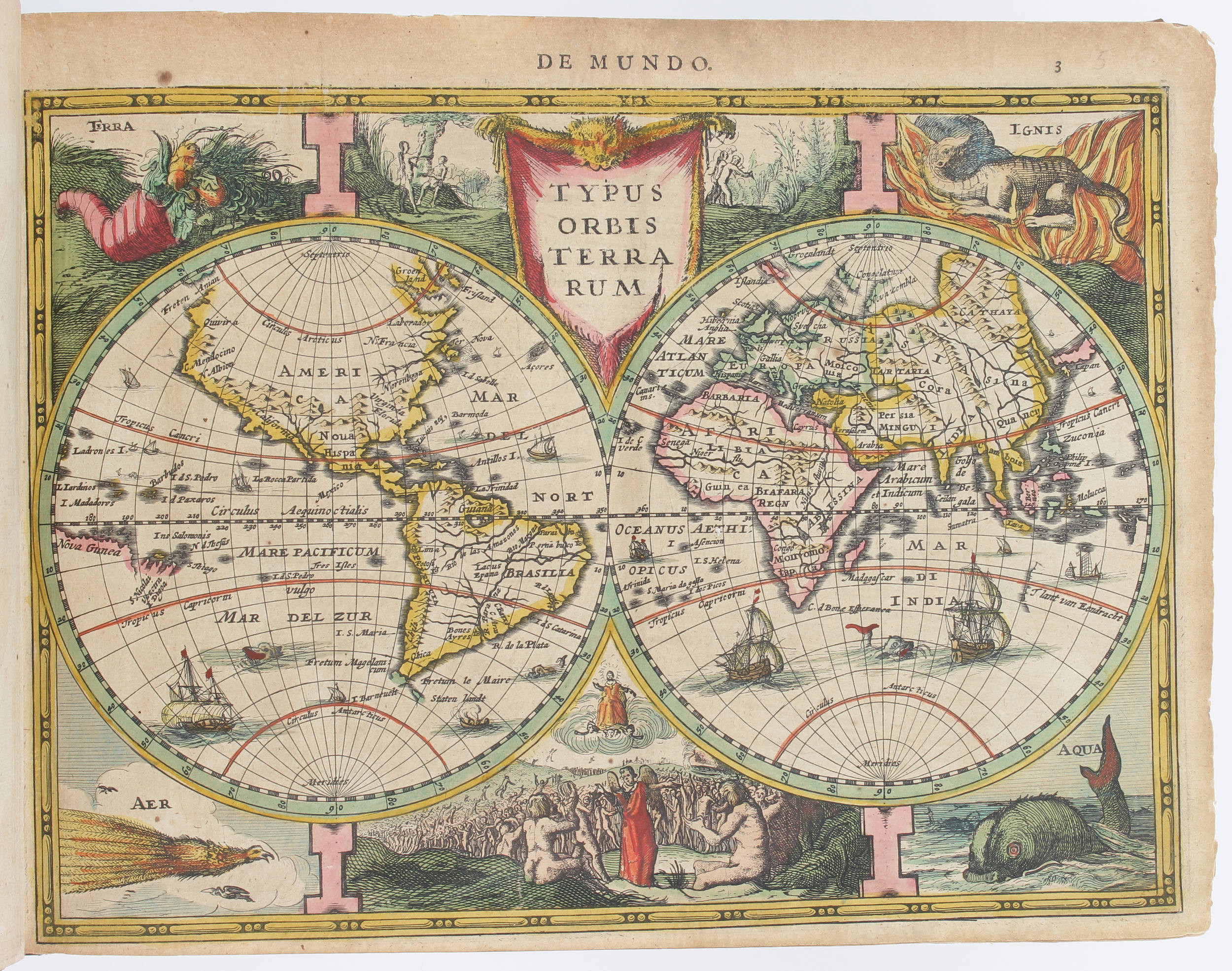 sold
Auction schedule:
May 7th, 2019 session starting 3:45 p.m.
Mercator, G. Atlas sive cosmographicae meditationes de fabrica mundi et fabricati figura. De novo multis in locis emendatus novisque tabulis auctus studio Judoci Hondij. Amsterdam, J. Cloppenburgh, 1632. Qu.-4to (22:29,5 cm). Mit kol. gest. Titel und 179 kol. ganzseit. Kupferkarten. 3 Bll., 749 (recte 743) S. Schlichter späterer Ldr. mit Goldschnitt; rissig, mit Schab- u. Kratzspuren sowie bestoßen.
With engraved title and 179 engraved maps, all in fine colouring. - Browned throughout, occasional stains, a few minor marginal tears. Here and there lines of text cancelled in ink and shining through, p. 81/2 with small hole in the text due to ink corrosion. With stamp on 2 text pages (see above; the first one shining through and with 2 small holes). Bound in later calf, edges gilt; rubbed and worn, somewhat brittle and scratched.
Koeman III B, 353:11. - Lateinische Originalausgabe des Atlas bei Cloppenburch. "This edition of Mercator's Atlas... was a competitive edition. It's newly engraved maps were of a size (c. 19 x 25 cm) that fell in between the folio maps in the Mercator-Hondius Atlas and the Atlas Minor. Most of the maps were engraved (anew) by Pieter van den Keere... The Latin edition of Cloppenburch's atlas has the maps from the Appendix incorporated into the main part". Enthält Weltkarte in 2 Hemisphären, 1 Polkarte, 4 Erdteilkarten sowie Karten von Europa (148), Asien (11), Afrika (4) und Amerika (10). - Durchgehend gebräunt, vereinzelt etwas fleckig, kaum Randläsuren. Im Text gelegentlich Zeilen dick in Tinte gestrichen und durchschlagend, S. 81/82 mit kl. Loch im Text durch Tintenfraß. S. 397 u. S. 209 mit Stempel "Archivio Gianformaggio Rota" (der erste auf den rücks. Text durchschlagend u. mit 2 Löchlein).