Lot 2366

*#


Genua. "Genova". M. Cartaro
sold
[{"image":"https:\/\/cdn.philasearch.com\/A09454\/E01110\/0111000104.jpg","thumb":"https:\/\/cdn.philasearch.com\/A09454\/E01110\/0111000104.jpg"}]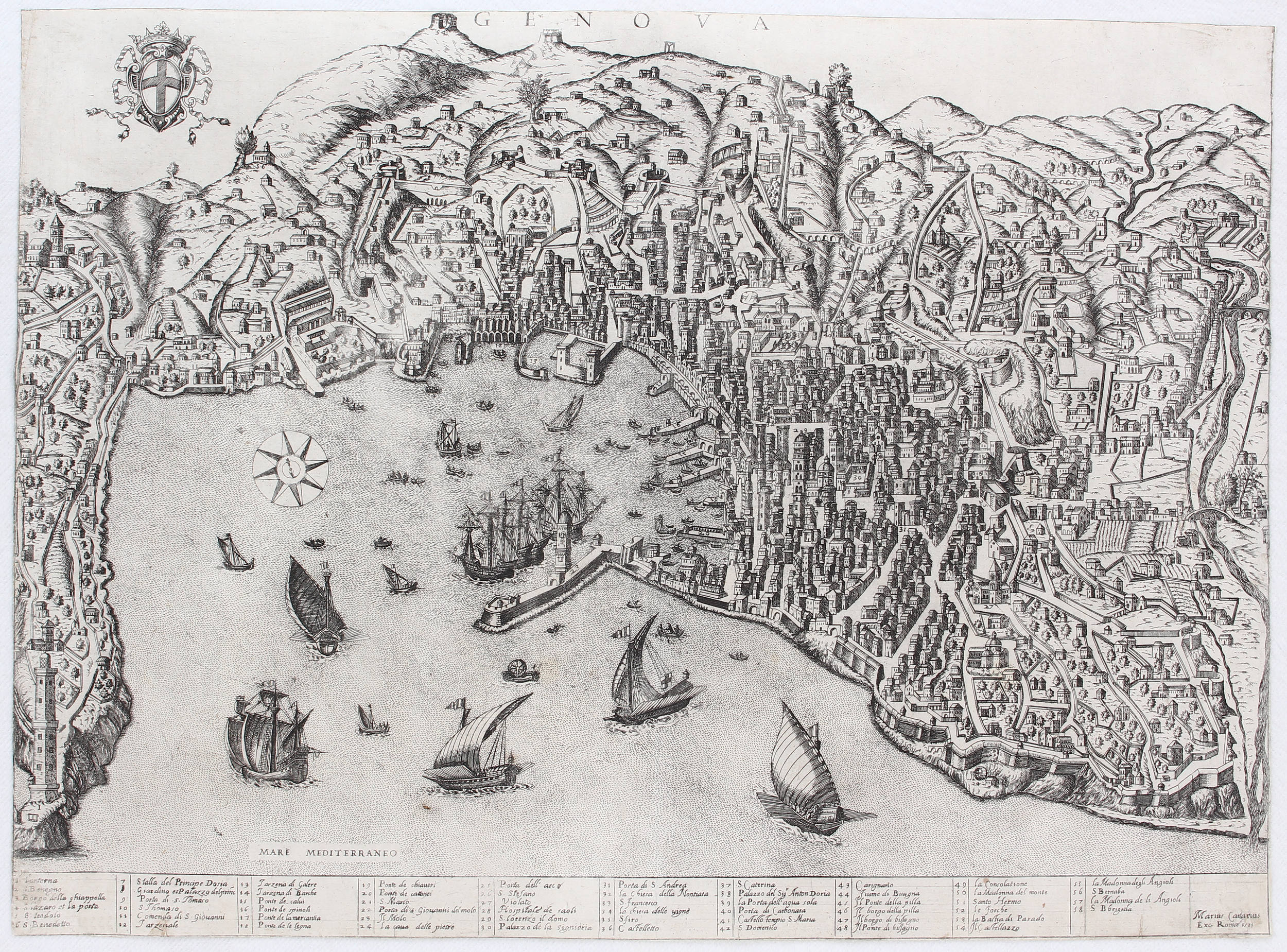 sold
Auction schedule:
May 8th, 2019 session starting 9:30 a.m.
The Second Known Copy
Genua. "Genova" (oben im Bildrand). Vogelschauansicht mit Schiffsstaffage. Kupferstich (nach A. Lafreri) von M. Cartaro (hier "Cartarius"), Rom, 1581. Oben links Wappen und Windrose, unterhalb Legende 1-58 (ca. 3 cm hoch). 41:55,5 cm.
Scarce and fine bird's-eye view by Mario Cartaro (also Cartarus or Kartarus) after the one by Lafreri (cf. Novacco). With watermark: "Shield with unicorn E" (Woodward 228 mentioning the view of Rome by C.). - Uncol. Cleaned and sized, still light occasional spotting, stronger to margins, margins also somewhat dusted and with a few small repaired tears. Cut to neatline.
Bifolco/Ronca (2018) Taf. 1112: "Il solo esemplare a noi noto è quello conservato nella raccolta... Federiciana di Fano"; Bachmann III, 391 (dat. 1582); vgl. Novacco 55 (Lafreri-de Nobili, 1573), Tooley, Italian Atlases 241 (L.) u. 243 (Duchetti-Brambilla, 1581). - Sehr selten. Bifolco/Ronca kennen nur 1 weiters Exemplar. Mit Wasserzeichen Einhorn im Wappen (s.u.). - Gereinigt und stabilisiert, stellenweise noch leicht fleckig, Ränder teilw. stärker bzw. etwas angestaubt und vereinzelt mit kl. rep. Läsuren. Rundum bis an die Einfassung beschnitten.