Lot 1140
Trew, Uitgezochte Planten
26,000.00 EUR
(Hammer price)
[{"image":"https:\/\/cdn.philasearch.com\/A09454\/E01623\/0162300002.jpg","thumb":"https:\/\/cdn.philasearch.com\/A09454\/E01623\/0162300002.jpg"},{"image":"https:\/\/cdn.philasearch.com\/A09454\/E01623\/0162300002a.jpg","thumb":"https:\/\/cdn.philasearch.com\/A09454\/E01623\/0162300002a.jpg"},{"image":"https:\/\/cdn.philasearch.com\/A09454\/E01623\/0162300002b.jpg","thumb":"https:\/\/cdn.philasearch.com\/A09454\/E01623\/0162300002b.jpg"},{"image":"https:\/\/cdn.philasearch.com\/A09454\/E01623\/0162300002c.jpg","thumb":"https:\/\/cdn.philasearch.com\/A09454\/E01623\/0162300002c.jpg"},{"image":"https:\/\/cdn.philasearch.com\/A09454\/E01623\/0162300002d.jpg","thumb":"https:\/\/cdn.philasearch.com\/A09454\/E01623\/0162300002d.jpg"},{"image":"https:\/\/cdn.philasearch.com\/A09454\/E01623\/0162300002e.jpg","thumb":"https:\/\/cdn.philasearch.com\/A09454\/E01623\/0162300002e.jpg"},{"image":"https:\/\/cdn.philasearch.com\/A09454\/E01623\/0162300002f.jpg","thumb":"https:\/\/cdn.philasearch.com\/A09454\/E01623\/0162300002f.jpg"},{"image":"https:\/\/cdn.philasearch.com\/A09454\/E01623\/0162300002g.jpg","thumb":"https:\/\/cdn.philasearch.com\/A09454\/E01623\/0162300002g.jpg"},{"image":"https:\/\/cdn.philasearch.com\/A09454\/E01623\/0162300002h.jpg","thumb":"https:\/\/cdn.philasearch.com\/A09454\/E01623\/0162300002h.jpg"},{"image":"https:\/\/cdn.philasearch.com\/A09454\/E01623\/0162300002i.jpg","thumb":"https:\/\/cdn.philasearch.com\/A09454\/E01623\/0162300002i.jpg"}]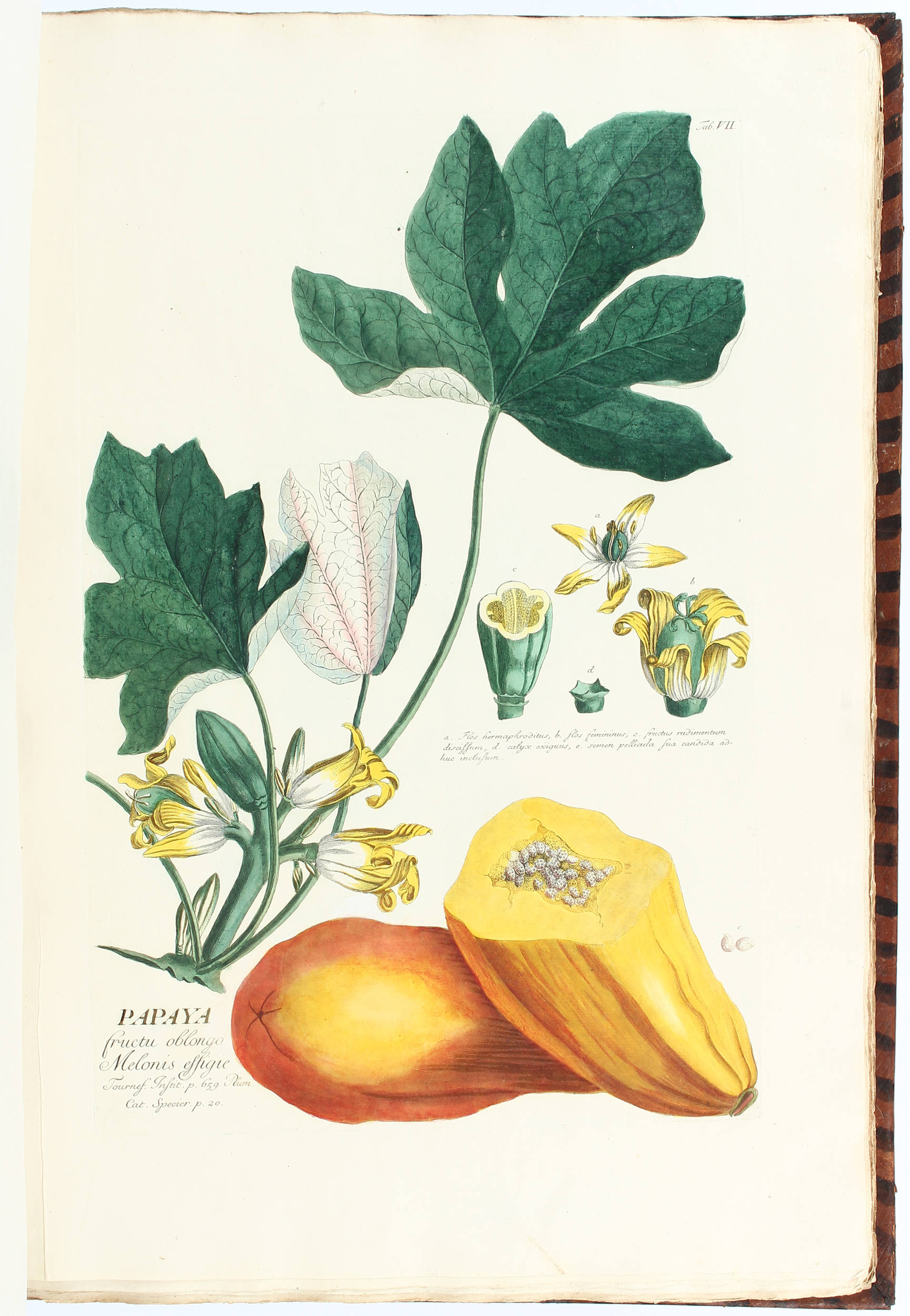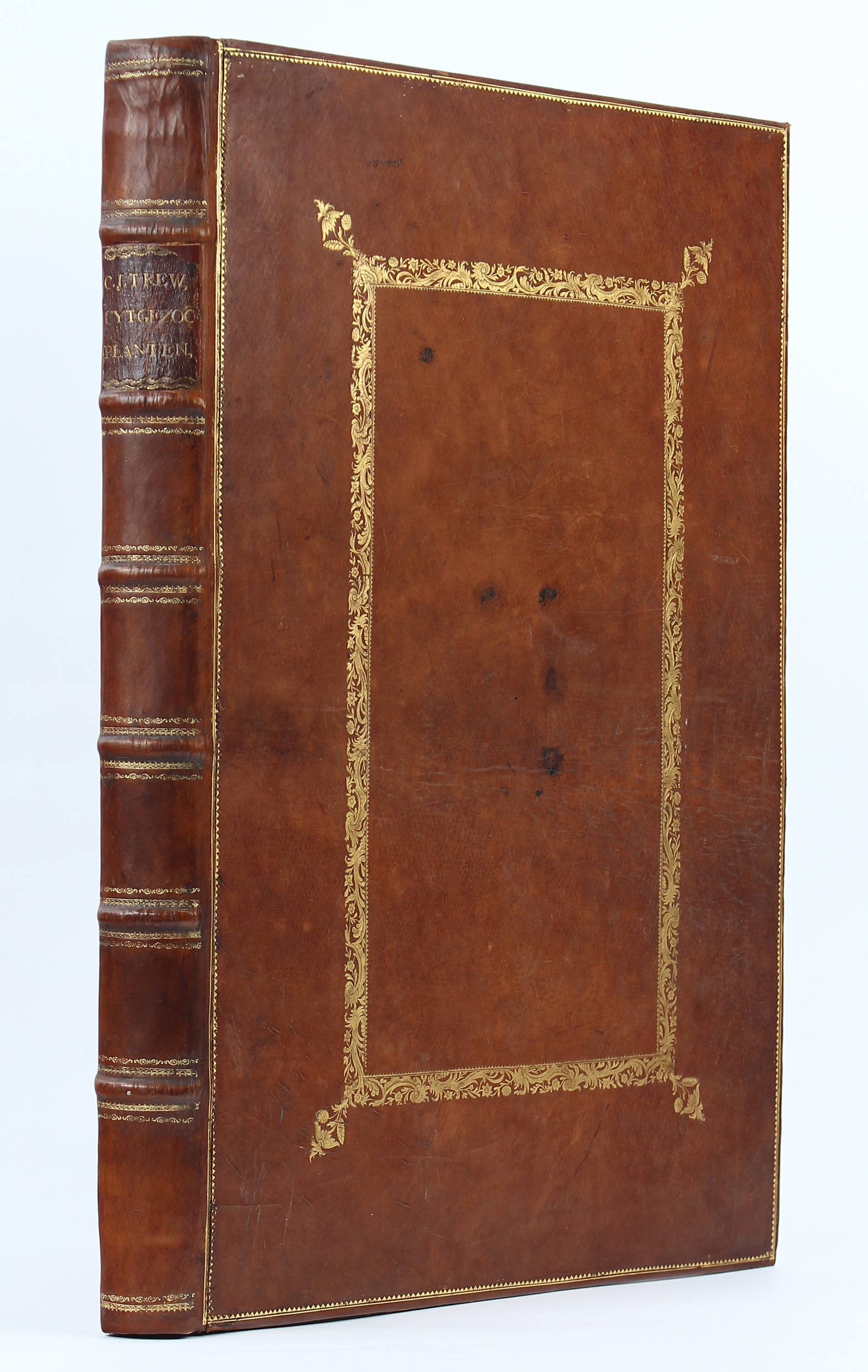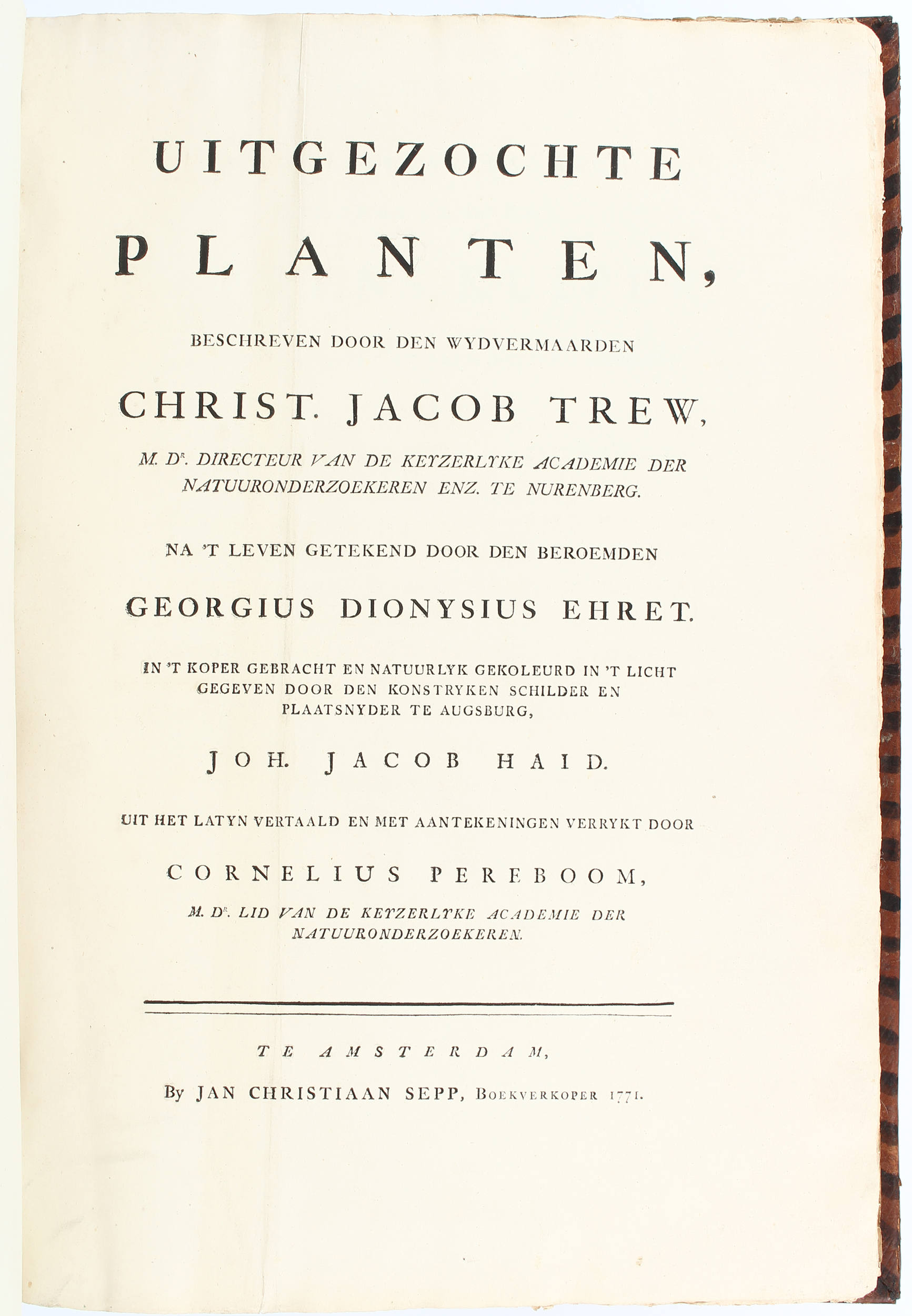 26,000.00 EUR
(Hammer price)
Auction schedule:
28-October-2020 / Lot 1066-1206 / session starting 2.30 PM
Trew, C. J. Uitgezochte Planten... Uit het Latyn vertaald en met Aantekeningen verrykt door C. Pereboom. Amsterdam, Ch. Sepp, 1771(-1773). Gr.-fol. (56:39 cm). Mit 3 Schabkunst-Porträts u. 100 altkol. Kupfertafeln von J. J. Haid nach G. D. Ehret. 2 Bll., VI, 72 S. Neu aufgebunden in Ldr. unter Verwendung alter Deckel mit floralen Fileten u. des alten Rückenschilds, Kanten restauriert, Rücken u. Vorsätze erneuert; Deckel berieben u. stellenw. etwas fleckig. Mod. Schuber.
First Dutch edition of the Plantae Selectae. With 3 mezzotint portraits and 100 handcoloured engraved plates by Haid after Ehret, captions in gold. - Light browning in places, some slight marginal fingermarking. Marginal foxing and waterstaining to portraits only. Small repaired marginal tear to pl. 7, 2 small marginal tears to pl. 90. A fine, uncut copy rebound in calf to style, spine and boards gilt, using old boards and spine label; boards somewhat rubbed and stained, edges restored, spine and endpapers renewed. Recent slipcase.
Nissen, BBI 1998; Stafleu-C. 15.131 Anm.; de Belder 364; vgl. Dunthorne 309 u. Great Flower Books 78 (lat. A. 1750ff.). - Erste holländische Ausgabe von Trews "Plantae selectae", einem der schönsten Pflanzenbücher des 18. Jahrhunderts. Mit prächtigen Darstellungen von Ananas, Annona, Bananen, Feigen, Granatapfel, Magnolien, Narzissen, Lilien, Mispeln, Papaya, Rhododendron, Zedern u.v.m., Pflanzennamen mit einer Ausnahme alle goldgehöht. - Teilw. gering gebräunt, kaum fleckig, in den Rändern stellenw. schwache Fingerspuren. Lediglich die Porträts in den w. Rändern etwas stock- u. wasserfleckig. Taf. 7 unten mit kl. hinterlegtem Randeinriss u. Taf. 90 am Unterrand mit 2 kl. Randeinrissen. Insgesamt schönes, unbeschnittenes Exemplar.