Physics - Optical Instruments - Camera Obscura - Magic Lantern
Lot 425
Alhazen, Opticae thesaurus
26,000.00 EUR
(Hammer price)
[{"image":"https:\/\/cdn.philasearch.com\/A09454\/E01593\/0159300030.jpg","thumb":"https:\/\/cdn.philasearch.com\/A09454\/E01593\/0159300030.jpg"},{"image":"https:\/\/cdn.philasearch.com\/A09454\/E01593\/0159300030a.jpg","thumb":"https:\/\/cdn.philasearch.com\/A09454\/E01593\/0159300030a.jpg"},{"image":"https:\/\/cdn.philasearch.com\/A09454\/E01593\/0159300030b.jpg","thumb":"https:\/\/cdn.philasearch.com\/A09454\/E01593\/0159300030b.jpg"},{"image":"https:\/\/cdn.philasearch.com\/A09454\/E01593\/0159300030c.jpg","thumb":"https:\/\/cdn.philasearch.com\/A09454\/E01593\/0159300030c.jpg"},{"image":"https:\/\/cdn.philasearch.com\/A09454\/E01593\/0159300030d.jpg","thumb":"https:\/\/cdn.philasearch.com\/A09454\/E01593\/0159300030d.jpg"},{"image":"https:\/\/cdn.philasearch.com\/A09454\/E01593\/0159300030e.jpg","thumb":"https:\/\/cdn.philasearch.com\/A09454\/E01593\/0159300030e.jpg"},{"image":"https:\/\/cdn.philasearch.com\/A09454\/E01593\/0159300030f.jpg","thumb":"https:\/\/cdn.philasearch.com\/A09454\/E01593\/0159300030f.jpg"},{"image":"https:\/\/cdn.philasearch.com\/A09454\/E01593\/0159300030g.jpg","thumb":"https:\/\/cdn.philasearch.com\/A09454\/E01593\/0159300030g.jpg"},{"image":"https:\/\/cdn.philasearch.com\/A09454\/E01593\/0159300030h.jpg","thumb":"https:\/\/cdn.philasearch.com\/A09454\/E01593\/0159300030h.jpg"},{"image":"https:\/\/cdn.philasearch.com\/A09454\/E01593\/0159300030i.jpg","thumb":"https:\/\/cdn.philasearch.com\/A09454\/E01593\/0159300030i.jpg"}]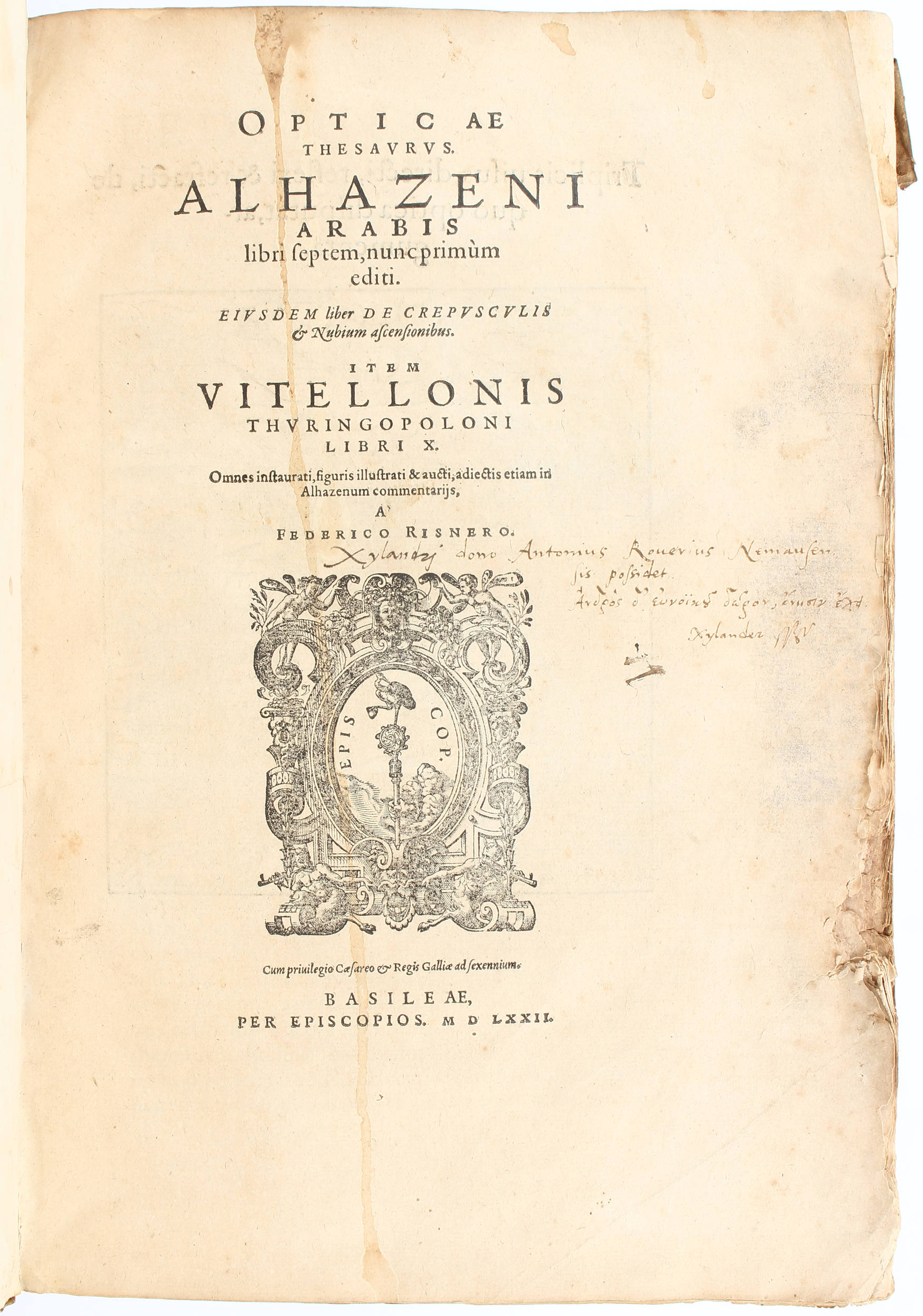 sold
Geschenk von Wilhelm Xylander
Alhazen (Ibn al-Haytham, Abu Ali al-Hasan ibn al-Hasan). Opticae thesaurus, libri septem, nunc primum editi. Eiusdem liber de crepusculis & Nubium ascensionibus. Item Vitellonis Thuringopoloni libri X. Omnes instaurati à F. Risnero. 2 Tle. in 1 Bd. Basel, Episcopius, 1572. Fol. (34:23,5 cm). Mit wiederholtem Holzschnitt Titel verso bzw. Titelholzschnitt, 2 Druckermarken u. zahlr. Diagrammen im Text. 4 Bll. (l. w.), 288 S.; 4 Bll., 474 S., 1 Bl. Alter flex. Prgt., fleckig, Kanten tlw. beschädigt.
VD 16, H 693; IA 103.705; Adams A 745; Dibner 138; Honeyman Coll. 73; Collection Nachet (1929), 50 (dieses Exemplar); DSB VI, 189 ff. (Alhazen; sehr ausführlich zum Inhalt) u. XIV, 461 (Witelo bzw. Vitello). - Erste Ausgabe von Alhazens Hauptwerk, der Optik. Der um das Jahr 1000 wirkende Alhazen war einer der bedeutendsten arabischen Physiker seiner Zeit. Die hier erstmals erschienene lateinische Übersetzung übte großen Einfluß auf die westliche Wissenschaft aus, besonders im Bereich experimenteller Arbeiten, Katoptrik, Beschreibung des Auges und des Sehvermögens u.v.a. Das beigedruckte optische Werk des um 1300 wirkenden Schlesiers Witelo war erstmals 1535 erschienen, hier mit separatem Titel. - Gebräunt, im Rand wasser- u. auch sporenfleckig; vereinzelt mit Randläsuren. Titel mit Schenkungsvermerk von Wilhelm Xylander (1532-1576), Professor für Griechisch und Logik in Heidelberg (vgl. ADB XLIV, 582-593), der zahlreiche Übersetzungen aus dem Griechischen herausgab: "Xylandri dono Antonius Rouerius Nemausensis possidet" (folgt griechischer Spruch und Xylanders Unterschrift). Antonius Roverius hatte sich, ohne die Angabe seines Herkunftsorts Nîmes, am 1. Juli 1572 in Heidelberg immatrikuliert. Aus der Sammlung des bedeutende Mikroskopherstellers und Sammlers von Mikroskopen und entsprechender Literatur Alfred Nachet (1831-1908) und dessen Sohn Albert.
Two parts in 1 volume. First edition of Alhazen's major work, the Optics. "The greatest Muslim physicist and one of the greatest students of optics of all times. The Latin translation exerted a great influence upon Western science" (Honeyman). As second part Vitellio's (Witelo's) major work, which was first published in 1535. "It is difficult to separate Witelo's influence on the history of late medieval and early modern optics from that of Ibn al-Haytham, particularly after their works were published in a single volume in 1572. One can affirm in general that their writings served as the standard textbooks on optics until well into the seventeenth century" (DSB XIV, 461). - Browning and marginal waterstaining throughout, marginal mildew traces; marginal fraying in places. Old limp vellum, stained, lesions to edges. Main title with donation note from the Heidelberg professor Wilhelm Xylander (1532-1576) to a student of Nîmes. From the Collection Nachet.