Physics - Optical Instruments - Camera Obscura - Magic Lantern
Lot 434
Bouguer, Essai d'optique
1,400.00 EUR
Post Sale Price
[{"image":"https:\/\/cdn.philasearch.com\/A09454\/E01593\/0159300073.jpg","thumb":"https:\/\/cdn.philasearch.com\/A09454\/E01593\/0159300073.jpg"},{"image":"https:\/\/cdn.philasearch.com\/A09454\/E01593\/0159300073a.jpg","thumb":"https:\/\/cdn.philasearch.com\/A09454\/E01593\/0159300073a.jpg"},{"image":"https:\/\/cdn.philasearch.com\/A09454\/E01593\/0159300073b.jpg","thumb":"https:\/\/cdn.philasearch.com\/A09454\/E01593\/0159300073b.jpg"},{"image":"https:\/\/cdn.philasearch.com\/A09454\/E01593\/0159300073c.jpg","thumb":"https:\/\/cdn.philasearch.com\/A09454\/E01593\/0159300073c.jpg"},{"image":"https:\/\/cdn.philasearch.com\/A09454\/E01593\/0159300073d.jpg","thumb":"https:\/\/cdn.philasearch.com\/A09454\/E01593\/0159300073d.jpg"}]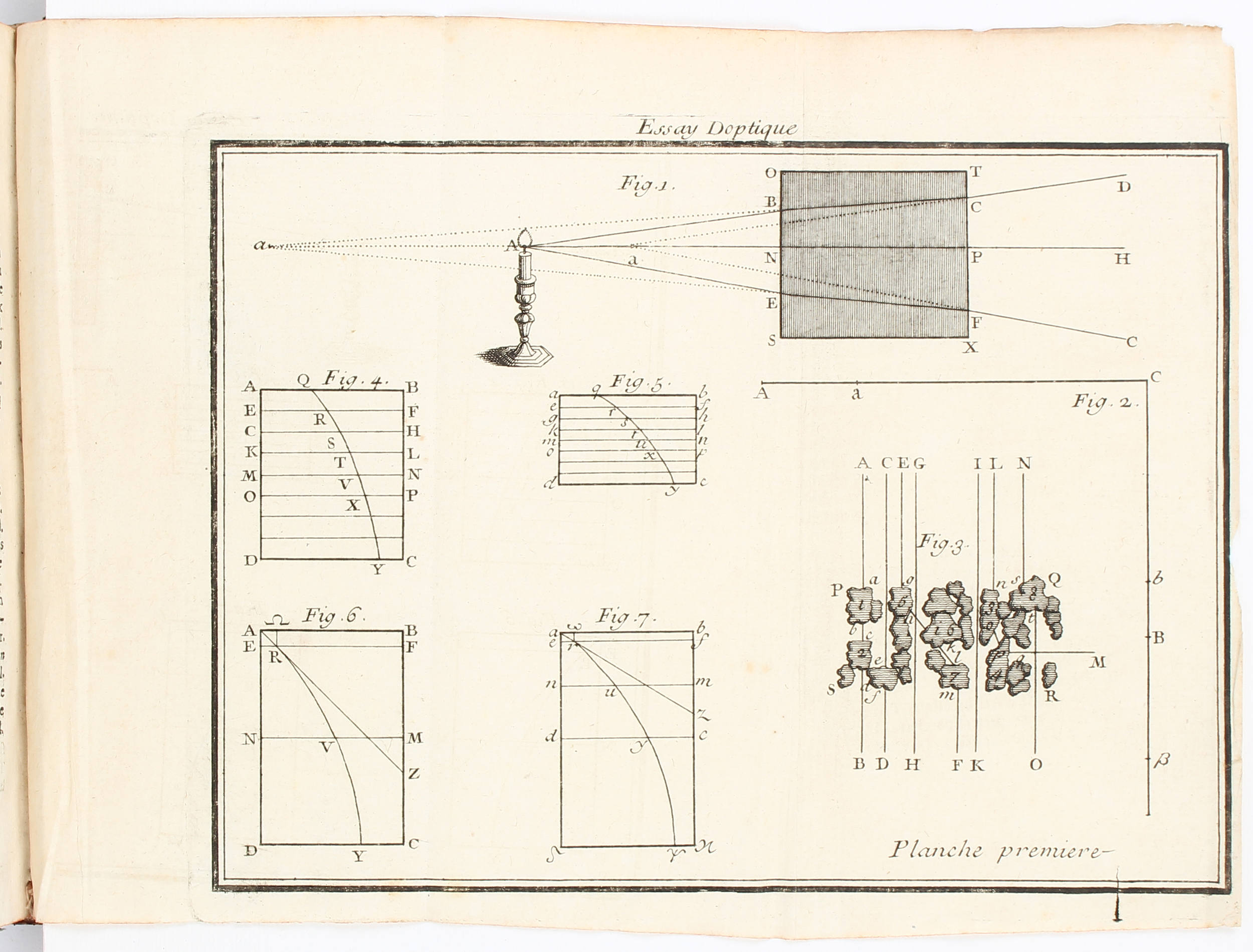 unsold
Bouguer, P. Essai d'optique sur la gradation de la lumière. Paris, Jombert, 1729. 12mo (17:10,5 cm). Mit 3 gefalt. Kupfertafeln. 11 Bll., 164 S., 2 Bll. Errata u. Verlagsanz. Ldr. d. Zt. mit Rsch. u. Rvg., bestoßen.
Norman 283; Honeyman 444; Macclesfield 399; DSB II, 343. - Erste Ausgabe. "Bouguer is regarded as the founder of photometry, the branch of optics concerned with measuring the intensity of light. His two most important contributions to the subject are contained in his Essai, the first part of which states his method of comparing the relative brightness of two lights ... The second part contains the first statement of what is often called Bouguer's law" (Norman). - Titel mit altem Namenszug.
First edition. With 3 folding engraved plates. - Old name to title. Contemporary calf gilt, corners bumped, head of spine chipped.